Chicago is a great city with lots to do and explore! Here are some of the top things to do in Chicago: 1. Check out the Willis Tower, formerly known as Sears Tower, for an amazing view of the city skyline from 103 stories up.

2. Explore Millennium Park and take pictures by The Bean, a giant reflective sculpture called Cloud Gate. 3. Visit Navy Pier for rides, restaurants, shopping and incredible views of Lake Michigan and downtown Chicago's gorgeous architecture. 4. Spend time at Lincoln Park Zoo to see animals from all over the world including African lions, zebras, gorillas and more!

5. Take a stroll along The Magnificent Mile for some amazing shopping experiences or just sightseeing around this stretch of high-end stores and attractions like Water Tower Place or Tribune Tower . 6 .Visit Shedd Aquarium to check out aquatic life from around the globe including dolphins, sea otters , sharks , stingrays & much more !

7 . Catch a Cubs game at Wrigley Field – one of America's most iconic ballparks that has been home to baseball since 1916 . 8 Lastly , visit 360 CHICAGO (formerly John Hancock Observatory) where you can get breathtaking views while standing 1 000 ft above ground level !
Chicago is a great city to explore and experience. There are plenty of activities to do, from sightseeing the architecture along the Magnificent Mile and Navy Pier, to attending festivals like Lollapalooza or Taste of Chicago, there's something for everyone! For those looking for outdoor activities, take a stroll in Millennium Park or rent a bike at Divvy Bike stations around town.

If you're an art lover, check out The Art Institute of Chicago's world-renowned collection that ranges from modern masterpieces to ancient artifacts. And don't forget about all the amazing restaurants in the city offering delicious cuisines from all over the world!
TOP 10 things to do in CHICAGO [Travel Guide]
Things to Do in Chicago for Couples
Chicago is a great city for couples to explore together. From romantic walks along the lakefront, to exploring world-class museums and landmarks, there are plenty of activities sure to bring you closer as a couple. Take in some stunning skyline views from the top of Willis Tower or opt for a romantic dinner cruise on Lake Michigan.

You can also spend an evening strolling through Millennium Park, taking in unique art installations and admiring the architecture of Cloud Gate (aka The Bean). For theatre lovers, Chicago offers world-renowned shows at Broadway In Chicago's many venues. No matter what your interests are, there are countless things to do in Chicago that will make your time together even more special!
Things to Do in Chicago for Free
Chicago is a vibrant city with plenty of free activities to enjoy. From outdoor concerts and festivals to world-class museums, there are so many things to do in the Windy City without spending a cent! Whether you're looking for an art walk along Lake Michigan or want to explore one of Chicago's amazing parks, there are countless opportunities for free fun.
Things to Do in Downtown Chicago
Downtown Chicago is one of the most vibrant cities in the United States. From top-notch restaurants to world-famous museums, there's something for everyone to enjoy. Whether you're looking for a romantic evening out or an adventure with friends, you'll find plenty to do downtown.

Take a stroll along the Magnificent Mile and explore Navy Pier, Millennium Park, Willis Tower Skydeck and more! The city also offers great shopping opportunities at places like Water Tower Place and State Street stores. And don't forget about all the amazing street performers that come out during summertime – it's truly an experience like no other!
Things to Do in Chicago for Adults
Chicago offers a wide selection of activities for adults to enjoy, from visiting the iconic skyline and architecture along the Chicago Riverwalk to attending world-class performances at one of the city's renowned theater companies. For art lovers, there are plenty of galleries and museums such as The Art Institute of Chicago or The Museum of Contemporary Art. Foodies can explore some of the city's best restaurants, while nightlife enthusiasts can party in Wrigleyville or check out some live music venues.

No matter what your interests are, there is something for everyone when it comes to things to do in Chicago!
Things to Do in Chicago for Kids
Chicago is an ideal destination for families with kids of all ages. From interactive museums to some of the world's best zoos, there are plenty of fun activities and attractions that will keep your little ones entertained. The iconic Shedd Aquarium is a great place for children to learn about aquatic life, while the Field Museum of Natural History offers educational exhibits on everything from dinosaurs to Ancient Egypt.

For outdoor fun, take a stroll along Navy Pier or explore one of the many city parks—including Millennium Park and Lincoln Park Zoo—that make Chicago such a unique family-friendly destination.
Things to Do in Chicago Today
Today in Chicago there is no shortage of fun activities to participate in! From taking a stroll along The Magnificent Mile to catching a show at the renowned Second City, there are plenty of options for visitors and locals alike. If you're feeling adventurous, take advantage of Chicago's many outdoor offerings like kayaking on Lake Michigan or biking through one of the city's many parks.

End your day with one of the city's iconic deep-dish pizzas from Giordano's and you'll have a memorable day exploring everything that makes Chicago great!
Things to Do in Chicago at Night
Chicago is an amazing city that offers a wide range of activities to do after dark. From stunning rooftop bars with breathtaking views of the skyline, to live entertainment at dozens of venues throughout the city, there's something for everyone in Chicago after hours. You can dine at some of the best restaurants in town, catch a show at one of the many theaters or comedy clubs, take in some music and dancing at local bars and nightclubs, or explore unique neighborhoods while checking out street art and murals.

Whether you're looking for a romantic evening out or just want to party until dawn, Chicago has plenty of options for nightlife fun!
Things to Do in Chicago in Winter
Chicago is a great city to visit during the winter months. There are plenty of activities to keep you busy, whether it's taking in some of the city's iconic architecture on an outdoor walking tour, visiting one of Chicago's many museums or art galleries, ice-skating at Millennium Park's McCormick Tribune Ice Rink, or cheering on the Bulls and Blackhawks at United Center. Whatever your interests may be, there are countless ways to explore what Chicago has to offer during the winter season.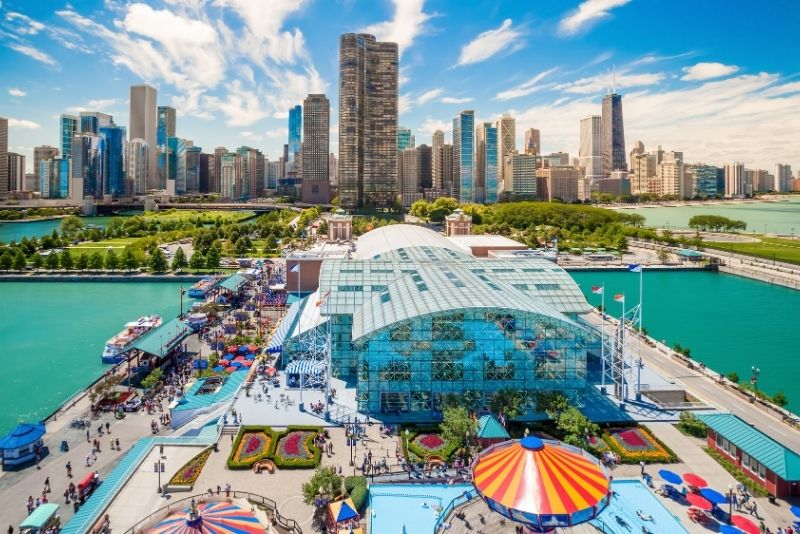 Credit: tourscanner.com
Is 2 Days Enough for Chicago?
Two days is not nearly enough time to experience all that Chicago has to offer. This bustling city is home to a variety of attractions, from the iconic Willis Tower and Navy Pier to its world-renowned museums, beautiful parks, and excellent restaurants. With so much history, art and culture on display throughout the city, two days in Chicago can be filled with plenty of activities but won't even scratch the surface of what this amazing metropolis has to offer.

Whether you find yourself looking out over Lake Michigan or exploring one of its many neighborhoods like Wicker Park or Hyde Park – it's easy to get lost in the beauty and charm that make up this unique destination. While two days may not be enough for some travelers seeking an extended stay in The Windy City, there are still plenty of things you can do if your visit is short-lived. Taking an architectural tour along the riverfront or hopping aboard a boat cruise for breathtaking views are great ways to explore Illinois' largest city in just 48 hours!
What is Chicago Famous For?
Chicago is a vibrant city famous for its culture, architecture and unique attractions. With world-renowned museums, stunning skyline views of the lakefront, and an abundance of restaurants and nightlife spots to explore, there are plenty of things that make Chicago special. The city is home to some of the most iconic structures in the United States such as Willis Tower (formerly Sears Tower), John Hancock Center, Cloud Gate sculpture at Millennium Park, Navy Pier ferris wheel and Wrigley Field – home to the Cubs baseball team since 1916.

Music lovers flock to Chicago's many jazz clubs while art enthusiasts take in works by local artists at galleries throughout the city. There's something for everyone in this bustling Midwestern metropolis – from deep dish pizza joints to Michelin-starred eateries; craft breweries; comedy shows; shopping opportunities at indie boutiques lining State Street or Michigan Avenue's Magnificent Mile; festivals like Lollapalooza or Pitchfork Music Festival; public parks perfect for picnics on sunny days or ice skating rinks during winter months – all making it easy to see why so many people love calling Chicago their home!
Is 3 Days Enough for Chicago?
With its numerous attractions and vibrant nightlife, three days in Chicago is enough to give you a taste of all the Windy City has to offer. From stunning architecture to outdoor activities, there's something for everyone here – whether it's your first time visiting or your tenth! Start off with a trip up Willis Tower – the highest building in the Western Hemisphere – for some truly breathtaking views over Lake Michigan.

Then head down to Millennium Park for an afternoon strolling through gardens and admiring world-famous public art pieces like Cloud Gate (aka "The Bean"). Take a break from sightseeing at one of Chicago's many incredible restaurants before spending an evening wandering Navy Pier or taking in some live music on State Street. Not only can you fit plenty into just three days, but you might even find yourself wanting more after such an unforgettable experience!
How to Do Chicago in 1 Day?
If you are looking to explore the city of Chicago, but have only been given one day to do so, it can be daunting. The good news is that by following a few simple tips and tricks, you can make the most out of your short stay in this vibrant midwestern metropolis. First and foremost, plan ahead!

Use online trip planners or local tourism websites to map out what attractions you would like to visit during your 24-hour time frame. Next, consider purchasing a City Pass which gives you discounted admission into some of the best known sites such as Willis Tower Skydeck (formerly Sears Tower), Shedd Aquarium and Field Museum. Once those items are taken care of its time for the fun stuff; food!

Make sure you hit up at least one classic Chicago eatery – deep dish pizza is always a favorite–and don't forget about Garrett Popcorn Shops for an iconic sweet treat. Finally take advantage of public transportation if possible – hopping on either train or bus will save valuable sightseeing minutes while also giving passengers an insider look at how locals get around town every day. With these quick tips in mind, even if it's just for 1 day there is plenty enough time to experience all that Chicago has to offer!
Conclusion
The city of Chicago is full of exciting attractions, activities, and events to explore. From beautiful architecture to incredible restaurants to world-class museums and parks, there is something for everyone in the Windy City. Whether you are looking for a relaxing weekend getaway or a family vacation full of adventure and exploration, Chicago has it all!

With so many great things to do in Chicago, you're sure to find plenty of fun activities that will make your trip one to remember.