Rome is one of the most beautiful cities in the world. There are so many amazing things to do there. Here is a list of some of the best things to do in Rome:

1) Visit the Colosseum and explore ancient Roman history. 2) Wander through St Peter's Basilica at Vatican City, home to Michelangelo's Sistine Chapel ceiling frescoes. 3) Take a tour of Palatine Hill, where Romulus founded Rome in 753 BC.

4) Admire Renaissance art galleries from Raphael and Caravaggio at Galleria Borghese. 5) Shop for souvenirs on Via del Corso or visit Piazza Navona with its baroque fountains and street performers. 6) Enjoy gelato while people-watching on Spanish Steps or Trastevere's cobblestone streetside cafes.

7) Explore Castel Sant'Angelo and its moats, towers and hidden passageways built during Emperor Hadrian's reign (117–138 AD). 8.) Experience Rome's nightlife by enjoying an opera performance or eating dinner outside near Trevi Fountain under twinkling stars .
Rome, the Eternal City, is filled with a multitude of activities and attractions that will make your trip memorable. From exploring Ancient Roman ruins to discovering world-renowned artwork in the Vatican Museums, you'll never run out of things to do in Rome! Other must-sees include throwing a coin into the Trevi Fountain for luck, admiring St. Peter's Basilica or taking a stroll through picturesque Piazza Navona – all great experiences that will leave an unforgettable impact on any traveler.
TOP 10 Things to do in ROME – [2023 Travel Guide]
Things to Do in Rome at Night
Rome has a vibrant nightlife with plenty of things to do. From hip clubs and bars, to live music venues, the city is full of amazing experiences for those looking for some nighttime fun. If you're up for an adventure, take a wander through Rome's famous Trastevere neighborhood and explore its quaint cobblestone streets and exciting pubs.

Alternatively, catch a show at one of Rome's many theaters or opera houses – perfect for an evening out!
Best Restaurants in Rome
Rome is one of the most visited cities in the world and its culinary scene should not be overlooked. From trattorias to Michelin-starred restaurants, there are some truly amazing places to eat in Rome. Some of the best restaurants include La Pergola, a three-Michelin-star restaurant serving creative Italian cuisine; Taverna Trilussa, known for its traditional Roman dishes; and Pallotta Ristorante e Enoteca for modern Italian fare with an emphasis on fresh local ingredients.

Whether you're looking for fine dining or just a casual bite to eat, Rome has something for everyone!
Top 10 Things to See in Rome
Rome is one of the most beautiful cities in the world and it has a lot to offer. From ancient ruins to Renaissance fountains, Rome offers something for everyone. Here are some of the top 10 things you should see when visiting this amazing city: The Colosseum, Trevi Fountain, St. Peter's Basilica, Pantheon, Spanish Steps, Roman Forum and Palatine Hill, Villa Borghese Park & Gallery, Castel Sant'Angelo and Piazza Navona.

Whether you're an art lover or history buff there's something here for everyone!
Fun Things to Do in Rome
Rome has so many incredible places to explore and activities to enjoy that it can be hard to decide what do while visiting! Whether you're interested in exploring ancient ruins, sampling delicious Italian cuisine, or simply soaking up the culture of this vibrant city, there are plenty of fun things to do in Rome. From visiting historical landmarks such as the Colosseum and St Peter's Basilica, tasting traditional dishes like pizza and pasta al forno, or taking a leisurely stroll through charming piazzas with an iconic gelato in hand – there is something for everyone!
Top 50 Things to Do in Rome
Rome is the capital of Italy and a city brimming with history, art, culture and delicious cuisine. With so many things to see and do there's no shortage of activities in this stunning city. From exploring the ancient ruins like the Colosseum to visiting Vatican City or simply taking a leisurely stroll through one of Rome's beautiful piazzas, there are countless ways to experience all that Rome has to offer.

The top 50 Things To Do In Rome range from enjoying some of their famous Gelato or Pizza Napoletana for an authentic Italian food experience, touring iconic landmarks such as St Peter's Basilica and The Pantheon, or just soaking up some sun at one of its many outdoor cafes. Whether you're looking for an exciting adventure or a relaxing getaway , it's easy to find something amazing in Rome!
Things to Do in Rome for Young Adults
Rome is the perfect destination for young adults looking for an exciting city break. From ancient historical sites to bustling nightlife, Rome offers something for everyone! An absolute must-see is a visit to the Colosseum and Roman Forum, plus other iconic landmarks like St Peter's Basilica, Pantheon and Trevi Fountain.

For those who want to experience some of Italy's famous cuisine, there are countless restaurants throughout the city offering delicious dishes from traditional Italian recipes. Finally, no trip to Rome would be complete without experiencing its vibrant nightlife – explore charming piazzas in trendy neighbourhoods such as Trastevere or Campo de' Fiori where you can enjoy drinks with friends until late into the night.
Unusual Things to Do in Rome
Rome is a city of ancient history and culture, but it also offers many unique experiences for visitors. From taking a nighttime tour of the Colosseum to enjoying dinner at an underground wine bar, there are plenty of off-the-beaten path activities that will make your visit to Rome truly unforgettable. Whether you're looking for something adventurous or just want to relax and explore some hidden gems, be sure to add these unusual things to do in Rome onto your itinerary!
Free Things to Do in Rome
Rome is a beautiful city with plenty of free activities to enjoy. From visiting ancient monuments such as the Colosseum and Pantheon, to strolling through picturesque piazzas and exploring the Vatican City, there are many ways to experience Rome without spending a dime. Take advantage of the city's public parks, churches, fountains and markets for an exciting day out in Rome.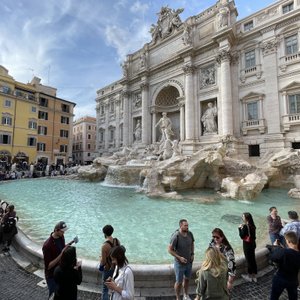 Credit: www.tripadvisor.com
What is the Number 1 Must See in Rome?
Rome is a city steeped in history, culture and beauty. From the iconic Colosseum to the awe-inspiring St Peter's Basilica, it can be hard to decide what to see first when visiting this incredible city. However, if you are looking for one must-see attraction while in Rome then look no further than the Pantheon.

The breathtaking temple was built by Emperor Hadrian around 126 AD and has been standing strong ever since – making it one of the oldest structures still intact in Rome! Not only that but it also serves as an impressive showcase of Roman architecture; its grand dome is unrivaled among other ancient buildings with its sheer size and intricate details such as coffered ceilings and oculus windows allowing light into the interior space. Inside you will find beautiful frescoes depicting various gods and goddesses from mythology.

Take a few moments to marvel at this ancient wonder before exploring more of what Rome has to offer!
What Not to Miss When Visiting Rome?
Visiting Rome is an experience that everyone should have in their lifetime! With so much to see and do, it can be tough to know what not to miss when you're there. Here are some of the most important sites and attractions that you shouldn't miss on a trip to Rome.

First off, no visit would be complete without seeing the Colosseum – one of the world's oldest surviving monuments from antiquity, it stands as a reminder of Ancient Roman civilization and provides an incredible insight into its history. The Pantheon is another must-see attraction; its awe-inspiring architecture has remained intact since it was built in 126 AD, making it one of the best preserved buildings from classical times. Of course don't forget St Peter's Basilica either – located at Vatican City, this stunning basilica is home to many works by Renaissance masters such as Michelangelo and Raphael.

Finally, no trip to Rome would be complete without exploring the city center too; take time out for great Italian food or just wander around taking in all the sights!
What are 2 Things Rome is Famous For?
Rome is a city that has played an integral role in the history of many civilizations and cultures throughout the world. As such, Rome is renowned for its rich culture and vast array of monuments, artifacts, and attractions. Two things that Rome is most famous for are its ancient ruins and vibrant food scene.

The city's iconic ruins – including the Colosseum, Pantheon, Forum Romanum, Castel Sant'Angelo – are among some of the best-preserved remains from antiquity in Europe. In addition to their historical significance, these sites also offer stunningly beautiful views over modern-day Rome which can be enjoyed by locals and tourists alike. On top of this impressive selection of sights to explore within the Eternal City itself; another thing which makes it stand out on the international tourist circuit is its remarkable cuisine.

From traditional Italian dishes like carbonara or cacio e pepe to mouthwatering seafood specialties like calamari fritti or spaghetti alle vongole; there's something delicious available no matter what kind of palate you have!
What is the Unique Things to Do in Rome?
Rome is a vibrant city full of culture and history, making it the perfect destination for travelers looking to explore something unique. From visiting ancient ruins to learning about religious traditions, there are plenty of things to do in Rome that will leave you with lasting memories. One must-see attraction is the Colosseum, where gladiators once fought for glory.

You can also visit the Pantheon, an ancient temple still standing today; see St Peter's Basilica at the Vatican City; or wander through one of Rome's many beautiful piazzas – each packed with different shops and cafes to explore. For those who enjoy art and architecture, check out Michelangelo's masterpiece frescoes in The Sistine Chapel or take a guided tour around Piazza Navona and marvel at Bernini's Baroque sculptures. If you're after some more unusual experiences then consider trattoria hopping – sampling traditional Roman cuisine from all corners of the city – or attend one of Italy's most famous festivals such as La Festa de Noantri (the Feast Day).

Finally don't forget to try some gelato while exploring this magnificent Italian capital!
Conclusion
Rome is one of the most iconic cities in the world and should be on everyone's bucket list. With a wealth of activities, attractions, monuments and museums to explore, it can be difficult to decide what to do first. Fortunately this article has provided some insight into how to make the most out of your time in Rome by highlighting some of its best things to do.

Whether you're looking for something cultural or culinary, there are plenty of activities that will help you create unforgettable memories during your visit.