1. Visit St Mark's Basilica: This iconic church is the most visited landmark in Venice and it is definitely worth a visit. It features intricate marble decorations, beautiful mosaics, and many masterpieces of art from various periods. 2. Take a Gondola Ride: Taking a gondola ride along the canals of Venice is one of the must do activities for tourists visiting this city.

Enjoy the romantic atmosphere as you drift slowly through narrow waterways, passing under small bridges and admiring old facades on both sides of the canal. 3. Explore Piazza San Marco: This grand square at one end of St Mark's Square has been an important place in Venetian history since its construction in 1177 AD. Admire its elegant architecture while enjoying some Italian gelato or coffee at one of its many cafes dotted around it's perimeter.

4 . Visit Murano Island: Located just off Venice, Murano island is home to centuries-old glass factories which craft exquisite artisanal glassware using traditional methods that have been passed down through generations! Take a guided tour to learn more about these incredible works of artisanship before making your own purchases if desired!

5 . Enjoy Cichetti Tour : A cichetti tour offers travelers an opportunity to discover authentic Venetian cuisine by tasting dishes such as polpette (meatballs) with focaccia bread or marinated anchovies spread over crostini at local bars throughout town – don't forget to cap off your meal with some prosecco!
Venice is a unique city with plenty of things to do. From taking a romantic gondola ride down the Grand Canal, to browsing the stalls of Rialto market and enjoying traditional Italian cuisine in one of Venice's many restaurants, there are activities suitable for all types of travelers. A visit to St Mark's Basilica or Doge's Palace should be at the top of any traveler's list when visiting Venice, as they offer an insight into this remarkable city and its history.

Additionally, visitors can explore some lesser-known attractions such as Torcello Island or take part in fun activities like glassblowing workshops on Murano Island. No matter what you decide to do during your stay in Venice, it will surely be an unforgettable experience!
TOP 10 things to do in VENICE | Travel Guide
Best Restaurants in Venice, Italy
If you're looking for the best restaurants in Venice, Italy, look no further than Osteria da Fiore. Located in the heart of Venice's Cannaregio district, this exquisite restaurant specializes in Venetian cuisine and offers a menu that features fresh seafood dishes as well as classic Italian fare. With its unique location on a canal-side terrace and breathtaking views of the Grand Canal and Rialto Bridge, it's easy to see why this is one of Venice's top spots for dining.

Whether you're looking to enjoy some traditional local delicacies or sample something new, Osteria da Fiore is sure to impress!
Things to Do in Florence
Florence is a city of culture and art, full of things to do and explore. From the iconic Duomo di Firenze cathedral to the famous Ponte Vecchio bridge, there are a variety of attractions for visitors to enjoy. Visit one of the world-renowned museums such as Uffizi Gallery or Galleria dell'Accademia to admire works from some of Italy's greatest artists like Michelangelo and Leonardo da Vinci.

Other popular activities in Florence include taking a leisurely stroll through Boboli Gardens, exploring Santa Croce square or indulging in exquisite Tuscan cuisine at one of its top restaurants.
Places to Visit in Venice in 1 Day
If you are visiting Venice, Italy and only have one day to explore the city, there is much to see! Start your morning by taking a gondola ride down the Grand Canal. From there, head over to St. Mark's Basilica and Doge's Palace for some of Italy's best architecture and artwork.

After that, take a stroll through Campo Santo Stefano or visit Piazza San Marco to people-watch from its famous cafés. In the evening, make sure not to miss out on the Bridge of Sighs as well as Burano Island for some colorful canalside views!
Things to Do in Verona
Verona, Italy is a beautiful city with plenty of activities to keep visitors entertained. From exploring the Roman Arena and Juliet's Balcony to admiring art galleries, churches and museums, there are enough attractions to keep any traveler busy. Additionally, Verona is home to some of the best restaurants in Italy offering delicious Italian cuisine as well as nearby wineries that can be visited for tours and tastings.

Visitors looking for a relaxing day out should take a stroll through the lush gardens of Giardino Giusti or visit Lake Garda for gorgeous lake views. No matter what your interests may be, Verona has something for everyone!
Venice Events
Venice is a vibrant city full of festivals and events that cater to everyone's interests. From the world-famous Carnival with its extravagant costumes, masks, and parades to the Vogalonga rowing race on the Grand Canal, there are plenty of exciting activities for visitors to enjoy throughout the year. With live music performances in Piazza San Marco and outdoor markets like Rialto Mercato, Venice offers something special for every occasion.
Things to Do in Rome
Rome is a city filled with history and culture, making it an ideal destination for travelers. From the iconic Colosseum to the ancient ruins of the Roman Forum, there are countless attractions to explore in this majestic city. Visitors can also enjoy delicious Italian cuisine at one of Rome's many restaurants or take a stroll through bustling Piazza Navona and Trevi Fountain.

Whether you're looking for exciting nightlife or outdoor recreation, Rome has something for everyone!
Food in Venice
Venice is known for its delicious seafood, which can be found in many of the city's restaurants. The traditional Venetian cuisine consists of dishes such as risotto al nero di seppia (black squid-ink risotto), sarde in saor (sweet and sour sardines) and baccala mantecato (creamy cod). For those looking to try something a bit different, Venice also offers plenty of options from international cuisines.

From Italian favorites like pizza and pasta to Asian flavors like sushi and Chinese food, there's something for everyone in this historic city.
Things to Do in Milan
Milan is a vibrant city full of life and culture. There are so many things to do in Milan that you could easily spend days discovering all it has to offer. From the Duomo di Milano, one of the largest Gothic cathedrals in the world, to the renowned La Scala opera house and Santa Maria delle Grazie church where Leonardo da Vinci's masterpiece The Last Supper can be seen; there is something for everyone!

Whether you're looking for art, shopping or just taking in some of Italy's fantastic cuisine – Milan has it all!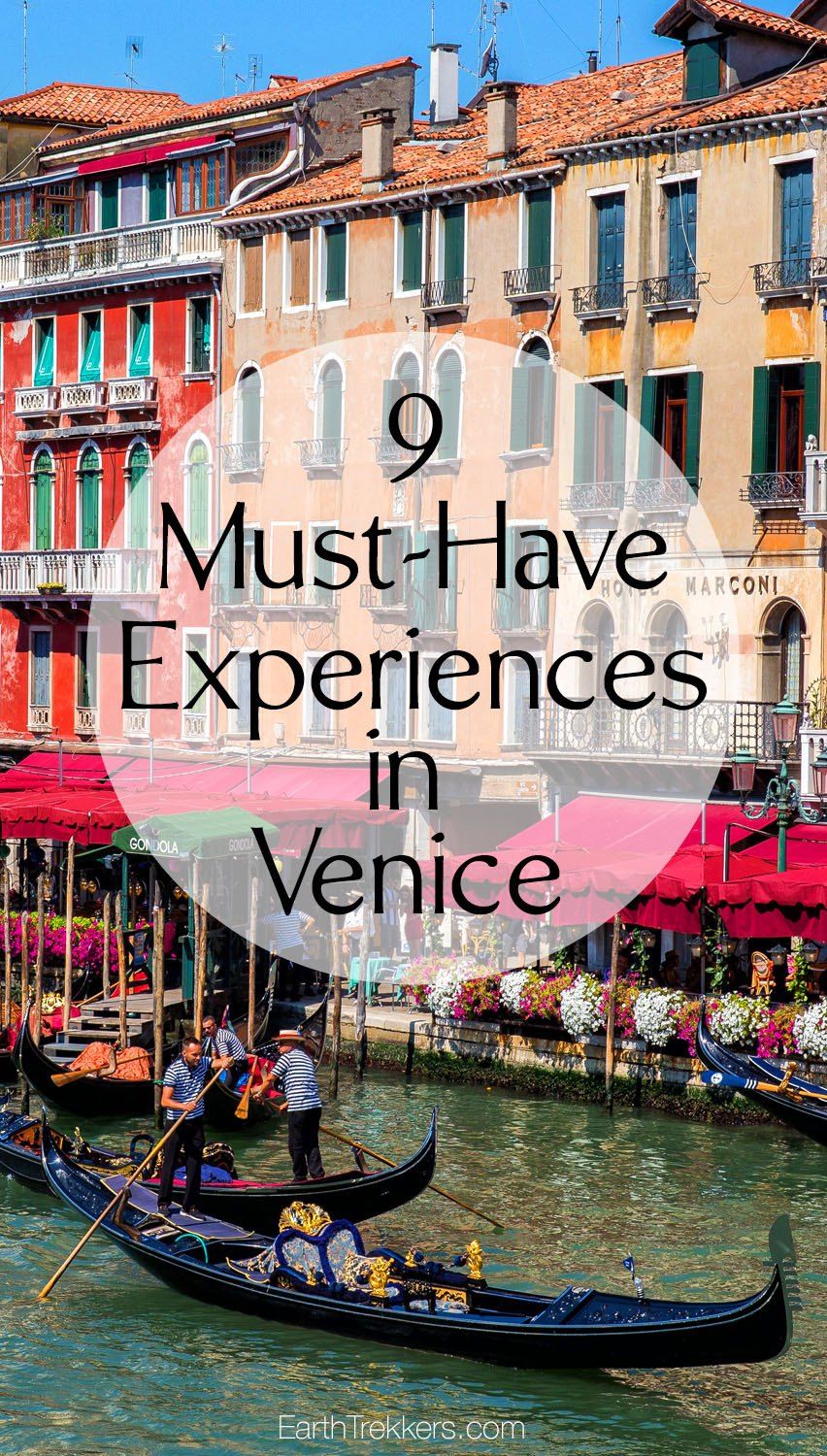 Credit: www.earthtrekkers.com
What Not to Miss in Venice?
There are so many things to experience in Venice that it is impossible to fit them all into one trip. But, there are some must-sees and do's that you should not miss when visiting the beautiful city of Venice! First, take a ride on a gondola – an iconic Venetian experience – as it glides along the Grand Canal.

Secondly, explore the magnificent St Mark's Basilica and its historic square with its impressive campanile (bell tower). Thirdly, sample traditional Venetian cuisine such as cicchetti (small bites) and local seafood dishes from one of the vibrant restaurants near Rialto Bridge or Piazza San Marco. Fourthly, visit Doge's Palace for fascinating artworks which cover more than 1,000 years of history.

Fifthly stroll through Cannaregio district – an area brimming with shops selling Murano glassware and handmade lace products. Lastly be sure to take home your own piece of Italy by purchasing souvenirs like masks or Carnival costumes at any number of speciality stores across town. There really is something for everyone in this floating city!
What are the 3 Things That Venice is Famous Or Known For?
Venice is one of the most beautiful and renowned cities in the world, and with good reason. It has a vibrant history spanning centuries, shimmering canals, stunning architecture, unparalleled art galleries and museums – not to mention some of the best food Italy has to offer! However, three things that Venice is particularly famous or known for are gondolas, carnivals & masks, and St Mark's Square.

Gondolas are an iconic symbol of Venice – you cannot visit without seeing at least one! Gondola rides along the Grand Canal have been enjoyed by locals since 1094. The long black boats with striped awnings are hand crafted from eight different types of wood and steered by experienced gondoliers who sing traditional Venetian songs as they paddle their way through town.

The carnival in Venice is another highlight on any visitor's list when visiting this magical city; it usually runs from late February until early March each year. People from all over come to don ornate costumes and masks to take part in parades around St Mark's Square – many visitors also use this opportunity to dress up themselves! Last but certainly not least is St Mark's Square (or Piazza San Marco) which stands proudly at the eastern edge of the Grand Canal.

It's a wonderful place day or night filled with marble monuments such as Doge Palace & Basilica di San Marco – both architectural wonders worth admiring whether your interest lies in culture or just taking photos!
How Many Days in Venice is Enough?
When it comes to visiting Venice, there is no definitive answer as to how many days are enough. For some people, a single day in the iconic city may be enough to take in its beauty and charm. Others might need at least two or three days so they can fully experience all that Venice has to offer.

Generally speaking, however, most visitors would agree that four or five days is ideal for getting a true sense of this magical Italian city. During your time here you can explore the winding streets and grand plazas; visit renowned landmarks such as St Mark's Basilica and Doge's Palace; ride through the romantic canals on a gondola; savor delicious Venetian cuisine; shop for exciting souvenirs from local boutiques; admire artworks from world-renowned masters like Titian and Tintoretto at world-class galleries such as Ca'Rezzonico Museum of 18th Century Venice; relax by the beach in Lido di Venezia or enjoy live music performances at Teatro La Fenice opera house – just some of the countless activities available during an extended stay in this captivating destination!
Should I Spend 2 Or 3 Days in Venice?
If you're looking for a unique and unforgettable experience, Venice should be at the top of your list. With its intricate canals, winding waterways, majestic historical buildings and vibrant culture, it's no surprise that this Italian city has become one of the most popular tourist destinations in Europe. Spending two or three days in Venice will give you enough time to take in all that this beautiful city has to offer.

Start off by exploring some of the famous sights such as St Mark's Square, Doge's Palace and Rialto Bridge before heading out on a gondola ride through the canals – an absolute must-do! You could also spend a day wandering around the streets admiring the architecture or taking a boat trip along the Grand Canal. For those who are feeling adventurous why not rent yourself a bike and explore further away from the main areas?

If you want to get up close with some local wildlife then head over to Lido di Venezia for bird watching or pay Torcello Island a visit where over 100 species of birds call home. After sightseeing there is plenty more to do; enjoy delicious food at one of many restaurants or bars found throughout Venice – don't forget about trying out Italy's most famous dishes such as pizza and pasta too! Shopping lovers won't be disappointed either with colourful markets selling everything from souvenirs to traditional Venetian masks.

So if you have two or three days free make sure you add Venice onto your itinerary – it'll certainly be worth it!
Conclusion
In conclusion, if you're looking for an unforgettable trip to Italy, Venice is a must-see destination. With its unique canals and bridges, stunning architecture, and endless cultural attractions, there's something for everyone in this beautiful city. From taking a romantic gondola ride through the canals to visiting centuries-old churches and museums full of art and history, you'll be sure to have an amazing time discovering all that Venice has to offer.