1. Visit the Colosseum: This iconic amphitheatre is one of Rome's oldest and most impressive attractions, a must for any trip to Rome. 2. Explore the Pantheon: The ancient Temple of all Gods was constructed in 126 AD and features an impressive domed roof that still stands today. 3. Take a stroll along the Spanish Steps: A beautiful staircase connecting Piazza di Spagna to Trinità dei Monti, this spot is perfect for people watching or sipping on some Italian coffee at one of the nearby cafes.

4. Wander through Vatican City: Home to St Peter's Basilica and the Sistine Chapel, you won't want to miss out on taking a tour of this awe-inspiring complex while in Rome. 5. Relax with some gelato in Piazza Navona: Don't forget to sample some delicious Italian ice cream while admiring Bernini's Fountain of Four Rivers as you relax in this beautiful piazza!
Rome is a city overflowing with history, art and culture. From the Colosseum to the Trevi Fountain, there are so many must-see places in Rome that it can be hard to know where to start. Whether you're looking for ancient ruins or amazing Italian food, here are just a few of the top things to do in Rome: explore the Roman Forum and Palatine Hill; visit St Peter's Basilica at the Vatican City; get lost in beautiful Piazzas such as Piazza Navona and Campo de' Fiori; stroll along Spanish Steps and take pictures of stunning views from Gianicolo; wander around Trastevere's cobbled streets and enjoy its unique atmosphere – this list could go on forever!
TOP 10 Things to do in ROME – [2023 Travel Guide]
Crazy Things to Do in Rome
One of the craziest things to do in Rome is to take a guided tour of the Catacombs, an underground network of tunnels filled with ancient burial sites. The tours are led by knowledgeable guides who will provide you with interesting facts and stories about this dark and mysterious place. You'll also have the chance to explore some of the fascinating artifacts that were discovered inside the catacombs, making it one experience no traveler should miss!
Fun Things to Do in Rome
Rome, the "Eternal City" is a treasure trove of attractions for visitors to explore. From iconic landmarks like the Colosseum and St. Peter's Basilica to delicious Italian cuisine and charming piazzas, there are plenty of fun things to do in Rome. Take a stroll through ancient ruins like the Forum or Pantheon, explore chic neighborhoods like Trastevere or Campo de' Fiori, take a day trip outside the city to vineyards and hillside towns, enjoy an opera at one of world-famous Teatro dell'Opera di Roma – whatever you choose, Rome has something for everyone!
Top 10 Things to See in Rome
Rome is a city brimming with fascinating attractions, from its incredible ancient ruins to its renowned Renaissance art. There are many must-see sights in the Eternal City; here are ten of the top things to see when visiting Rome: The Colosseum, St Peter's Basilica, Trevi Fountain, Pantheon, Roman Forum and Palatine Hill, Piazza Navona, Sistine Chapel and Vatican Museums, Spanish Steps and Piazza di Spagna, Capitoline Museums and Campo de' Fiori.
Things to Do in Rome in 3 Days
Rome is an incredible city with a seemingly endless list of things to do and see, but if you only have three days in the Eternal City, it's important to prioritize. A great way to get your bearings is by embarking on a hop-on/hop-off bus tour which will take you around the city center and its iconic attractions such as St Peter's Basilica, the Colosseum and Trevi Fountain. Make sure to include some gastronomic experiences like indulging in traditional Italian cuisine or sipping espresso at one of Rome's many cafes.

Don't forget about cultural activities either; visit world-class art galleries such as Galleria Borghese or explore ancient ruins like Palatine Hill for a glimpse into Rome's rich history!
Trastevere, Rome
Trastevere is a neighborhood in Rome, Italy that has its own unique charm. It's known for its cobbled streets and lively atmosphere, with plenty of restaurants and bars to keep visitors entertained. Trastevere is also home to some of the best Roman cuisine you can find – it's no wonder so many people like to visit this area!
Best Restaurants in Rome
Rome is a foodie paradise with its abundance of delicious restaurants. Whether you're looking for traditional Italian fare or something different, the Eternal City has something for everyone. Some of the best restaurants in Rome include La Pergola, located atop The Rome Cavalieri hotel; Da Francesco, where classic Roman dishes are served in a cozy and inviting atmosphere; and Antico Arco, which offers creative takes on traditional cuisine.

No matter what type of food you crave, there's sure to be an amazing restaurant in Rome that will fulfill your desires!
Things to Do in Venice
Exploring the canals of Venice, Italy is one of the most exciting and memorable experiences you can have. From taking a romantic gondola ride through the Grand Canal to visiting iconic landmarks like St Mark's Basilica and Doge's Palace, there are plenty of things to do in this beautiful city. You can also enjoy local delicacies such as tiramisu, seafood risotto and Venetian cicchetti (small bites) while strolling around its cobbled streets or admiring stunning Renaissance architecture.

Whether you're looking for an adventure or simply want to soak up some history, Venice has something for everyone!
Things to Do in Florence
Florence, Italy is a city filled with culture, art and history. From the Renaissance-era architecture to the plethora of museums and galleries, there's something for everyone in this beautiful Italian city. Some of the top attractions include visiting Piazza della Signoria and the Uffizi Gallery, exploring Boboli Gardens or taking a stroll through Ponte Vecchio.

With such an expansive array of activities, you'll never be bored while visiting Florence!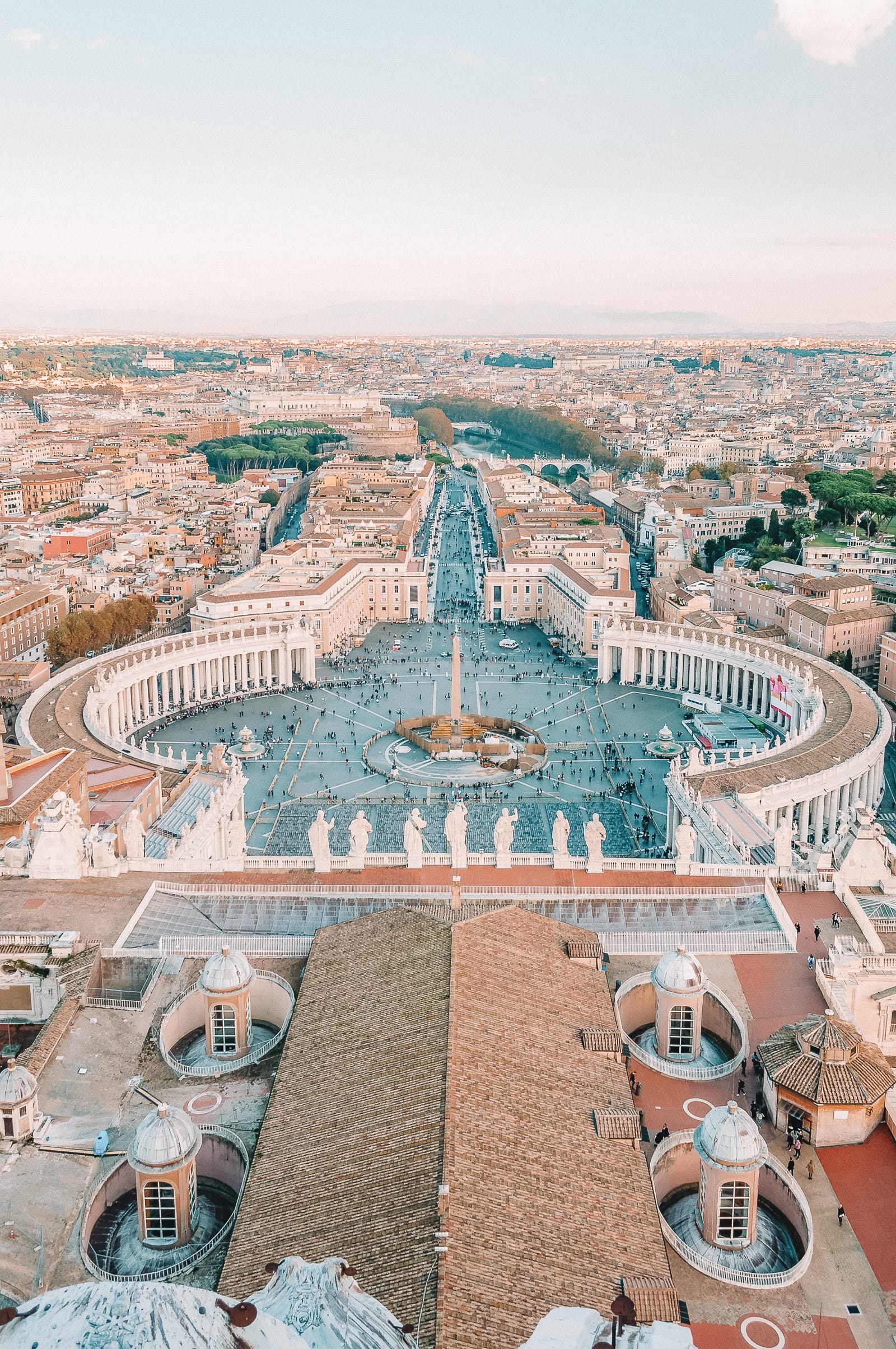 Credit: handluggageonly.co.uk
What Not to Miss When Visiting Rome?
If you're planning a trip to Rome, there are so many attractions that should be on your list. From ancient ruins and iconic landmarks to mouthwatering cuisine and incredible views, there is something for everyone in this amazing city. Here are some of the must-see sights that you won't want to miss when visiting Rome: The Colosseum – One of the most famous monuments in the world, no visit to Rome would be complete without seeing the Colosseum.

Marvel at one of Ancient Rome's greatest architectural feats from its well-preserved amphitheatre floor or take an audio tour through its history. Pantheon – Another remarkable example of Roman architecture is the Pantheon, which dates back almost 2000 years ago and still stands as one of Rome's best preserved buildings. Take time out inside this impressive structure with a cup of Italian coffee or gelato in hand!

Trevi Fountain – As one of Italy's most recognisable fountains, it's no wonder why thousands flock here each day to throw coins into it and make wishes; said to bring luck! Not only can you admire its beauty but also experience real Italian culture by watching locals gather around singing traditional songs whilst munching on pizza slices nearby! Vatican City – A sovereign state within Italy itself, Vatican City is home to St Peter's Basilica where visitors come from all over the world for mass as well as Michelangelo's frescoed Sistine Chapel ceiling masterpiece which took him 4 years to paint!

Whether religious or not, a visit here will leave you feeling inspired by all forms artistry contained within these walls.
What is the Number 1 Must See in Rome?
Rome, the Eternal City, is home to a wealth of historical and cultural attractions. With so much to see and do in Rome, it can be difficult to decide which places are must-sees. However, if there's one attraction that tops all others in terms of importance and beauty it has to be the Colosseum.

Built between 70AD – 80AD by Emperor Vespasian as a gift for the Roman people, this incredible amphitheatre was once used for gladiatorial contests and public spectacles such as animal hunts or executions. Nowadays the Colosseum stands as an iconic symbol of Ancient Rome; its sheer size and grandeur make it hard to miss! An unmissable experience is taking part on one of their guided tours which offer unparalleled insight into how this impressive site operated during its heyday.
What is the Unique Things to Do in Rome?
Rome is one of the most visited cities in the world, and it's no wonder why. With its rich history, stunning architecture, and unique culture, there are endless things to do in Rome. From exploring ancient ruins like the Colosseum or Pantheon to taking a stroll through Vatican City or indulging in some of Italy's finest cuisine – you can never run out of activities!

One of the most unique experiences you can have while visiting Rome is attending an opera at Teatro dell'Opera di Roma. This historic theatre provides visitors with breathtaking performances from some of Italy's top performers. If you want to get even more immersed into Italian culture, head over to Trastevere for a night full of traditional music and dancing.

Alternatively, if you're looking for something a bit more adventurous- try your hand at kitesurfing on Ostia Beach or take part in a street art tour around Garbatella district! There are plenty of unique things to do during your stay in Rome – so don't miss out on this incredible city!
Is 3 Days Long Enough in Rome?
When it comes to visiting Rome, three days may seem like a short amount of time to take in the sights and sounds of one of the world's most beloved cities. However, with careful planning and an eagerness to explore, it is possible to make the best out of this limited time frame. After all, Rome has been around for thousands of years so there is no shortage of places that need exploring!

From iconic monuments such as The Colosseum and St Peter's Basilica to bustling markets and charming piazzas, you can easily fill up your itinerary with activities that will leave you wanting more. To get the most out of your trip don't forget about other areas outside central Rome; Ostia Antica or Tivoli are great day trips for those looking for something off-the-beaten path. In conclusion, while three days might not be enough if you plan on taking a leisurely stroll throughout every corner in town – it's certainly enough time to experience some major highlights that will stay etched in your memory forever!
What are the Do'S And Don'Ts in Rome?
Rome is a beautiful, historic city that offers plenty of sightseeing opportunities and interesting cultural experiences. However, if you're visiting Rome for the first time, it's important to be aware of some basic do's and don'ts that will help ensure you have a pleasant stay. When in Rome, do explore the many sights such as the Colosseum, Pantheon and Trevi Fountain – they are iconic landmarks not to be missed!

Do take advantage of public transportation when possible; it's cheap and convenient. If you plan on taking taxis or car services make sure to use licensed ones only. Don't forget to dress respectfully when visiting churches – shoulders should be covered while skirts or shorts should reach below knee-length at least.

Don't litter in public areas – fines ranging from €50 up to €500 can apply for doing so! Lastly don't expect locals (especially shopkeepers) always speaking English: try using Italian as much as possible even if your knowledge is limited – this will show appreciation for their culture which will definitely pay dividends!
How Many Days in Rome is Enough?
If you're wondering how many days in Rome is enough, the answer depends on what kind of traveler you are. If you're someone who likes to take their time exploring a new city and soaking up all its culture, then five or six days might be necessary to really get the most out of it. On the other hand, if you prefer a quick-paced holiday with highlights only, three days may suffice.

If visiting iconic sites like the Colosseum and St Peter's Basilica is your priority while in Rome, two full days could do justice to these attractions; however, beyond just sightseeing there's also so much more that this beautiful city has to offer – amazing food & wine experiences as well as interesting hidden gems tucked away amongst its narrow cobbled streets – for which an extra day or two would come in handy. Ultimately though it all comes down to personal preference; some travelers have spent weeks discovering every nook and cranny of this remarkable city whereas others have managed to fit everything into just 48 hours!
Conclusion
Rome is an incredible city full of interesting and unique sights. From ancient ruins to delicious food, there are plenty of must-see attractions in Rome that shouldn't be missed. Whether you're visiting for a few days or planning an extended stay, make sure to take the time to explore these top things to do in Rome and discover its rich history, culture, and beauty.

It's guaranteed you won't regret it!