1. Visit the iconic Edinburgh Castle: Located in the heart of the city, this famous castle is a must-see when visiting Edinburgh. Climb to its highest point and take in stunning views of Scotland's capital while learning about its history with audio tours or guided visits. 2. Explore Arthur's Seat: Take on an adventure up Arthur's Seat, an extinct volcano located right within the city limits!

This is one of the most popular hikes for visitors and locals alike – providing amazing panoramic views over Edinburgh from its peak after some light exercise! 3. Stroll along The Royal Mile: A historic street that runs between two royal residences, The Royal Mile offers a unique look into medieval times full of cobbled streets and grand architecture which makes it ideal for shopping or sightseeing as you make your way down towards Holyrood Palace. 4 .

Take a Ghost Tour: Get spooked by stories about witches and ghosts on these themed walking tours around old town – perfect for those who love tales of mystery and intrigue! 5 .Pay a visit to Scottish National Gallery : Admire fine masterpieces at this art gallery featuring works by famous artists such as Rembrandt, Botticelli, Titian and many more – including modern artwork too!
Edinburgh is one of the most beautiful cities in the world, and it has a lot to offer for visitors. From stunning architecture to fascinating culture and history, there are plenty of things to do in Edinburgh that will keep you entertained. Whether you're looking for an exciting night out or just a relaxing stroll through the city streets, Edinburgh has something for everyone.

If you're visiting this vibrant Scottish capital, be sure to check out some must-see attractions such as Arthur's Seat, Calton Hill and The National Museum of Scotland; take time out at Royal Botanic Garden; indulge in local specialties like haggis; explore Edinburgh Castle; and discover its hidden gems like Greyfriars Kirkyard.
10 BEST Things To Do In Edinburgh | What To Do In Edinburgh
Things to Do in Edinburgh for Young Adults
Edinburgh is a great destination for young adults looking to explore, learn and have fun! From the lively nightlife scene in Old Town, to outdoor activities like hiking and biking in Holyrood Park, there's something for everyone. For culture seekers, the city offers an array of museums, galleries and music venues showcasing Scotland's rich history.

Take a tour of Edinburgh Castle or explore the underground network of streets and vaults known as 'The Real Mary King's Close'. If you're looking for something different check out The Royal Yacht Britannia or take part in one of Scotland's many traditional festivals throughout the year like Hogmanay.
Crazy Things to Do in Edinburgh
Edinburgh, Scotland is the perfect destination for an unforgettable adventure. From exploring haunted underground vaults to walking along the Royal Mile and admiring Edinburgh Castle, there are plenty of crazy things to do in this historic city! For a truly unique experience, take part in a ghost tour or visit Mary King's Close – an abandoned 16th century street preserved beneath the buildings of Old Town.

If you're feeling brave enough, join one of the many whisky-tasting tours and sample some local malts from renowned distilleries across Scotland. No matter what you choose to do, Edinburgh has something special for everyone!
Fun Things to Do in Edinburgh
Edinburgh is a wonderful city to visit and there are plenty of fun things to do while you're here. Whether you're looking for outdoor activities, such as sightseeing around the city's historic monuments or going on hikes in nearby parks, or indoor experiences like visiting one of Edinburgh's many museums or exploring its thriving art galleries, this Scottish capital has something for everyone.
Best Restaurants in Edinburgh
Edinburgh is home to a diverse and vibrant culinary scene, with some of the best restaurants in Scotland. From traditional Scottish dishes to modern European cuisine, there's something for everyone in this historic city. Whether you're looking for a cozy pub meal or an upscale fine dining experience, Edinburgh has it all.

Popular spots include The Kitchin, Castle Terrace Restaurant, Ondine and Timberyard – all of which offer exceptional food and service.
Things to Do in Edinburgh for Families
Edinburgh is a great destination for families, with plenty of activities to keep the whole family entertained. From its historic landmarks and museums to outdoor adventures and leisurely strolls through charming cobbled streets, there's something to suit everyone in Edinburgh. Popular attractions include Arthur's Seat, a dormant volcano offering panoramic views of the city; Camera Obscura and World of Illusions; Scotland's oldest zoo; visits to Edinburgh Castle or Holyrood Palace; boat trips on the Firth of Forth; and tours along the Royal Mile.

With numerous parks and picnic spots dotted throughout the city – as well as restaurants serving traditional Scottish fare – you won't be short on things to do during your visit!
Edinburgh Castle
Edinburgh Castle is a historic fortress in Scotland that has been an important part of the city's history for hundreds of years. Located at the top of an extinct volcano, this castle offers stunning views and numerous attractions such as St. Margaret's Chapel, The Great Hall, and Crown Square which all provide insight into Edinburgh's past. Visitors can also visit the Royal Palace to see where Mary Queen of Scots gave birth to her son James VI in 1566 or explore dungeons and secret passages beneath the castle walls.

With so much to explore and discover, it is no wonder why Edinburgh Castle remains one of Scotland's most popular tourist destinations!
Things to Do in Edinburgh for Free
Edinburgh is a beautiful city full of free activities and attractions that are perfect for anyone looking to explore the culture and history of Scotland. From walking tours of the Royal Mile, exploring Edinburgh Castle, or paying your respects at Greyfriars Kirkyard, there's something for everyone. Even if you don't have money to spend, you can still enjoy plenty of sights around town like St Giles Cathedral, The National Museum of Scotland, and Calton Hill.

With so much to see and do in Edinburgh without spending a penny – it's an ideal destination for budget travellers!
Things to Do in Glasgow
Glasgow is a vibrant city, with plenty of exciting things to do. From captivating museums and galleries to thrilling live shows, Glasgow has something for everyone. Visit the Kelvingrove Art Gallery, take in a show at the King's Theatre or explore the many charming pubs and bars that line the streets.

Spend an afternoon strolling through Glasgow's iconic parks like Pollok Country Park or visit one of its bustling shopping centres such as The Style Mile. Whatever you choose to do in this lively city, you are sure to have a memorable time!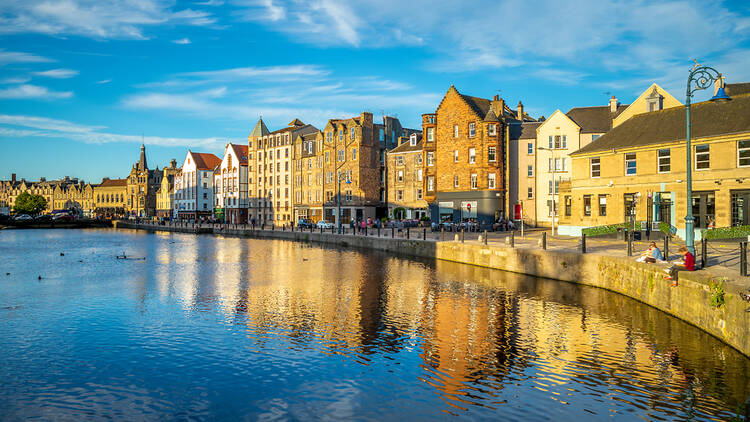 Credit: www.timeout.com
What Should You Not Miss in Edinburgh?
When planning a trip to Edinburgh, there are so many amazing sites and experiences that it can be hard to decide what not to miss! From the iconic Royal Mile and the stunning architecture of Edinburgh Castle, to the beautiful Princes Street Gardens and Arthur's Seat overlooking the city, there is no shortage of must-see sights in Scotland's capital. Of course you won't want to miss out on exploring some of its fantastic museums like National Museum of Scotland or The Real Mary King's Close; as well as sampling delicious Scottish cuisine at one of numerous charming pubs or restaurants.

Be sure also to check out Calton Hill for spectacular views across the city skyline; wander through quaint cobbled streets such as Cockburn Street; take a stroll along Leith Walk for independent shops and restaurants; and explore hidden gems like Dean Village – all with plenty more surprises waiting around every corner! With an abundance of activities from whisky tasting tours, ghost walks, live comedy shows and bagpipe performances, it's easy to see why visitors flock back time after time. Whether you're visiting for a weekend break or longer staycation, make sure you don't miss out on any of these magical experiences in Edinburgh – you won't regret it!
Is 2 Days Enough in Edinburgh?
Edinburgh is a magical city full of history, culture and entertainment. It's a great place to explore for any length of time, but when it comes to deciding how long you should stay in Edinburgh: two days is definitely enough! In two days, visitors can experience all the best that Scotland's capital has to offer.

From exploring the Royal Mile – home to St Giles' Cathedral and Holyrood Palace – and wandering around Edinburgh Castle, which dates back centuries; to discovering the vibrant nightlife on George Street and Princes Street; or taking a stroll through one of its many parks; there really is something for everyone in this incredible city. Not only that but with so much good food available throughout the city – from traditional Scottish cuisine at The Sheep Heid Inn (the oldest pub in Edinburgh) to award-winning seafood restaurants like Ondine – you won't go hungry either! So if you're looking for an exciting getaway without spending too long away: then why not take advantage of what Edinburgh has to offer during your two day stay?
How Many Days is Enough for Edinburgh?
Edinburgh is one of those cities that can be explored in a day or two, yet can also offer enough attractions to justify an entire week. As such, the answer to how many days are necessary for Edinburgh depends on what visitors are looking for. For instance, if someone just wants to see the main sights like Edinburgh Castle and Calton Hill then two days should suffice—one day for sightseeing and another for shopping or leisurely activities.

However, if you want to explore all the city has to offer from its museums and galleries to its pubs and restaurants then it's best to plan four or five days so you have enough time to do everything. Alternatively, if your goal is simply relaxation then three full days would give you plenty of time take part in some fun activities while still allowing ample opportunities for restful breaks. Ultimately, how many days you spend in Edinburgh will depend on your interests but regardless of which option you choose there's no doubt that this beautiful city will leave a lasting impression!
What is Edinburgh Famous For?
Edinburgh is one of the most popular and well-known cities in Scotland, known for its unique culture and history. Situated on the east coast of Scotland, Edinburgh is renowned for its majestic skyline dominated by the imposing castle perched atop an extinct volcano. It's a city steeped in ancient history with centuries-old cobbled streets, grand architecture from Georgian terraces to Gothic spires, and plenty of hidden alleys filled with stories.

The city also has many modern attractions like world-class shopping districts and lively nightlife spots. Every summer Edinburgh hosts the world's biggest arts festival – the International Fringe Festival which attracts thousands of performers from around the globe to put on shows ranging from comedy to theatre, dance to music performances. Additionally, Edinburgh's musical heritage has seen it become home to numerous legendary bands over time such as The Proclaimers, Belle & Sebastian and Franz Ferdinand.

There truly is something for everyone in this incredible city!
Conclusion
Overall, Edinburgh is an amazing city with a lot to offer. From its delicious food to its rich history and culture, there are plenty of must things to do in Edinburgh. Whether you're looking for adventure or relaxation, there's something for everyone in this beautiful Scottish city.

With so much to explore and experience, it's no wonder that Edinburgh is one of the world's top vacation destinations!