1. Visit Buckingham Palace: a must-see landmark of London, it is the official residence of The Queen and her family. Take a guided tour to learn more about its history and see some of its magnificent rooms. 2. Explore Hyde Park: one of London's largest parks, Hyde Park has something for everyone – from long walks in the fresh air, tranquil boating lakes and a picturesque rose garden to lively concerts and events taking place throughout the year.

3. Visit St Paul's Cathedral: an iconic symbol of London since 1675, this awe-inspiring Baroque cathedral offers panoramic views over the city skyline from its famous dome as well as spectacular interiors including galleries with exquisite marble flooring and intricate carvings on every wall. 4. Experience The Tower Of London: explore some 900 years' worth of fascinating history at this iconic fortress set along the banks of the Thames River; view priceless Crown Jewels, walk around ancient battlements and visit eerie dungeons filled with tales from royal prisoners held here centuries ago! 5 .

Take In A Show At The Globe Theatre : experience William Shakespeare's plays like never before in this faithful recreation built near their original site on Bankside ; complete with thatched roof , standing audience pit (the 'yard')and stunning performances by internationally acclaimed actors!
London is one of the world's most beloved cities and it is a must-see destination. From iconic attractions such as Big Ben, Buckingham Palace and the Tower of London to exciting activities like visiting Harry Potter World or taking a Thames River Cruise, there are endless things to do in this vibrant city. Whether you're looking for historical landmarks, delicious cuisine or thrilling nightlife experiences – London has something for everyone!
TOP 10 Things to do in LONDON – [2023 Travel Guide]
What to Do in London for a Day
If you're only in London for one day, there are plenty of things to do! Take a ride on the iconic London Eye ferris wheel and enjoy spectacular views of the city. Enjoy an afternoon at Hyde Park or take a stroll along The Thames.

Shop along Oxford and Regent Streets, visit Buckingham Palace, or explore Westminster Abbey – all within walking distance. End your day with dinner and drinks at Covent Garden before returning home with memories that will last forever.
Unique Things to Do in London
London is full of unique and exciting things to do, from visiting the city's many iconic landmarks to exploring its bustling neighborhoods. From trying traditional fish and chips in a local pub to taking a high-speed boat tour along the River Thames, there are plenty of opportunities for travelers to get an authentic taste of London life. Visitors can also experience some of the city's best shopping districts, visit some of its world-renowned cultural venues such as The British Museum or Tate Modern, take part in food tours sampling global cuisines around town or catch a show at one of London's renowned West End theatres.

There really is something for everyone in this vibrant capital!
Things to Do in London for Couples
London is a great destination for couples, with endless possibilities for romance and adventure! From exploring vibrant neighbourhoods to taking in the city's iconic sights, there are plenty of things to do in London that will make your trip extra special. Whether you're looking to explore the world-famous museums, take a romantic stroll through Hyde Park or indulge in some fine dining at one of London's many Michelin-starred restaurants, there is something here for every couple.
Places to Visit in London for Free
One of the best things about London is that there are plenty of places to visit for free. From world-famous galleries and museums such as the British Museum, National Gallery, Tate Modern and Natural History Museum to tranquil parks like Hyde Park and Hampstead Heath; London offers a variety of experiences without having to break the bank. The city also boasts several iconic landmarks including Big Ben, Tower Bridge and Buckingham Palace which can all be visited at no cost.
Fun Things to Do in London
London is an incredible city filled with a variety of exciting activities for everyone. From iconic attractions like the Tower Bridge and Buckingham Palace to unique experiences such as attending theatre performances or going on a Thames River cruise, there's something for everyone in London. Whether you're looking for culture, history, art, food or nightlife, there are plenty of fun things to do in London that will make your visit unforgettable!
Things to Do in London With Kids
London is a great city for families to explore together, with plenty of activities and attractions that are suitable for kids. From the world-famous London Eye to the Tower of London and Buckingham Palace, there's something for everyone in this vibrant metropolis. For outdoor fun, try Hampstead Heath or Kew Gardens; if you're looking for educational experiences, don't miss out on visits to the Natural History Museum or Science Museum.

With its iconic landmarks, renowned restaurants and buzzing streetscapes, London is sure to be an unforgettable experience for your family!
Things to Do in London This Weekend
One of the most exciting and fun things to do in London this weekend is to explore some of the city's world-famous attractions. From iconic landmarks such as Big Ben, Buckingham Palace, and Tower Bridge, to unique shops and restaurants lining cobblestone streets like Covent Garden Market, there is something for everyone. For a truly unforgettable experience, take a cruise along the River Thames or hop on an open-top bus tour around central London.

Whatever you choose to do in London this weekend will be sure to make your visit one you'll remember!
Places to Visit in Central London
Central London is packed with plenty of amazing places to visit! From iconic landmarks such as Big Ben and the Tower of London, to beautiful parks like Hyde Park and Regent's Park, there is something for everyone. Art lovers can spend a day at the National Gallery or explore one of the many galleries in Covent Garden.

History buffs can take a tour around Westminster Abbey or stroll through St Paul's Cathedral. Shopping fanatics should head to Oxford Street for some retail therapy, while foodies will be spoilt for choice with the multitude of cafes, pubs, and restaurants on offer. With so much to see and do in Central London, it is no wonder why it remains one of Europe's most popular tourist destinations!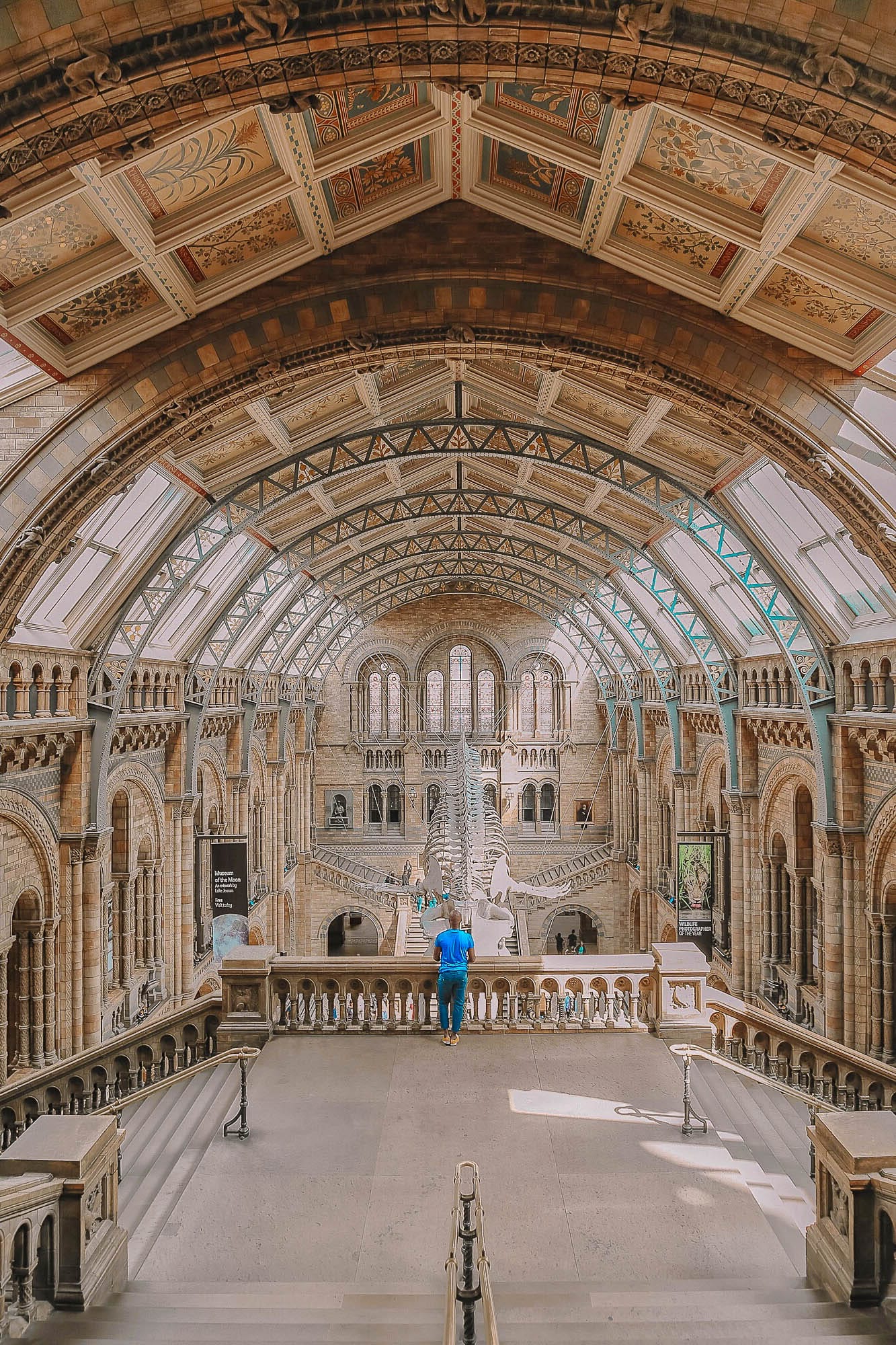 Credit: handluggageonly.co.uk
What is One Thing Not to Miss in London?
London is one of the most exciting cities in the world and there are so many amazing things to see and do. But if you only have a limited amount of time, then there is one thing that you absolutely must not miss: Buckingham Palace! This iconic building has been home to British royalty since 1837 and it's an absolute marvel to behold.

Standing proudly at the end of The Mall, visitors can take tours around its state apartments, watch the Changing of the Guard ceremony or simply admire its grandeur from outside. It's a timeless piece of history that should be seen by all who visit London – don't miss your chance!
What is the Number 1 Tourist Attraction in London?
The number one tourist attraction in London is the iconic Tower of London. The Tower of London was founded by William the Conqueror in 1066 and has been a home to royalty, a prison for high-profile prisoners, and an armory. It has also served as an observatory, menagerie and even a jewel house over its 950 years of history.

Today it is primarily known as the place where visitors can view the Crown Jewels – some 23,578 gemstones set into crowns and other regalia used at coronations since 1661. Other highlights include White Tower with its grand collection of arms; Traitor's Gate; Bloody Tower; Wakefield Tower with priceless royal artifacts from Henry VIII's reign; Medieval Palace once inhabited by kings and queens such as Elizabeth I; Yeoman Warders (popularly called "Beefeaters"); Chapel Royal; Execution Site on Tower Green where Anne Boleyn was beheaded in 1536 among others which make it a must-visit location for any traveler visiting London.
What are 5 Things London is Famous For?
London is one of the world's most iconic cities, renowned for its rich history, culture and diversity. The city has a long list of attractions that draw visitors from around the globe. Here are five things London is famous for:

1) History – London has been an important center of power since Roman times and remains full of awe-inspiring historical sites such as Westminster Abbey, Buckingham Palace, St Paul's Cathedral and Tower Bridge. 2) Art & Culture – From grandiose stage productions in West End theatres to art galleries such as Tate Modern and contemporary music venues like The O2 Arena; London offers a variety of cultural experiences to suit all tastes. 3) Shopping – With stores ranging from high-street favorites to designer boutiques dotted around Oxford Street, Covent Garden and Knightsbridge; shopping in London can be an unforgettable experience.

4) Food & Drink – Whether you're looking for traditional British fare or cuisine from across the world; you'll find plenty on offer in this vibrant culinary capital. 5) Nightlife – After dark, partygoers can explore various pubs, bars and clubs located all over town with something suitable for everyone's taste!
What Must Be Seen in London?
There is no shortage of sights to see in London! From the iconic Buckingham Palace and Big Ben to the Tower Bridge and Westminster Abbey, there are countless renowned landmarks that can't be missed. The British Museum houses an extensive collection of antiquities from all over the world while St Paul's Cathedral offers a breathtaking view of London skyline.

Then, take a stroll down Oxford Street for some shopping or visit Camden Market for unique finds. For those with green thumbs, Kew Gardens is home to one of the largest collections of living plants in existence. And if you want a taste of culture, head over to Trafalgar Square where street performers entertain passers-by daily.

There's something for everyone in London – so don't miss out on these must-see attractions!
Conclusion
London is an amazing city with a seemingly endless list of things to do and explore. From vibrant nightlife to picturesque parks, historical landmarks, art galleries and more, there are countless activities to choose from when visiting London. Whether you're looking for a leisurely day out or an exciting adventure – London has something for everyone!

With its diverse range of attractions, world-class restaurants, beautiful architecture and buzzing energy – it's no wonder why so many people visit this incredible city every year. So if you're planning on experiencing the best that London has to offer make sure not to miss out on these must-see sights!