1. Visit the Todaiji Temple in Nara – one of Japan's most iconic and ancient temples, it is a must-see for anyone visiting Japan. 2. Explore the Imperial Palace in Tokyo – It was once the residence of the Emperor of Japan and now serves as a museum open to visitors from around the world. 3. Take a stroll through Arashiyama Bamboo Forest – This beautiful forest is located near Kyoto with towering bamboo trees that will take your breath away!

4. Enjoy sushi at Tsukiji Fish Market – Located in Tokyo, this famous fish market offers some of the freshest seafood in all of Japan at an affordable price. 5. Go shopping at Shibuya Crossing – One of Tokyo's busiest intersections, Shibuya Crossing has become an iconic symbol for modern Japanese culture and fashion trends alike! 6. Climb Mount Fuji – With its majestic beauty, Mt Fuji is one of Japan's most popular tourist destinations where many people come to hike or just enjoy its wonderful views!

7. Relax at an Onsen – An onsen is basically a hot spring bath which can be found all overJapan – perfect for soaking up after long days exploring this amazing country!
Japan is a country that offers visitors an incredible array of experiences and activities, from visiting iconic shrines and temples to sampling delicious cuisine. To make the most of your trip, it's important to plan ahead and make sure you prioritize some must-do things in Japan. From sipping sake in Kyoto's Gion district to exploring Tokyo's world-famous Akihabara electronics hub, these are just some of the unforgettable experiences awaiting you on your Japanese adventure.
Ultimate Japan Travel Guide for 1st Timers — Must Sees in Tokyo, Osaka, Kyoto | The Travel Intern
Top 10 Things to Do in Japan
Japan is a country filled with unique and exciting experiences. From the bustling cities of Tokyo and Osaka to the peaceful mountain villages, there are plenty of activities to keep you busy during your stay. Here are some of the top 10 things to do in Japan:

1) Visit temples and shrines; 2) Explore Tokyo's vibrant nightlife; 3) Enjoy an onsen experience;

4) Take a trip on a bullet train; 5) Stroll through iconic gardens like Kyoto's Kiyomizu-dera Temple or Ryoanji Temple; 6) Try traditional Japanese cuisine such as sushi, tempura, ramen and soba noodles;

7) Experience hinamatsuri (Doll Festival); 8 ) Participate in traditional tea ceremonies 9 ) Shop at local markets for souvenirs ; 10 ) Watch Geishas perform their ancient art form . With so many things to see and do, it's no wonder Japan has become one of Asia's most popular travel destinations!
What to Do in Japan for a Week
If you're looking for a memorable vacation experience, Japan is the perfect destination. With a week in Japan, you can visit temples and shrines to learn about its rich cultural history, take part in traditional activities like sushi-making or calligraphy classes, explore bustling cities like Tokyo or Osaka, and admire stunning natural beauty such as Mount Fuji or Hiroshima's Peace Park. No matter what your interests are, there is something unique to do in Japan that will make your trip unforgettable!
Things to Do in Tokyo
Tokyo is an amazing city with so many things to do! From exploring the vibrant metropolitan area, visiting historical shrines and temples, shopping in bustling districts, trying delicious Japanese food and taking in stunning views of Mt. Fuji – there's something for everyone. Whether you're looking to experience traditional culture or explore modern Japan, Tokyo has it all!
Things to Do in Japan 2023
2023 is set to be an amazing year for Japan, with the country hosting several major events such as the Rugby World Cup and Tokyo Olympics. With so much going on in Japan this upcoming year, there will be plenty of exciting things to do like watching a rugby match at one of the tournament's stadiums or cheering on your favorite athletes at the Olympic Games. Additionally, visitors can explore famous landmarks such as Mount Fuji and shrines like Meiji Shrine or take part in traditional Japanese festivals.

Other great activities include trying out delicious local cuisine, shopping for unique finds from markets around the country, or relaxing at some of Japan's many hot springs.
Unique Things to Do in Japan
Japan is a country full of fascinating culture and plenty of unique things to do. From visiting historical sites like the iconic Kiyomizu-dera temple in Kyoto, to experiencing traditional activities such as sumo wrestling and trying on a kimono at a local shop, there's no shortage of exciting adventures that await visitors in Japan. For the more adventurous traveler, why not try out an anime or manga tour?

Or if you're looking for something truly special, take part in one of Japan's famous tea ceremonies or even get lost in the neon glow of Tokyo's legendary nightlife. No matter what your interest may be, there are plenty of unique ways to experience all that Japan has to offer!
Adventurous Things to Do in Japan
From soaking in hot springs to exploring ancient castles, Japan offers a plethora of activities that will get your adrenaline pumping. If you're looking for an adventure, why not take a hike up Mt. Fuji or try one of the epic ski resorts? For those who prefer something more low-key but still exciting, consider embarking on a cycle tour through the beautiful countryside or visiting some of the unique museums and galleries around Tokyo.

No matter what kind of adventure you seek, Japan has plenty to offer!
Top 5 Things to Do in Japan
Japan is a country that offers visitors an amazing array of activities and attractions. From its vibrant cities to its majestic mountains, there's something for everyone in Japan. Here are the top five things to do when visiting this beautiful country: explore the ancient capital of Kyoto; take a dip in the hot springs found throughout the country; experience traditional Japanese culture at one of many festivals; shop 'til you drop in Tokyo's bustling shopping districts; and soak up stunning views from Mt. Fuji's peak.

Whether it's your first or fiftieth visit, Japan has plenty to offer!
Things to Do in Kyoto
Kyoto is a city full of culture and history that offers many interesting things to do. Whether you're a fan of temples, shrines, gardens or traditional Japanese arts like tea ceremony and Kabuki theater, there's something for everyone in Kyoto. Popular attractions include Kiyomizudera Temple, Fushimi Inari Shrine and the Arashiyama Bamboo Grove as well as museums such as the Imperial Palace Park Museum and Kyoto National Museum.

There are also plenty of shopping options such as Nishiki Market and Teramachi Shopping Arcade. Foodies can enjoy both traditional Japanese cuisine like kaiseki-ryōri or modern fusion dishes at one of the many excellent restaurants around town.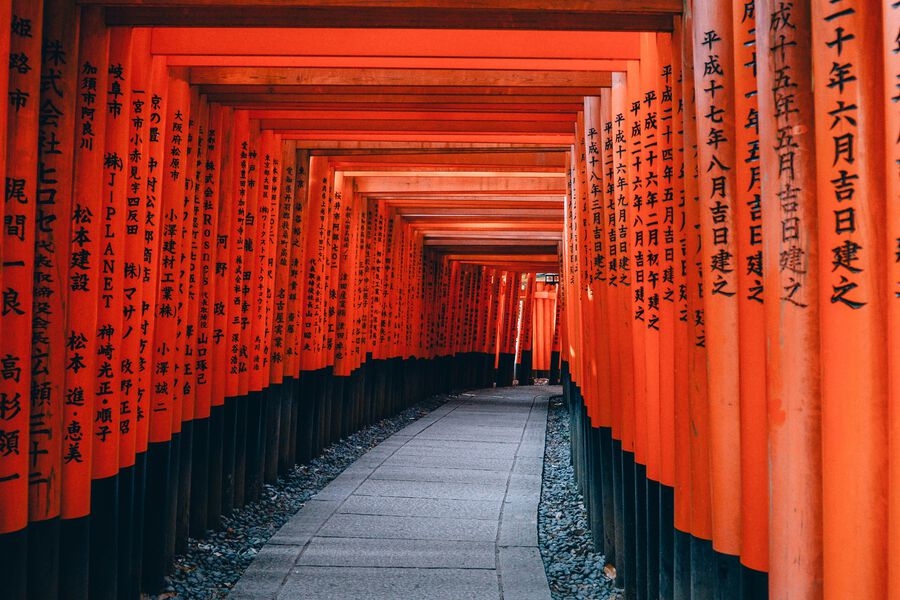 Credit: www.bucketlistly.blog
What is the No 1 Tourist Destination in Japan?
Japan is a country full of fascinating culture, cuisine and history that has been drawing tourists from all around the world for many years. With so much to do and see, it can be hard to narrow down your choices when planning a trip. One destination that stands out above the rest is Japan's No 1 tourist destination – Kyoto.

A former imperial capital of Japan, Kyoto offers visitors an abundance of traditional Japanese architecture, temples and gardens as well as modern sights like shopping arcades and nightlife spots. The city also boasts some incredible ancient shrines such as Fushimi Inari-taisha Shrine which are sure to take your breath away! Furthermore, there are plenty of activities in Kyoto suitable for everyone including hot springs (onsen), food tours, cultural experiences and even geiko performances where you can watch maiko dancers perform their graceful dances in beautiful kimonos.

With its unique blend of old and new attractions combined with friendly locals who are eager to share their culture with you; it's no wonder why Kyoto is considered one of the top destinations in Japan – making it number one on any traveler's bucket list!
Is 7 Days in Japan Enough?
Visiting Japan for 7 days is an exciting opportunity! It's enough time to experience a lot of what this incredible country has to offer. You can expect to see some of the most iconic sites, from the bright lights and busy streets of Tokyo, to ancient temples in Kyoto or serene countryside landscapes.

Depending on your interests and budget, you could visit several different cities or opt for a rail tour that takes you between multiple destinations. With such limited time available, it's important to prioritize sightseeing by making sure you plan ahead with an itinerary before arriving. Don't forget that even if there isn't much time left after visiting attractions, taking part in local cultural activities such as traditional tea ceremonies will give you a taste of Japanese culture and history which are essential elements when experiencing any country.

Therefore overall whilst 7 days may seem quite short when compared with other countries, it makes sense to make the most out of every moment in Japan so that no matter how long your stay is, hopefully you'll leave feeling enriched with memories and experiences!
Is 14 Days Enough for Japan?
It's a difficult question to answer. On the one hand, 14 days may be enough for some travelers who are just looking to get a taste of Japan and its culture, but on the other hand, it is not nearly enough time for those seeking to explore more deeply. The beauty of Japan lies in its many diverse regions from bustling Tokyo to tranquil Shikoku Island, each with their own unique cultures and landscapes; as such, trying to do justice to them all within fourteen days would be near impossible.

It also depends greatly on how fast-paced you like your travels; if you are content with seeing only the highlights then 14 days can certainly feel sufficient whereas those seeking more immersive experiences should consider spending at least 3 weeks or longer in order to really savor what each destination has offer. Ultimately it comes down personal preference – some prefer shorter trips while others opt for extended stays – so think carefully about your needs before deciding how much time you want spend in Japan.
Is 10 Days in Japan Enough?
If you're wondering if 10 days in Japan is enough for a memorable and enjoyable trip, the answer is yes – but only if you plan carefully. With careful planning, it's possible to make the most of your time in Japan. You can visit some of its many beautiful cities and towns, experience traditional culture such as tea ceremonies or sumo wrestling matches, enjoy delicious food from local restaurants or street stalls, and explore other attractions like temples and shrines.

However, if you want to fully immerse yourself in the country's culture it would be best to spend more than 10 days there. There are so many different things to do that you won't have time to try everything within just 10 days; however with proper planning it's still possible to get a taste of what makes Japan unique without overcommitting your schedule.
Conclusion
Japan is a truly unique and special destination that offers visitors the chance to experience something unlike anything else in the world. From its stunning natural beauty, vibrant culture, and fascinating history, there is so much to see and do in Japan. Whether you are looking for an adrenaline rush or just want to relax and take it all in, Japan has something for everyone!

With these must-do activities on your list, you'll be sure to have an unforgettable time exploring this amazing country!