Hop-on Hop-off Tours London is a convenient and affordable way to explore the city. It allows visitors to get off at any of the designated stops along the route, hop on again when they're ready, and choose which attractions they want to visit. The tour buses typically run every 15 minutes starting in central locations such as Trafalgar Square or Tower Hill, making it easy for tourists to join in without waiting too long.

Most tours offer audio commentary so visitors can learn more about each attraction and sightseeing location as they go along. Popular routes include the Big Bus Tour that visits iconic landmarks like Buckingham Palace, Westminster Abbey and Big Ben; or Original Tour's open top bus with views of St Paul's Cathedral and Hyde Park Corner. With ticket packages available from one day up to seven days long, these are great value tours for those wanting an overview of London sights in a short amount of time!
Hop on Hop off Tours London is a great way to explore the city and take in all of its amazing sights. With multiple routes available, you can easily find your way around town while enjoying the convenience of hopping on and off buses at any time you like. The tours are also affordable, making them a great option for budget travelers looking to see as much of London as possible without breaking the bank.
Hop On Hop Off Bus Tour – The Best Way To See London!
London Bus Tour 2 for 1
Take advantage of London Bus Tour's "2 for 1" offer and explore the city with your family or friends in a double-decker bus! Enjoy a guided tour that takes you to some of London's most iconic landmarks, including Buckingham Palace, Big Ben, Tower Bridge and more. Plus, you'll get access to exclusive audio commentary about each point of interest during the journey.

Don't miss out on this great opportunity to save money while discovering all that London has to offer from the comfort of an open top bus!
Best London Bus Tour
London is a great city to explore, and there are many ways to do it. One of the best ways to get around London is by taking a bus tour. Bus tours provide an easy way to see all the sights while allowing you to hop on and off at different locations throughout your journey.

There are several companies that offer bus tours in London such as Big Bus Tours, The Original Tour, or Golden Tours which allow visitors to customize their experience with packages including audio commentary, free walking tours, discounts for attractions and more!
Best London Hop-On Hop-Off Bus
The Best London Hop-On Hop-Off Bus is a great way to explore the city of London. It offers unlimited access to over 80 stops, including popular attractions such as Big Ben, Tower Bridge and Buckingham Palace. The bus tour provides an audio commentary in 10 languages, allowing visitors to learn about the history of each stop along the way.

Additionally, with convenient pick up locations throughout central London and tickets that are valid for 24 or 48 hours, this hop-on hop-off bus makes it easy for travelers to make the most out of their time in London.
Big Bus London Hop-On Hop-Off Tour And River Cruise
The Big Bus London Hop-On Hop-Off Tour And River Cruise is the perfect way to explore London in style. This tour takes you through the city, giving you a unique perspective of all the iconic sights that London has to offer. You can hop on and off at any of the designated stops around town, or take a leisurely cruise along the Thames River while taking in views of historical landmarks and modern architecture alike.

Whether you're looking for an action packed day out or a more relaxed sightseeing experience, this tour offers something for everyone.
Big Bus Tours London
Big Bus Tours London offers visitors the chance to explore the city with its hop-on, hop-off sightseeing bus tour. The open top double decker buses allow guests to take in some of London's most iconic landmarks from a unique perspective, while experienced drivers offer commentary and insight into more than 80 points of interest along the route. With an array of ticket options available for 1 or 2 days, Big Bus Tours is a great way for travelers to get acquainted with one of Europe's greatest capitals.
Hop-On Hop-Off London Price
The Hop-On Hop-Off London bus tour is a great way to explore the city and its surroundings. It offers a 24 or 48 hour ticket with prices starting from £25 for adults, £15 for children (ages 5 – 15) and free entry for children under the age of five. With this ticket you can hop on and off at any of the 50+ stops throughout central London, giving you plenty of time to explore all that this amazing city has to offer!
London Bus Tour Packages
London bus tours are a great way to explore the city's top attractions. With so many different packages available, you can easily find one that fits your budget and time frame. Many tour companies offer hop-on/hop-off buses which allow visitors to get on and off at their own pace, with stops at iconic landmarks such as Buckingham Palace, Big Ben and Westminster Abbey.

For those looking for an even more comprehensive experience, some London bus tour packages include guided walking tours of popular neighbourhoods like Camden Town or Covent Garden. Whether you're in town for a weekend or longer stay, taking advantage of one of these convenient packages is sure to make your trip unforgettable!
Big Bus London Map
The Big Bus London Map is a great tool for tourists, providing detailed information about all of the major landmarks and attractions in London. It features an easy-to-read map with colorful icons representing each sightseeing spot. The map also includes helpful information such as opening times, admission prices, and nearby restaurants and hotels.

With this handy guide at your fingertips, you can easily plan out your perfect day of exploration in the city!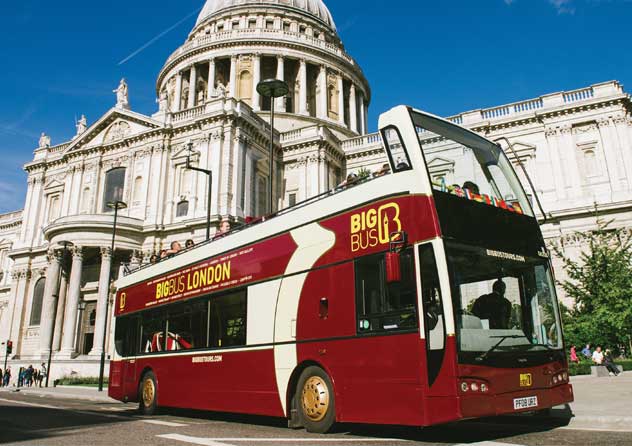 Credit: www.bigbustours.com
How Long is the Hop on Hop off Tour in London?
The Hop on Hop off tour in London is a great way to see the city's most iconic sites. It runs for 24 hours and takes you past all the main attractions, including Buckingham Palace, Tower of London, Westminster Abbey and much more! The route covers over 25 miles (40 km) of sightseeing spots, with each bus stopping at different points along the way.

Depending on your speed and number of stops made, it can take anywhere from two to four hours to complete the entire tour. With audio commentary available in English and other languages, there's plenty of opportunity to learn about London's fascinating history as you explore its streetscapes.
Where Do I Start the Hop on Hop off Tour in London?
If you're looking to explore London in the most convenient way possible, then a Hop on Hop off Tour is your best bet! Sit back, relax and take in all of the sights as you journey around the city. But before doing so, it's important to know where to start your tour.

The great thing about taking a hop on hop off tour is that there are multiple starting points throughout London – depending on which route you've chosen. For example, if you opt for the Golden Tours Classic Sightseeing Bus Tour, departure starts from Victoria Station near Buckingham Palace or Marble Arch next to Hyde Park; or alternatively at Trafalgar Square near Nelson's Column and Big Ben; with multiple other stops along each route. No matter what part of town you find yourself in – one of these locations will be close by!

So now that you have an idea of where your tour begins – why not book today?
Does London Have Hop on Hop Off?
Yes, London does have a hop on hop off bus tour that allows you to explore the city's iconic sights and attractions. With over 20 stops along the route, visitors can get a comprehensive overview of what London has to offer in one day. The buses feature an open-top design so you can enjoy unobstructed views of some of the city's most famous landmarks such as Big Ben, Buckingham Palace and Trafalgar Square.

You'll also be able to read interesting facts about each landmark through your audio guide available in multiple languages. The tour includes a complimentary river cruise which takes you past Westminster Bridge and Tower Bridge while giving you fascinating insights into the history of London from your onboard commentator. All tickets are valid for 24 hours after being activated so if there is something special that catches your eye then simply stay longer at that particular stop before hopping back onto another bus!
How Much Does a London Tour Bus Cost?
Taking a tour bus around London is an exciting and convenient way to explore the city. But how much does this type of sightseeing adventure cost? The answer depends on several factors, such as the length of the tour, number of passengers, any additional services included in the package (such as meals or guided tours), and whether it's peak season.

Generally speaking, most London bus tours start at around £25 per person for a basic one-day city sights tour that includes pick up from your hotel. If you want to add extras like hop-on/hop-off stops along the route or visit other attractions outside of central London, then prices can range from £45 to £90 depending on where you go and what else is included in your package. Of course if you're travelling with a group or family these rates can be reduced significantly – so don't forget to ask about discounts when booking!
Conclusion
Overall, Hop on Hop off Tours London is a great way to explore the city and get a comprehensive look at all of its attractions in an efficient and convenient manner. Not only will you be able to see some of the most iconic sites in London while learning more about them through informative guides but you will also enjoy comfortable transportation along with discounts for food and shopping. Whether it's your first time visiting or you're returning home after years away, this tour is sure to provide memorable experiences that you can cherish forever.