1. Cruise the Riverway: Take a relaxing cruise down the picturesque Ross River, located in Townsville's northern suburbs. Enjoy spectacular views of the city skyline and Magnetic Island from your boat as you wind along this beautiful river. 2. Relax at The Strand: Spend an afternoon lounging on the golden beaches of The Strand, Townsville's vibrant beachfront promenade with its many restaurants and shops.

Go for a swim or take part in one of the many watersport activities available here such as stand-up paddle boarding or kayaking. 3. Explore Magnetic Island: Get away from it all by taking a ferry over to Magnetic Island, where you can explore some stunning National Parks full of lush rainforests, secluded coves and white sandy beaches that make it perfect for snorkeling and diving adventures! 4. Visit Museum of Tropical Queensland: Step back into history at this museum which showcases more than 1 million artifacts related to North Queensland's maritime history including shipwrecks off Queensland's coast dating back centuries ago!

5. Check out Reef HQ Aquarium: One of Australia's premier aquariums boasting over 2000 species ranging from sharks to sea turtles is definitely worth visiting if you are interested in marine life up close! 6. Climb Castle Hill : Challenge yourself by climbing Castle Hill – Townsville's iconic landmark towering above the city offering breathtaking panoramic views once at top ! 7 .

Shop till You Drop : From high end stores to boutique markets , shop till your hearts content while exploring what unique goods each store has to offer ! 8 . Taste Local Fare : Sample local produce like food trucks offering sumptuous meals , coffee shops serving freshly brewed coffees and ice creams parlours dishing out delicious treats !

9 . Visit Billabong Sanctuary : Home to hundreds animals including kangaroos , koalas , wombats and snakes – spend time learning about these amazing creatures while getting up close with them too ! 10 .

Experience Entertainment Precinct : Head over to City Lane precinct where live music venues , cinemas & bars come alive making it great place for nightlife experience with friends & family !
The sunny city of Townsville is a great destination for a getaway. With its stunning beaches, vibrant nightlife and exciting attractions, there's something to suit everyone. Here are the ten best things to do in Townsville – from exploring The Strand beachfront promenade and Ross River Parklands to visiting Reef HQ Aquarium and Magnetic Island National Park – these are some of the top attractions and places that you must visit on your trip!
Top 10 Best Tourist Places to Visit in Townsville, Queensland | Australia – English
Unusual Things to Do in Townsville
Townsville, Australia is full of unexpected activities to explore. From a visit to the world's largest living coral reef aquarium at ReefHQ Aquarium to a ride on the historic Townsville City Tram, visiting this vibrant city will be an unforgettable experience. Other attractions include The Strand Water Park and Magnetic Island Ferry Terminal for some relaxing beach time or exploring the lush rainforest of Billabong Sanctuary.

For those looking for something more daring, take a skydiving adventure over Magnetic Island or try your luck at fishing in one of Townsville's many freshwater rivers and streams. With so much to see and do, Townsville truly offers something unique and special!
What is There to Do in Townsville for Free
Townsville is a great place to explore without breaking the bank. There are plenty of activities to enjoy for free, such as taking a stroll along The Strand and admiring the views, exploring Magnetic Island with its beaches, reefs and natural wildlife or visiting one of Townsville's many parks including Riverway Parklands and Jezzine Barracks. You can also visit public artworks like 'The Waterline' or take part in some of the city's free events like Flinders Street Markets or Live on The Lawn Music Festival.

With so much to do for free in Townsville, you'll never be short of things to keep you entertained!
Things to Do in Townsville for Couples
If you're looking for a romantic getaway, Townsville is the perfect destination. With its stunning beaches, lush rainforest and vibrant nightlife, there's plenty of activities to keep couples entertained. Take a stroll along one of the many breathtaking coastal walks like The Strand or Castle Hill; explore the tropical Reef HQ Aquarium; enjoy some fine dining at one of the city's excellent restaurants; or take in some live music with an evening out on Palmer Street.

Whatever your preference may be, Townsville has something for everyone to enjoy as a couple.
Things to Do in Townsville at Night
If you're looking for a fun evening out in Townsville, there are plenty of exciting things to do. From dinner cruises and live music venues to comedy clubs and bars, there's something for everyone. Whether you want to hit the dance floor or just sit back and relax with friends, Townsville has plenty of nightlife hotspots to explore.

Make sure you check out the Strand waterfront promenade – it's an iconic spot that offers stunning views of Magnetic Island across Cleveland Bay.
Cheap Things to Do Townsville
Townsville, Australia is a great place to visit for those on a budget. There are plenty of free and inexpensive activities that can be enjoyed by visitors of all ages. Take the family for a swim in one of Townsville's many public swimming pools or explore its city parks with miles of hiking trails, picnic areas and playgrounds for children.

Visitors could also take time to wander around the street art that adorns the walls downtown or enjoy the beach-side atmosphere at The Strand waterfront park. With so many cheap things to do in Townsville, you're sure to find something fun and affordable!
Townsville Hidden Gems
Townsville, located in Australia's tropical north-east, is a vibrant city that has plenty of hidden gems worth exploring. From secluded beaches to lush rainforest hikes, Townsville offers a variety of activities and attractions for travelers looking to get off the beaten track. Whether you're looking for an adventure or just want to relax in nature, Townsville will definitely have something special waiting for you!
Things to Do in Townsville Today
Today, Townsville is bustling with activity! From exploring the Great Barrier Reef to visiting its pristine beaches, there's something for everyone. Spend the day checking out one of the many local museums or art galleries, shopping at Castletown Shopping Centre or Palmer Street Markets, and dining in some of Townsville's top-notch restaurants.

Adventure seekers can also take a trip to Magnetic Island for some snorkelling and kayaking. Whatever you decide to do today in Townsville will be an unforgettable experience!
Fun Things to Do in Townsville
Townsville is a great place for visitors to have fun and explore. The city boasts plenty of outdoor activities, including fishing at the Strand Beach, bird watching on Magnetic Island and exploring the Coral Sea Marine Park. There are also a variety of cultural attractions such as the Museum of Tropical Queensland where you can learn about the area's history or visit Jezzine Barracks, an old army barracks that has been restored with terraced gardens.

For those looking for something more active there is Horseshoe Bay where you can go sailing, kayaking or windsurfing or Palm Island which offers snorkeling and diving opportunities.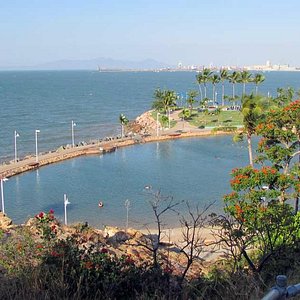 Credit: www.tripadvisor.com
What is Townsville Best Known For?
Townsville is an iconic city located in the northeastern part of Queensland, Australia. It is one of the largest cities in the state and has a population of almost 190,000 people. The city has become well known for its diverse culture and vibrant lifestyle with plenty of things to do throughout the year.

Townsville is home to some stunning beaches along its coastline as well as numerous parks and gardens that offer great views over Magnetic Island. Aside from this natural beauty, Townsville also hosts many annual events such as music festivals, cultural celebrations, art galleries and markets which attract thousands of tourists each year. Other attractions include Reef HQ Aquarium which features more than 200 species of marine life including sharks; Riverway Arts Centre; Billabong Sanctuary where visitors can get up close and personal with kangaroos and emus; Strand Water Park who provide family fun all day long; plus much more!

There's no doubt that Townsville is one destination you don't want to miss out on when visiting Australia.
How Do I Spend a Day in Townsville?
Spending a day in Townsville is an experience that will take you on a journey of discovery. From its picturesque waterfront, to the thriving city centre and vibrant cultural life, this charming North Queensland town has something for everyone. Start your day by exploring The Strand – the iconic stretch of beachfront along the Coral Sea which is one of Townsville's most popular attractions.

Take a stroll down 'The Mall' with its lively atmosphere and array of shops and eateries, before heading to the Breakwater precinct where you can enjoy views across Cleveland Bay from atop Anzac Memorial Park or explore Magnetic Island via ferry at nearby Mickey Miller Park. Afterwards, continue your adventure with lunch at one of the many excellent cafes in Flinders Street East before taking a leisurely stroll through Queens Gardens – home to stunning tropical flora as well as plenty of birdlife! To round off your perfect day out in Townsville, why not treat yourself to some local seafood overlooking Magnetic Island?

You're sure to have had an unforgettable time discovering all that this wonderful destination has to offer!
What Do People Do in Townsville for Fun?
Townsville is a bustling city located in the tropical north of Queensland, Australia. It's known for its sunny weather, beautiful beaches and vibrant nightlife. With so much to do and see, it's no wonder why Townsville has become an increasingly popular destination for tourists.

From beachside activities to shopping adventures, there's plenty of fun to be had in Townsville! One great way to spend time outdoors is by visiting one of the many parks and gardens dotted around town. Pack a picnic lunch or head out on a bushwalk through some of the lush rainforest that surrounds the city.

If you're looking for something more adventurous, you can go mountain biking at Mount Stuart or take part in water sports at Strand Beach such as kayaking or windsurfing. When it comes to nights out on the town there are plenty of options too! Take your pick from any number of bars and pubs offering live music throughout the week, or enjoy dinner with friends at one of many restaurants along The Strand waterfront precinct before heading off dancing at nightclubs like Fluid Bar & Lounge or Cowboys Leagues Club.

For those who prefer something more low-key there are also cinemas showcasing both new release films as well as classic movies throughout the year. Whatever your fancy may be when it comes to leisurely pursuits – Townsville has something for everyone!
Is Townsville Australia Worth Visiting?
Townsville, Australia is definitely worth a visit! Located in the northeast of Queensland, it is a coastal city bordered by the Great Barrier Reef and Magnetic Island. This stunning location will be sure to take your breath away with its natural beauty, diverse wildlife and plethora of activities on offer – from snorkelling in crystal clear waters to exploring some of Australia's most iconic national parks.

Townsville also offers an exciting cultural experience thanks to its vibrant art scene, countless festivals and events throughout the year as well as incredible nightlife options. Whether you're looking for adventure or relaxation there's something for everyone here – so don't miss out on this truly unique destination!
Conclusion
In conclusion, Townsville is a great destination for anyone looking to explore Australia. With its diverse range of attractions and activities, there's something for everyone in this vibrant city. Whether you're looking for a relaxing beach day or an adrenaline-filled adventure, the 10 best things to do in Townsville will ensure your visit is one you'll never forget.