1. Visit the Kelham Island Museum: Explore Sheffield's industrial history at this interactive museum, housed in a Grade II listed Victorian building. 2. Walk along the Five Weirs Walk: This 5-mile route takes visitors on a tour of five weirs and is part of an ancient system of water control that dates back to medieval times. 3. Climb up to Park Hill Flats: Built in 1961, this iconic building is one of Europe's largest listed urban structures and provides amazing views across Sheffield city centre.

4. Wander around Weston Park Museum: Explore art galleries, natural history displays and interactive exhibits about local life at this fascinating museum located in Sheffield Botanical Gardens. 5. Tour Abbeydale Industrial Hamlet: Discover how rural industries developed during the 18th century as you explore restored buildings such as a grinding mill and corn milling machinery at this heritage site . 6 .

Enjoy some retail therapy at Meadowhall Shopping Centre : Browse over 280 stores including high street favourites like Primark, Apple Store, Debenhams and more all under one roof! 7 . Take a stroll through the Botanical Gardens : Relax amidst beautiful gardens featuring exotic plants from around the world or visit greenhouses filled with tropical blooms such as orchids , bromeliads , ferns and cacti .

8 . Have fun at Magna Science Adventure Centre : Get hands-on with science experiments while exploring four immersive zones dedicated to Earth , Air , Fire & Water – plus enjoy additional attractions including laser tag ! 9 .

Check out Bishops House Historic Site : Step back in time by visiting this 15th century half-timbered manor house set within 10 acres of woodland – discover its rich past through guided tours which are available on certain days throughout summer months ! 10 . Indulge yourself with some foodie delights from Leopold Square Food Market : Sample delicious dishes from independent traders each weekend serving up everything from gourmet burgers to artisan cheeses – perfect for grabbing lunch or dinner before heading off into town for some evening entertainment !
If you are looking for a great place to visit, consider Sheffield! This city in South Yorkshire has something to offer everyone, from outdoor activities and beautiful nature walks to incredible food and unique attractions. Here are the top 10 things to do in Sheffield that will make your trip even more memorable: Visit The Botanical Gardens, explore the Peak District National Park, take a boat cruise down the River Don, catch a show at one of Sheffield's historic theatres, learn about local history at Weston Park Museum and discover some amazing street art.

Plus there's plenty more to see and do – so get out there and start exploring this vibrant city today!
Top 10 Best Things to do in Sheffield – Top5 ForYou
Places in Sheffield to Live
Sheffield is a vibrant city with plenty of places to live. From modern apartments in the centre of town to traditional terraced housing further out, you are sure to find something that suits your needs. The city also has some great green spaces, parks and nature reserves, making it ideal for those who love being outdoors.

With its excellent transport links into other cities, Sheffield is an ideal place for professionals or families looking for an affordable and enjoyable place to call home.
Places to Eat in Sheffield
Sheffield offers a wide variety of places to eat, from casual cafés and pubs to upscale restaurants. Whether you're looking for traditional British fare or international cuisine, there's something in Sheffield that will satisfy your appetite! Popular eateries include The Milestone, serving up modern British dishes with a focus on local ingredients; True North Brew Co., which has its own microbrewery and serves delicious pub grub; La Torre Ristorante Italiano, offering classic Italian dishes and fine wines; and Silversmith's Kitchen & Bar.

In addition to these favorites, Sheffield is home to many other great dining options—so come explore the city's culinary offerings today!
Sheffield Winter Garden
The Sheffield Winter Garden is an award winning glasshouse located in the city centre of Sheffield, UK. It was opened to the public in 2003 and contains more than 2,500 species of plants from around the world. The building itself is made up of a combination of Victorian-style wrought iron frames and modern glass panels which provide a truly unique atmosphere.

Visitors can enjoy peaceful walks through its gardens or take part in one of many educational activities such as workshops or guided tours run by friendly staff members. The garden has been recognised for its impressive architecture and beautiful landscaping, making it a popular destination for both locals and tourists alike!
Things to Do near Me
If you're looking for something to do near you, there are plenty of options! Depending on your location, you can find a variety of activities to enjoy. From outdoor recreation like hiking and biking trails, parks and beach days, to indoor fun such as museums and galleries, bowling alleys or arcades.

You may even be able to find unique experiences like escape rooms or karaoke bars depending on where you live. No matter what type of activity interests you the most, there's sure to be something nearby that will make for an enjoyable day out with friends or family!
Things to Do in Manchester
Manchester is a vibrant city with plenty of things to do. From visiting world-class museums and galleries, to sampling the culinary delights of the local restaurants and bars, there's something for everyone in this historic English city. Explore the many parks and gardens for a relaxing afternoon or spend time shopping in one of Manchester's trendy districts or iconic arcades.

With an ever-growing selection of music venues, sports stadiums and theatres, you'll be sure to find something fun to do during your visit!
Things to Do in Leeds
Leeds is a vibrant and cosmopolitan city in the north of England, home to many attractions and activities. From cultural institutions like Leeds Art Gallery and The Henry Moore Institute, to the buzzing nightlife of Call Lane or quirky independent shops along Kirkgate Market – there's something for everyone in Leeds. If you're into outdoor activities, you can explore Roundhay Park or take a canal boat tour on the Aire & Calder Navigation.

For those looking for an adrenaline rush, head to Xscape Yorkshire for skiing, snowboarding and indoor skydiving!
Sheffield Botanical Gardens
Sheffield Botanical Gardens is an oasis of beauty, tranquility, and wonder. Located in the heart of Sheffield, England, the gardens were established in 1836 and encompass 19 acres of stunning landscaped grounds. The gardens feature a variety of plants from around the world as well as formal gardens featuring water features, trees, shrubs and exotic collections.

Visitors to Sheffield Botanical Gardens can also enjoy seasonal events such as art exhibitions, concerts and plant sales.
What is Sheffield Famous For?
Sheffield is a city in South Yorkshire, England known for its rich history and culture. It is famous for its steel industry; Sheffield was once the world's leading producer of stainless steel, earning it the nickname of 'Steel City.' The city is also home to many large companies such as Rolls-Royce and BAE Systems.

Additionally, Sheffield is renowned for its green spaces – with over 2 million trees within the city limits, it has earned itself the title 'The Greenest City in Europe'. Finally, Sheffield boasts an impressive array of music venues which have hosted some of Britain's most iconic bands such as Arctic Monkeys and Pulp.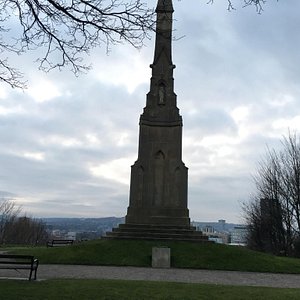 Credit: www.tripadvisor.com
What is Sheffield Famous for Now?
Sheffield, located in South Yorkshire, England is currently known for its thriving music scene. It has been home to many world-famous bands and artists such as Arctic Monkeys, Human League and Pulp. The city also has a vibrant nightlife with numerous pubs and clubs where you can enjoy live music performances from local and international acts.

Sheffield is also renowned for having some of the best shopping spots in the UK including Meadowhall Shopping Centre which offers something for everyone. For those who love outdoor activities, Sheffield boasts a range of parks, trails and countryside spots like Peak District National Park perfect for exploring on foot or by bike. As well as this the city hosts an array of festivals throughout the year ranging from food markets to art exhibitions creating a truly unique atmosphere that visitors won't find anywhere else!
Is Sheffield Uk Worth Visiting?
Yes, Sheffield UK is definitely worth visiting! With its rich history and vibrant culture, this city has something for everyone. From the stunning views of the Peak District National Park to some of England's best nightlife and music venues, there's plenty to do in Sheffield.

Take a stroll through the beautiful town centre or explore the many museums and galleries that line The Moor – a pedestrianised shopping street filled with independent shops, cafes and bars. If you fancy an adventure away from the hustle and bustle of city life, take a hike up one of Sheffield's hillsides or wander around Endcliffe Park – which includes woodland trails as well as lakeside activities such as kayaking! And if you're looking for something unique during your trip to Sheffield then why not try out their world-famous steel industry by taking a tour at Kelham Island Museum?

Whatever you decide to do while visiting this amazing city – be sure that it will be an unforgettable experience!
What are the Nicest Areas in Sheffield?
Sheffield is a vibrant and diverse city in the north of England, home to some of the country's most beautiful natural landscapes and bustling urban hubs. One of its best features is that it offers a range of neighbourhoods which each have their own unique charms. From leafy suburbs to bustling city centres, there are plenty of areas that make Sheffield such an attractive place to live or visit.

For those looking for a peaceful escape from the hustle and bustle, Broomhall is one area that stands out as particularly picturesque. This suburban neighbourhood boasts stunning Georgian townhouses, independent cafés and boutiques, plus gorgeous parks like Weston Park where you can enjoy a picnic on sunny days. Abbeydale Road also has plenty to offer with its mix of vintage shops and traditional pubs offering up local ales – perfect for exploring on weekends away!

If you're more into lively nightlife scenes then Ecclesall Road should be your first stop. Famed for its eclectic bars, restaurants and music venues; this street comes alive in the evenings with people enjoying drinks at outdoor terraces or dancing until dawn at clubs like Viper Rooms or Plug & Play Music Venue. The neighbouring Sharrow Vale Road also has something special about it – lined with independent stores selling anything from antiques to designer clothes; this strip will keep even the most seasoned shoppers busy all day long!

Finally don't forget about Kelham Island – arguably one of Sheffield's nicest areas which many locals flock to over summer months thanks to riverside beer gardens offering up views across Millhouses Park. There's plenty here too when it comes to dining options – sample delicious food from top-notch eateries like Milestone Beer Co., Little Mesters Café or The Fat Cat pub – all within walking distance no less!
How Many Places are There in Sheffield?
Sheffield is an expansive and vibrant city located in the ceremonial county of South Yorkshire, England. With a population of over 585,000 people, it is one of the largest cities in the UK. Sheffield contains many different places to explore and discover throughout its diverse neighborhoods.

There are numerous attractions within Sheffield such as Kelham Island Museum, Weston Park Museum, Abbeydale Industrial Hamlet and Millennium Gallery amongst others that offer visitors plenty to do during their stay. The city also plays host to several sporting teams including two football clubs: Sheffield United F.C., and Sheffield Wednesday F.C.. Apart from these tourist spots there are other areas within the city which range from bustling shopping districts like Meadowhall Centre or Orchard Square Shopping Centre; historic landmarks such as Bishops House; parks for leisurely strolls like Endcliffe Park; theatres showcasing top performances at Lyceum Theatre or Crucible Theatre; art galleries like S1 Artspace; outdoor activities at Peak District National Park; nightlife hotspots around Devonshire Green & West Street Live venues among countless others!

All these places combined make up a total number of more than 500 points of interest in Sheffield alone – making it an ideal destination for tourists seeking variety while visiting this sprawling metropolis!
Conclusion
Sheffield is an amazing city with plenty to do and see. From great restaurants, shopping spots, and entertainment venues to stunning parks, historic landmarks, and vibrant nightlife spots – there's something for everyone in Sheffield! Whether you're looking for a day trip or planning a longer stay in this beautiful English city – Sheffield has it all!

With so many attractions, activities, and places of interest to choose from – the 10 best things to do in Sheffield offer a great way to start your exploration of this exciting destination.