1. Visit the Virginia Museum of Fine Arts: Featuring a vast collection of artwork, sculptures and artifacts, this popular attraction showcases works from around the world. 2. Check out Maymont Park: This 100-acre estate offers visitors an array of activities including fishing, hiking and picnicking throughout its grounds—all while admiring stunning views of the James River. 3. Explore St John's Church: Dating back to 1741, this historic church is best known for being the site where Patrick Henry delivered his famous "Give me Liberty or give me Death" speech during The American Revolution in 1775.

4. Tour Hollywood Cemetery: This cemetery is home to several Confederate war graves as well as President James Monroe's tombstone along with other notable figures such as Jefferson Davis and JEB Stuart . 5. Take a Stroll Through Capitol Square: Surrounded by iconic buildings like The State Capitol Building, Library Of Virginia and Supreme Court Of Virginia—Capitol Square also features monuments dedicated to Civil War heroes who fought in Richmond's battles during The American Civil War era . 6. Pay your respects at Tredegar Iron Works National Historic Site : Located on the banks of James River ,Tredegar Iron Works was one of America's largest ironworks factories during The American Civil War period before it closed down after World War II .

7. Head over to Carytown Shopping District : With over 300 shops stores featuring boutiques , galleries , restaurants and more —Carytown is considered Richmond's go-to shopping destination when looking for unique items you won't find anywhere else ! 8 Savor Delicious Food at Shockoe Slip : Home to some amazing seafood restaurants like Rappahannock Oyster Bar & Grill & Pearl Raw Bar—Shockoe Slip should not be missed if you're looking for a great place enjoy some delicious meals! 9 Catch Some Live Music at Broadberry Entertainment Complex : Featuring performances from local bands as well as national acts ,Broadberry Entertainment Complex has become one of Richmond's premier music venues since opening up shop in 2013 .

10 Have Fun At Kings Dominion Amusement Park : Boasting over 200 rides attractions shows live entertainment events -Kings Dominion Amusement Park makes sure there something everyone can enjoy!.
Richmond is filled with incredible things to do and fascinating places to explore. From historical monuments to outdoor activities, this vibrant city has something for everyone. To help you make the most of your trip we've compiled a list of 10 of the best things to do in Richmond – from top attractions like Maymont Park and the Virginia Museum of Fine Arts, to hidden gems like Lewis Ginter Botanical Garden and Belle Isle.

With so much on offer, you're sure to have an unforgettable experience when visiting Richmond!
10 Best Tourist Attractions in Richmond, Virginia
Things to Do in Richmond, Va
Richmond, Virginia is a great destination for travelers looking to explore the Mid-Atlantic region. There are plenty of things to do in Richmond from visiting museums like the Virginia Museum of Fine Arts and The Valentine, exploring the city's history on Capitol Square or Shockoe Bottom, or taking a stroll along canal walk and seeing some of Richmond's most iconic monuments. If you're looking for more outdoor activities you can visit Lewis Ginter Botanical Garden with its world-class gardens, enjoy one of many nature trails around town such as Belle Isle Park or Pony Pasture Rapids Park, and take part in festivals throughout the year at Brown's Island Park.

Whatever your interests may be there is something special to experience in Richmond!
Fun Things to Do in Richmond, Va for Couples
Richmond, VA is an ideal destination for couples looking for a romantic getaway. From its vibrant arts and culture scene to its plethora of outdoor activities, there is something for everyone in this historic city. Whether you're looking to explore the sights of downtown or take a leisurely stroll through one of Richmond's picturesque parks, there are plenty of unique experiences to be had.

For those seeking adventure, whitewater rafting on the James River offers thrills and spectacular views while couples can also enjoy live music at The National as well as craft beer tastings at The Veil Brewing Co. With so much to see and do, Richmond is sure to make your trip one that will be remembered forever!
Unique Things to Do in Richmond, Va
Richmond, Virginia is a vibrant and historic city that offers plenty of unique activities for visitors to enjoy. From visiting the many museums, galleries, and historical sites to exploring the burgeoning art scene or taking in a show at one of Richmond's famous theaters, there truly is something for everyone in this exciting destination. With its bustling nightlife and diverse restaurants offering cuisine from all around the world, it's no wonder why people come from near and far to experience what Richmond has to offer!
Secret Things to Do in Richmond, Va
Richmond, VA is full of hidden gems and secret spots! Whether you are looking for a unique place to eat, an off-the-beaten path adventure or something completely unexpected, Richmond has plenty of hidden treasures to discover. From rooftop bars with stunning skyline views to underground speakeasies and historical walking tours, there's something for everyone in this vibrant city.

So grab your friends and explore Richmond's best kept secrets today!
Things to Do in Richmond, Va This Weekend
If you're looking for fun things to do in Richmond, VA this weekend, why not check out the Virginia Museum of Fine Arts? This museum is home to a large collection of artwork from various cultures and eras. Additionally, there are several galleries dedicated to photography and sculpture.

After taking in some amazing art, take a stroll through Maymont Park – an incredible 100-acre estate with formal gardens, wildlife exhibits, a nature center and more! End your day exploring the historic streets of Shockoe Slip or visit one of the local breweries for drinks and music. Whether it's sightseeing or relaxing, Richmond has something for everyone!
Free Things to Do in Richmond, Va
Richmond, VA is full of free activities and attractions that can be enjoyed year-round. Whether you're searching for outdoor recreation or historical landmarks, the city has a variety of options to choose from. Take a stroll through Maymont Park and explore its gardens, catch some live music at the Canal Walk along the James River, visit multiple Civil War memorials scattered around town, or take in unique public art installations throughout Richmond's historic neighborhoods.

No matter what your interests are there is something for everyone in Richmond!
Things to Do in Richmond, Va for Adults
Richmond, VA is an amazing city for adults looking to explore new places and activities. From its renowned nightlife scene to historical sites like the Virginia State Capitol, there is something for everyone in Richmond. Whether you're a foodie looking for the best restaurants or a history buff wanting to explore all of the monuments, museums and other historical attractions that reside here, Richmond has it all!

Not to mention outdoor activities such as kayaking on the James River or taking in some live music at one of many venues throughout town. No matter what your interests may be, you'll find something fun and exciting to do in this vibrant city.
Family Things to Do in Richmond, Va This Weekend
If you're looking for something to do with your family this weekend in Richmond, VA, look no further! The city has plenty of fun activities for all ages. From exploring the Virginia Museum of Fine Arts and Lewis Ginter Botanical Garden to visiting Maymont Park and the Children's Museum of Richmond, there is something for everyone in the family.

For a little more excitement take a ride on the James River & Kanawha Canal or enjoy one of many outdoor concerts taking place around town. Whatever you decide to do, you're sure to have a great time!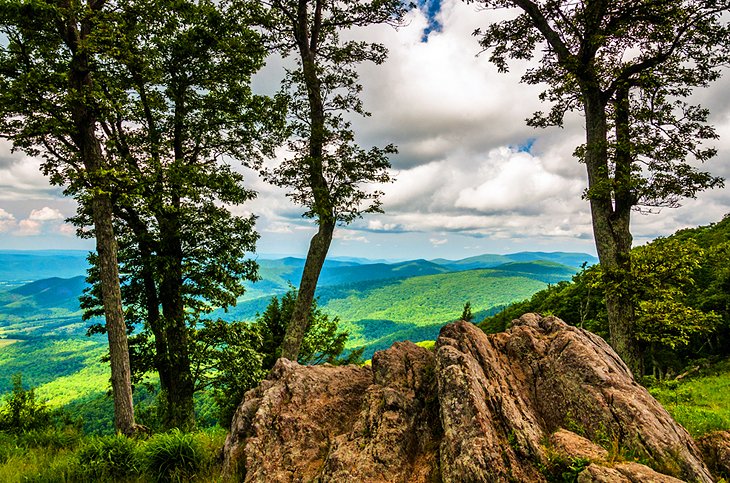 Credit: www.planetware.com
What is Richmond Best Known For?
Richmond, Virginia is most widely known for its rich historical roots. It was the capital of the Confederacy during the Civil War and has many monuments and museums to commemorate it: • Monument Avenue – This wide boulevard is lined with statues honoring Virginian Civil War heroes.

• Edgar Allan Poe Museum – A museum devoted to Richmond's native son, author Edgar Allan Poe. • The American Civil War Center at Historic Tredegar – Located on the James River, this site commemorates both Union and Confederate troops who fought in the war. In addition to its historical significance, Richmond is also known for its vibrant arts scene and diverse restaurant options.
What is the Prettiest Street in Richmond?
The prettiest street in Richmond is Monument Avenue. It is a historic boulevard lined with monuments, statues, and memorials dedicated to heroes of the Confederacy. Here are some highlights of this must-see street:

• Beautiful architecture – Monument Avenue features classic Southern Colonial Revival style homes with unique designs. • Historic statues – You can find several monuments honoring Confederate leaders like Robert E. Lee along the avenue's median strip. • Lively atmosphere – There are plenty of restaurants, shops and activities for visitors to enjoy on Monument Avenue.

Visiting Monument Avenue offers an unforgettable experience that celebrates Richmond's culture and history!
What is Richmond'S Famous Street?
Richmond's most famous street is Monument Avenue. It is known for its grand boulevard lined with monuments dedicated to prominent Confederate figures. Monument Avenue features:

• Statues of J.E.B Stuart, Stonewall Jackson, Robert E Lee, Jefferson Davis and Matthew Fontaine Maury • Variety of historic homes built in a range of architectural styles from Queen Anne to Tudor Revival • Broad sidewalks and tree-lined streets that make it an ideal walking destination

It is the site of many annual events such as the Ukrop's Monument Avenue 10K race and Easter on Parade & Race.
What Food is Richmond Va Famous For?
Richmond VA is renowned for its unique food offerings. The city has become famous for a few specific dishes, including: – Richmond's iconic version of the Southern classic pimento cheese sandwich.

– The popular "Virginia Steak & Cheese" sandwich, which features thinly sliced sirloin steak and melted cheese on a crusty roll. – The famed "Hot Brown" – an open-faced turkey and bacon sandwich topped with an herbed creme sauce. Together these recipes have made Richmond VA a culinary destination in the South!
Conclusion
The city of Richmond offers visitors a wide variety of attractions and activities to enjoy. From historical sites to outdoor recreation, there's something for everyone in this Southern city. Whether you want to explore the many museums and galleries or spend time outdoors in one of the parks, Richmond has it all.

With its rich history, vibrant culture, and diverse array of attractions, there's no doubt that Richmond is an amazing place to visit. Be sure to take advantage of all it has to offer by exploring some of these incredible things that Richmond has in store for you!