1. Visit Nottingham Castle- This iconic landmark is a great way to learn about the city's fascinating history and explore its amazing architecture. 2. Take a Cruise on the River Trent- Enjoy a leisurely cruise along this beautiful river, taking in the sights of wildlife and nature that line its banks. 3. Explore Sherwood Forest – Home to Robin Hood and his Merry Men, visit one of England's oldest forests and walk through 500 acres of trees and foliage .

4. Wander around Wollaton Hall & Deer Park – A stunning Elizabethan mansion set within 500 acres of parkland filled with herds of deer roaming free amongst lush gardens and woodland paths . 5. Catch a Show at Theatre Royal or Royal Concert Hall– Both venues are renowned for their performances including plays, musicals, comedy nights, opera concerts etc., offering something for everyone! 6. Learn About Local History at The Galleries Of Justice Museum – Discover over 800 years worth of stories from Notts' criminal past as you wander around this interactive museum .

7. Shop Till You Drop in Victoria Centre– With hundreds of shops covering everything from clothes to home accessories there's something perfect for every shopper here! 8 Stroll Around Hockley Village – A creative hub filled with independent boutiques selling unique items such as artworks, vintage clothing etc., giving it an eclectic vibe! 9 Relax In The Arboretum – Unwind by picnicking in this tranquil green space located not far away from Nottingham city centre which also hosts music events throughout summertime!

10 Admire The Views From Highfields Park– Climb up 99 steps to reach the highest point overlooking all four sides of Nottingham City providing some fantastic views!.
Nottingham, in the East Midlands of England, is full of interesting attractions and activities. From historic castles to modern shopping centres, there's something for everyone. Here are ten of the best things to do in Nottingham; from visiting its famous landmarks to exploring its vibrant nightlife, you'll be sure to find plenty of fun during your visit!

Visit Nottingham Castle and take a tour around this 900-year-old fortress; explore Sherwood Forest and discover Robin Hood's legend; have a family day out at Wollaton Hall & Deer Park or try some thrills at Twinlakes theme park; shop until you drop on Victoria Street or pick up bargains at The Broadmarsh Centre; soak up the lively atmosphere in Market Square or get lost among thousands of books at Waterstones bookstore – these are just a few ideas for an unforgettable trip to Nottingham.
Top 10 Places to Visit in Nottingham | England – English
Things to Do in Nottingham for Students
Nottingham is a great place for students to explore and have some fun. There are plenty of interesting places to visit, including galleries and museums such as the Nottingham Castle Museum & Art Gallery, Wollaton Hall or The City of Caves. For those who love shopping, there's the popular Victoria Centre with its high street shops, boutiques and cafés.

If you want to get out into nature then why not take a stroll around Sherwood Forest or enjoy the views from Highfields Park? And of course no trip would be complete without trying out Nottingham's famous delicacies – from pie-mash-and-liquor at Ye Olde Trip To Jerusalem pub to an array of pubs and restaurants offering everything from pub grub favourites to fine dining experiences.
Beautiful Places in Nottingham
Nottingham is home to some of the most beautiful places in the UK. From its sprawling green parks, such as Wollaton Hall and Highfields Park, to historic landmarks like Nottingham Castle, there is something for everyone who visits this vibrant city. The cobbled streets of Old Market Square provide a perfect setting for visitors looking to take part in lively festivals or just stroll through the area's many shops and cafes.

For those wanting a more peaceful experience, they can visit one of Nottingham's nature reserves or its famous River Trent – both offering stunning views across the city skyline.
Places in Nottingham to Live
Nottingham is a vibrant city with plenty of great places to live. Whether you're looking for the hustle and bustle of the city centre, or something more suburban, Nottingham has it all. From charming Historic Lace Market area to trendy West Bridgford, there's something for everyone in Nottingham.

It's also home to two universities – The University of Nottingham and Nottingham Trent University – so there are lots of student-friendly areas as well as plenty of green spaces including Wollaton Park and Forest Recreation Ground.
Nottingham Castle
Nottingham Castle has a rich and fascinating history, stretching back over 800 years. It was originally built as a wooden structure in the 11th century by William the Conqueror's son, William Peveril, before being replaced with stones by King John in 1204. The castle served as an important stronghold during the English Civil War and also played host to royalty such as Richard II, Henry IV and Edward II who all visited during their reigns.

Today it is open to visitors from around the world who come to explore its grounds and discover its secrets.
City of Caves
The City of Caves is an underground network of historic sandstone caves located beneath the streets of Nottingham, England. Built in the 19th century as a means to store fruit and vegetables from nearby farms, these caves were later used for air raid shelters during World War II. Today, visitors can explore this fascinating subterranean world and learn about its history through guided tours or interactive audio guides.

The City of Caves also hosts temporary events such as live music performances or art exhibitions – giving guests a unique experience that's unlike anything else in Nottingham!
Things to Do in Sheffield
Sheffield is a vibrant city with plenty to see and do. From its stunning parks and gardens, to the fantastic shopping opportunities on offer at The Moor Market, there's something for everyone in Sheffield. For foodies, the city boasts an array of award-winning restaurants and cafes, while those looking to explore can find exciting attractions like Winter Garden or Kelham Island Museum.

With a buzzing nightlife scene featuring lively clubs, pubs and bars dotted across the city centre, visitors are guaranteed an unforgettable time in Sheffield!
City of Caves, Nottingham
The City of Caves in Nottingham is a spectacular underground labyrinth of sandstone caves, carved out over the centuries. This network of man-made tunnels extends for miles under the city streets and provides an amazing insight into life in Medieval England. The caves have been used as dwellings, workshops, stores and even air raid shelters during World War II and are now open to visitors who can explore their unique history.
Nottingham Restaurants
Nottingham is a vibrant city with plenty of popular restaurants to choose from. From traditional British pubs serving up classic dishes, to Indian cuisine and contemporary gastropubs, there's something for everyone in the City of Nottingham. Whether you're looking for a romantic dinner for two or an evening out with friends, you will find it at one of the many excellent restaurants located in this historic city.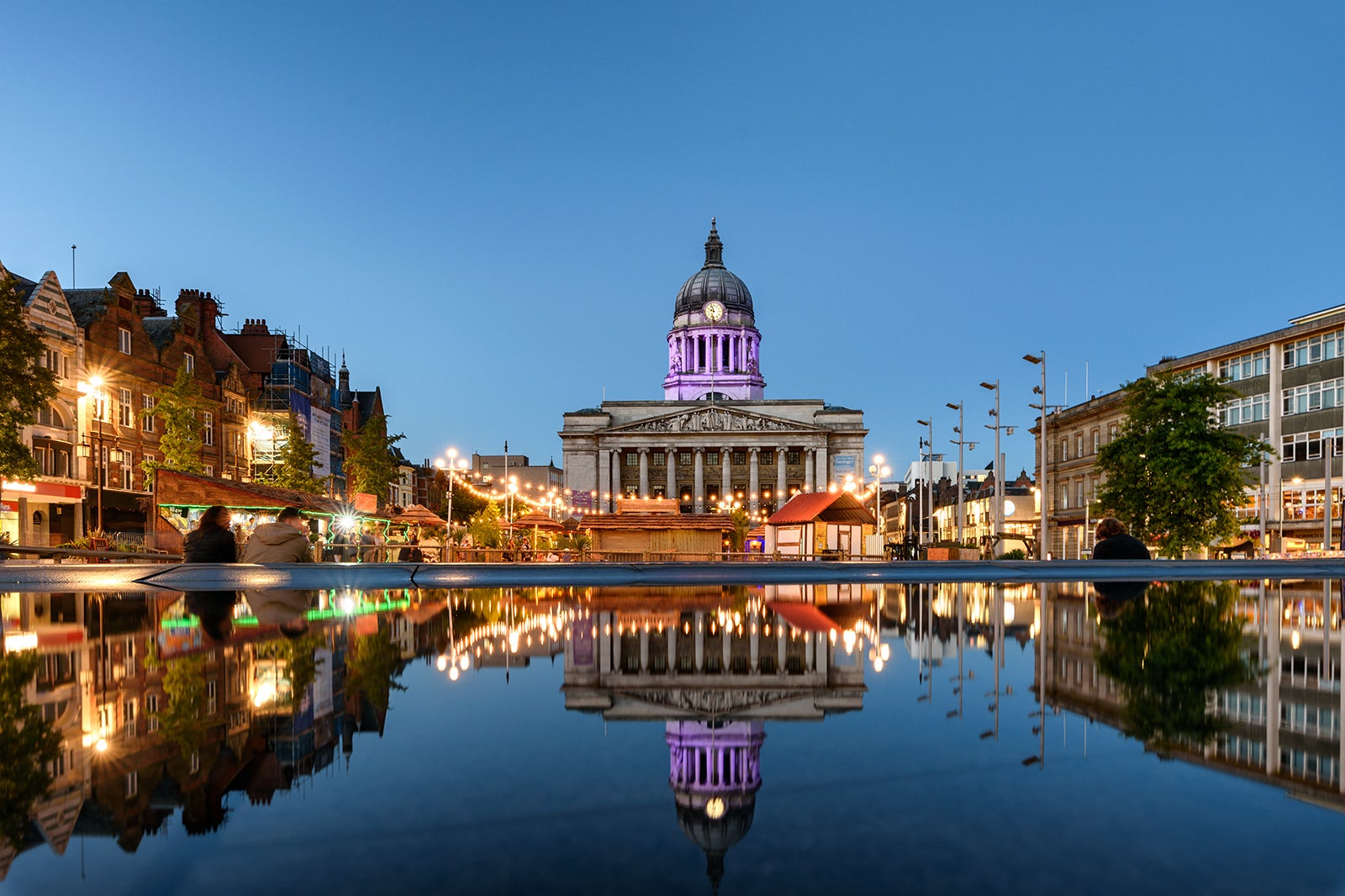 Credit: www.hotels.com
What is Nottingham Most Famous For?
Nottingham is most famous for its fascinating history and culture which dates back to the Anglo-Saxon period. It has been a centre of industry, commerce and culture since it was first established as an important trading hub in the 11th century. Nottingham's historical significance can be seen in its many historic buildings including Nottingham Castle, St Mary's Church, Holme Pierrepont Hall and more.

In addition, Nottingham is well known for being home to legendary outlaw Robin Hood who stole from the rich and gave to the poor. The city also boasts some fantastic cultural attractions such as The National Justice Museum and Sherwood Forest Country Park which are popular with visitors all year round. Finally, sporting fans will know that Nottingham is home to two professional football teams – Notts County FC and Nottingham Forest FC who both play in the Championship League.
What are Two Things Nottingham is Famous For?
Nottingham is a vibrant city located in the East Midlands of England and has been inhabited since pre-Roman times. It is most notably famous for its historical connections to the legend of Robin Hood, as well as being home to one of Britain's oldest universities – The University of Nottingham. For centuries it was an important centre for industry, particularly textiles and coal mining.

However, today this bustling city offers something for everyone with its lively cultural scene, modern shopping centres and historic buildings such as Nottingham Castle which provides stunning views across the city skyline. In addition to all these attractions there are two things that make Nottingham truly unique: its football team Nottingham Forest FC and its very own version of 'cricket on ice' called Ice Hockey – both popular local sports that draw huge crowds from throughout Britain. Whether you're looking for culture or sport; history or contemporary entertainment; day trips or weekend getaways, Nottingham has it all!
Is It Worth Visiting Nottingham?
If you're looking for a unique and exciting place to visit, Nottingham is the perfect destination. From its beautiful countryside views to its vibrant city centre, there's something here for everyone. Whether you're looking for a fun day out with your family or an adventurous weekend away with friends, Nottingham has plenty of attractions to offer.

The City of Caves offers underground tours through 500-year-old tunnels that were once homes and workshops as well as secret hideouts during World War II. Nottingham Castle provides stunning views across the cityscape from its ancient stone walls and towers, while Sherwood Forest still stands proud in all its glory – home of Robin Hood's legendary adventures! Shopping opportunities are plentiful too; pick up something special at one of the many independent boutiques scattered around the city centre or take advantage of some fantastic deals at intu Victoria Centre – one of Europe's largest shopping malls!

There's also a great selection of restaurants serving up delicious meals from around the world – perfect after a long day exploring everything that Nottingham has to offer! So if you're looking for an unforgettable experience full of history and excitement then it's definitely worth visiting Nottingham.
Where Can I Go for a Day Out in Nottingham?
Nottingham is a great place to visit for a day out. With its fantastic shopping, lively nightlife and abundance of attractions, there's something for everyone in this vibrant city. Whether you want to explore the iconic Nottingham Castle or take a stroll around over 550 acres of beautiful parkland at Sherwood Forest, you'll be spoilt for choice when it comes to days out here.

If you're looking for culture then why not check out one of the many museums in town such as The Galleries Of Justice Museum or Wollaton Hall & Deer Park? For some retail therapy head down to intu Victoria Centre where you can find everything from independent stores to high street favourites all under one roof. Or if you fancy something completely different spend an afternoon at Go Ape Tree Top Adventure with plenty of zip-lines and rope crossings sure to get your adrenaline pumping!

Nottingham has lots on offer so make sure your next day trip includes this exciting destination!
Conclusion
In conclusion, Nottingham is a great city to visit with plenty of attractions and places to explore. Whether you are looking for outdoor activities, cultural experiences, or something off the beaten path, this list of the 10 best things to do in Nottingham has it all! From exploring Sherwood Forest and admiring Wollaton Hall to shopping at Victoria Centre and enjoying traditional pubs in Old Market Square, there is something for everyone here.

So don't miss out on all that Nottingham has to offer – come explore and have fun!