1. Visit the Biltmore Estate – an iconic Vanderbilt mansion near Asheville with sprawling grounds, gardens, and a winery. 2. Explore the Blue Ridge Parkway – one of America's most scenic drives featuring breathtaking views over rolling hills and meadows in western North Carolina. 3. Tour Old Salem Museums & Gardens – recreate life in Moravian settlements from 250 years ago at this living history museum in Winston-Salem.

4. Enjoy the outdoors at Chimney Rock State Park – go hiking and explore cliffs, waterfalls, rock formations and spectacular scenery on different trails around Lake Lure area . 5. Spend time in Charlotte – take part of NASCAR races or visit Discovery Place Science Museum for some fun educational activities with kids . 6. Relax at Wrightsville Beach – indulge yourself with wonderful sandy beaches perfect for swimming or sunbathing .

7. Go to Grandfather Mountain – discover amazing wildlife including black bears while hiking around the mountain located near Linville Gorge Wilderness Area . 8. Visit historic sites like Fort Macon State Park– admire panoramic views of Atlantic Ocean or explore fortifications built during Civil War era                         9.. Take a tour of US Navy's USS North Carolina Battleship Memorial Park – learn about its rich naval history through interactive exhibits                         10..
North Carolina is a state with an abundance of attractions and activities that are sure to please any traveler. From the beautiful mountains in the west, to the miles of coastline on the east, there is something for everyone in North Carolina. Whether you're looking for outdoor adventure or cultural exploration, these ten best things to do in North Carolina will ensure your vacation is packed full of fun and excitement!

Explore historic sites such as Fort Raleigh National Historic Site, visit one of the many stunning beaches along the coast, take a tour through downtown Asheville or enjoy some great shopping opportunities in Charlotte. With so much to see and do here, it's no wonder this southern state has become a popular destination for travelers from all over.
North Carolina Tourist Destinations -10 Best places to visit in North Carolina 2022
Secret Places in North Carolina
North Carolina has a plethora of hidden gems to explore. From secluded waterfalls tucked away in the mountains, to secret beaches on remote islands, North Carolina is full of secret places that offer an escape from the hustle and bustle of everyday life. Whether you're looking for a romantic getaway or just want to discover something new, there are plenty of enchanting spots throughout the state that will take your breath away.
Things to Do in North Carolina This Weekend
If you're looking for something to do this weekend in North Carolina, there is no shortage of activities to choose from! You can take a scenic drive along the Blue Ridge Parkway and explore one of the country's most breathtaking views. Or, if outdoor adventure is more your style, try a hike or mountain bike ride at Chimney Rock State Park.

If art and culture are what you seek, check out one of the many museums or galleries in Asheville or Charlotte. And don't forget about all the great shopping options available throughout the state!
Things to Do in North Carolina for Couples
North Carolina is a great place for couples to explore and experience amazing sights, attractions, and activities together. From the breathtaking views of the Blue Ridge Mountains to exploring vibrant cities like Charlotte or Asheville, there's something for every couple looking for an unforgettable adventure in North Carolina. Whether you want to take romantic hikes through scenic trails or enjoy some wine tasting at one of the many wineries located throughout the state, there are plenty of ways to make lasting memories with your significant other in this beautiful southern state.
Things to Do in South Carolina
South Carolina is a great destination for travelers looking to explore the southeastern United States. From outdoor recreation and historical monuments, to beaches and shopping opportunities, South Carolina has something to offer everyone. Visitors can take in scenic views while hiking at nearby mountains like Table Rock State Park or explore historic sites like the Revolutionary War battlefields at Cowpens National Battlefield.

Other popular attractions in South Carolina include family-friendly destinations such as Myrtle Beach and Charleston's waterfront parks, as well as theme parks like Carowinds amusement park. Whether you're looking for an adventure or a relaxing getaway, make sure South Carolina is on your list of must-see states!
What is the Number 1 Attraction in North Carolina?
The number one attraction in North Carolina is the Biltmore Estate, located in Asheville. Built by George Washington Vanderbilt II in 1895, this 250-room French Renaissance chateau sits on 8,000 acres of stunning grounds and gardens and offers a unique insight into the Gilded Age of America. Visitors to this iconic destination get to explore its many attractions such as art galleries with original works from masters like Renoir, Chagall and Sargent; extensive wine tastings; guided tours through the estate's history; outdoor activities such as biking or horseback riding; and much more!

Whether you're looking for a day trip from Charlotte or a weekend away from Raleigh – the Biltmore Estate should be your first stop!
Things to Do in North Carolina Charlotte
One of the best things to do in North Carolina Charlotte is to take a stroll through one of the many beautiful parks that line the city. Whether you're looking for a place to go on a picnic, or just want to spend some time outdoors, there are plenty of great spots around town. Be sure to check out Freedom Park and Romare Bearden Park for some stunning views.

For even more outdoor fun, head over to The Whitewater Center where you can take part in activities like kayaking and rock climbing. With so much natural beauty surrounding this vibrant city, it's easy to see why North Carolina Charlotte is such an amazing destination!
Most Beautiful Places in North Carolina
North Carolina is home to some of the most beautiful places in the United States. From its stunning beaches on the coast, to its breathtaking mountain vistas and lush forests, North Carolina offers something for everyone. Whether you're looking for a beach getaway or an outdoor adventure, there's something for every kind of traveler in this great state.

Some must-see attractions include Chimney Rock State Park, Linville Gorge Wilderness Area, and the Blue Ridge Parkway. Each of these destinations offers unique activities that are sure to make your trip unforgettable!
North Carolina Attractions for Families
North Carolina is a great place for families to explore and have fun! With its diverse terrain, there are plenty of attractions for everyone. From the Blue Ridge Mountains in the west to the Outer Banks on the coast, North Carolina has something for every family.

Popular activities include visiting Biltmore Estate, exploring Great Smoky Mountains National Park, and taking in the beauty at Grandfather Mountain. Additionally, there are numerous amusement parks and waterparks such as Carowinds and Wet'n Wild Emerald Pointe that offer exciting thrills for all ages. Whether your family is looking for outdoor recreation or indoor entertainment North Carolina has it all!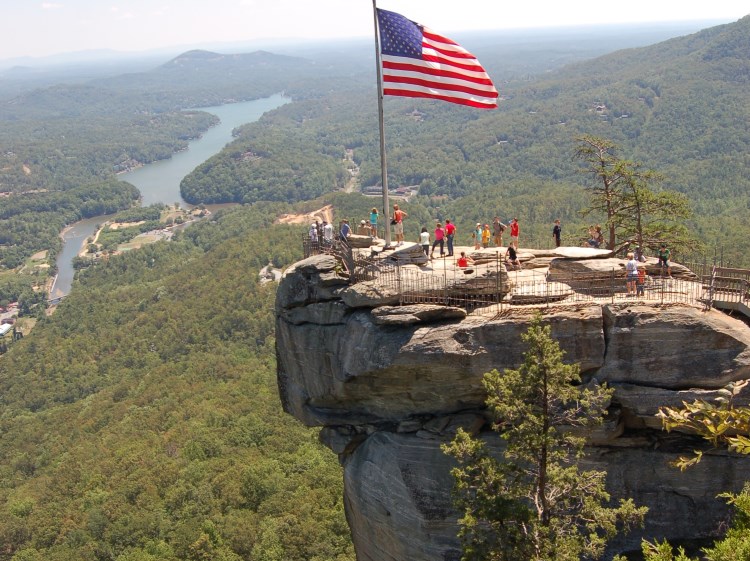 Credit: www.touropia.com
What is North Carolina'S Number 1 Attraction?
North Carolina's number 1 attraction is the Blue Ridge Parkway. This 469-mile scenic road stretches from Shenandoah National Park in Virginia to Great Smoky Mountains National Park in North Carolina and Tennessee. The Parkway offers plenty of activities, including:

• Hiking – Enjoy a wide range of trails for all skill levels. • Camping – Pitch your tent at one of the many campgrounds along the way. • Sightseeing – Take in breathtaking views throughout your journey.

From stunning mountain overlooks to cozy cabins and charming small towns, the Blue Ridge Parkway provides an unbeatable experience that visitors can enjoy year round!
What is the Most Famous Thing in North Carolina?
The most famous thing in North Carolina is the Wright Brothers' first successful flight in 1903. This event marked history as the first airplane flew above Kitty Hawk, and has been commemorated since with: – The Wright Brothers National Memorial.

– An annual celebration called First Flight Week. North Carolina continues to celebrate aviation today by hosting a variety of air shows throughout the year.
What are 3 Things North Carolina is Famous For?
North Carolina is a well-known US state that offers many attractions to both locals and tourists. Here are three of the most famous things North Carolina is known for: • The Outer Banks: These narrow barrier islands off the coast of North Carolina offer miles of coastline, iconic lighthouses and wild horses.

• Asheville: This city in the Blue Ridge Mountains is home to a thriving art scene, unique restaurants, breweries and breathtaking views. • Research Triangle Park: Located between Raleigh, Durham and Chapel Hill, this park includes over 200 companies in research & development industries as well as top universities like Duke University and UNC Chapel Hill. Overall, North Carolina's diverse offerings make it an ideal destination for those looking to explore nature or experience culture firsthand.
What are the Magical Places in North Carolina?
North Carolina is home to some of the most magical places in the world. Here are a few: • Blue Ridge Parkway – this scenic route runs for 469 miles, offering breathtaking landscapes and plenty of outdoor activities.

• The Biltmore Estate – built by George Vanderbilt, this 250-room chateau is known for its grandeur and lush gardens. • Great Smoky Mountains National Park – Boasting spectacular views, this park offers hiking trails, waterfalls, and wildlife watching opportunities. • Outer Banks – This 200-mile long chain of barrier islands boasts beautiful beaches with an abundance of watersports activities.

No matter what type of adventure you're looking for, North Carolina has something unique to offer. From majestic mountains to stunning coastlines, there's something here that will delight every traveler!
Conclusion
North Carolina is a great state to explore and discover, with plenty of attractions for people of all ages. From outdoor activities such as hiking the Appalachian Trail to visiting popular tourist destinations like downtown Asheville, there's something for everyone in North Carolina. With 10 of the best things to do in North Carolina listed here, you're sure to have an amazing time discovering all that this beautiful state has to offer!