1. Visit the Manchester Museum: With exhibits ranging from Ancient Egypt to Natural History, this museum is a must-visit for anyone interested in exploring history and culture. 2. Take a Tour of Old Trafford Stadium: Home to one of the most successful football clubs in England, taking a tour of the stadium is an absolute must for any fan! 3. Enjoy Shopping on Market Street: This bustling street offers endless shopping opportunities at some of Manchester's best stores, making it perfect for retail therapy or finding that special something you've been looking for.

4. Explore Castlefield Urban Heritage Park: Stroll along the canals and explore the Roman remains scattered throughout this park – it's like stepping back into time! 5. Visit John Rylands Library: A stunning neo-Gothic building with ornate interiors filled with rare books and manuscripts – this library will truly capture your imagination! 6. Have Fun at Legoland Discovery Center: An indoor theme park designed especially for kids – there's plenty here to keep them entertained all day long!

7. Go on a Canal Cruise Along Salford Quays: Relaxing canal cruises offer spectacular views while you learn more about Manchester's fascinating past and present landmarks as you pass by them! 8 .Admire The Lowry Gallery & Theatre Complex : This multi-faceted cultural hub features works by LS Lowry alongside theatre shows, galleries and cafes – perfect if you're looking to spend an exciting day out in Manchester !

9 .Explore Heaton Park : One of Europe's largest urban parks , boasting over 600 acres of open space including lakes , gardens , woodland trails , sports facilities and even farm animals – there's something here for everyone ! 10 .

Experience Chinatown : Step into Asia right in downtown Manchester – vibrant colors greet visitors as they explore Chinese restaurants , shops selling traditional merchandise and witness lion dances during festivals celebrated here !
Manchester is a city full of culture, history and adventure. From world-renowned museums to stunning architecture, there's no shortage of things to do in this vibrant city. Here are the top 10 attractions and places you need to visit when you're in Manchester:

1) The Lowry; 2) Museum Of Science And Industry; 3) Beetham Tower;

4) Castlefield Urban Heritage Park; 5) John Rylands Library; 6) Heaton Park;

7) Manchester Cathedral ; 8 ) Whitworth Art Gallery; 9 ) Old Trafford Stadium Tour ; 10 ) National Football Museum . Whether you're looking for an educational day out or a fun family adventure, these attractions offer something for everyone – so be sure to add them to your itinerary!
Top 10 Places to Visit in Manchester | England – English
Luxury Things to Do in Manchester
Manchester is a vibrant city with plenty of luxury experiences to offer, from top restaurants and bars to luxurious spa days. Whether you're looking for an indulgent weekend away or just want to treat yourself to some of the finer things in life, Manchester has something special waiting for you. From Michelin-Starred dining experiences at The French restaurant, afternoon tea at the Midland Hotel, and even a candlelit dinner cruise down the River Irwell on The Princess Katherine there are plenty of ways to indulge in luxury during your stay in Manchester.
Things to Do in Manchester for Young Adults
Manchester is a fun and vibrant city with plenty of activities for young adults. From live music events at the O2 Apollo, to shopping and dining in the trendy Northern Quarter; there's something for everyone. Alternatively, take a stroll along the Bridgewater Canal or explore one of Manchester's many green spaces such as Heaton Park.

With its lively nightlife scene, you won't be short on options when it comes to finding entertainment in Manchester!
Things to Do in Manchester for Couples
Manchester is a great destination for couples looking to explore the city together. From romantic strolls in Castlefield, to exploring the lively Northern Quarter and going on boat rides along the canal, there are plenty of activities that make Manchester a perfect spot for couples. Whether you're looking for an adventure or relaxation time, Manchester has something special waiting for every couple.
Fun Things to Do in Manchester for Adults
For adults looking for an exciting night out in Manchester, there are many options. From trendy bars and clubs to award-winning restaurants, there is something for everyone. For music lovers, the city hosts a variety of live music venues including the Bridgewater Hall and Band on the Wall.

If you're interested in culture or history, take a trip to The Whitworth Art Gallery or Museum of Science and Industry. There's also plenty of shopping opportunities from high street stores to vintage outlets as well as fantastic theatre performances at The Lowry Centre.
Places to Visit in Manchester City Centre
Manchester City Centre is an exciting and vibrant place to visit, with plenty of attractions and activities for all ages. From cultural venues such as the National Football Museum and Manchester Art Gallery, to shopping hotspots like Manchester Arndale and Exchange Square, there are endless things to explore in this bustling city centre. For a unique experience, visitors can take a boat cruise along the River Irwell or enjoy outdoor activities in Heaton Park.

With so much on offer, it's no wonder why Manchester City Centre is one of the most popular destinations in the UK!
Things to Do in Manchester Today
Manchester is a vibrant city with plenty of exciting activities to keep you busy today. From exploring its impressive architecture, taking a river cruise along the Irwell or visiting one of the many museums and art galleries, there's something for everyone to enjoy in this lively city. For an extra special experience, why not take a tour of Old Trafford Stadium – home of Manchester United FC?

Alternatively, if you're looking for some retail therapy then head over to The Trafford Centre where you'll find world-famous shops and restaurants.
Things to Do in Liverpool
Liverpool is packed full of things to do, no matter what type of experience you're looking for. From historic attractions such as the Walker Art Gallery and Merseyside Maritime Museum to vibrant nightlife, trendy restaurants and cafes, shopping malls and markets – there's something for everyone in this lively city! Visit the stunning World Heritage waterfront with its iconic towers, Albert Dock and Tate Liverpool; explore a range of galleries including the International Slavery Museum; take a ferry ride across the River Mersey; or catch some live music at one of Liverpool's renowned venues.

With so much to offer, it's easy to see why Liverpool is one of Britain's top destinations.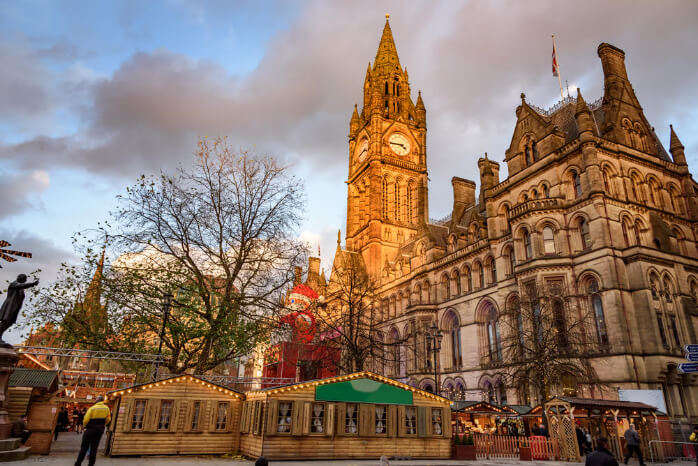 Credit: traveltriangle.com
What are the Famous Things of Manchester?
Manchester is a vibrant, bustling city that's home to some of the most famous sights and attractions in England. The city has an impressive history and culture, making it a popular destination for tourists from all over the world. From its iconic football teams to awe-inspiring architecture, Manchester offers plenty of things to explore and discover.

One of the most notable landmarks in Manchester is the City Hall, which was designed by Alfred Waterhouse in 1877 and stands as a symbol of civic pride for Mancunians. Other architectural wonders include The John Rylands Library, with its magnificent neo-Gothic façade; Central Library; Town Hall Extension; Beetham Tower; Imperial War Museum North; Urbis Centre; Royal Exchange Theatre and Bridgewater Hall Concert venue. For sports fans there's Old Trafford Stadium – home to one of Britain's top football clubs – while music lovers can check out venues like The Apollo Theatre or Band on the Wall gig spot.

Shopping enthusiasts will love exploring Chinatown or browsing through Arndale Market while art buffs should head over to Whitworth Art Gallery or Checkpoint gallery at Castlefield Urban Heritage Park where they'll find unique artwork created by local artists. With so much going on in this vibrant metropolis there's something for everyone – come visit Manchester today!
What is the Most Famous Thing is Manchester?
Manchester is one of the most famous cities in the United Kingdom and has a rich history. It's renowned for being a hub of culture, sport and music – all elements which have become synonymous with the city over time. The most famous thing in Manchester is undoubtedly its football teams: Manchester City FC and Manchester United FC.

These two teams are arguably among the world's biggest clubs, each having enjoyed success both domestically and internationally. Fans from around the globe come to watch them play at their respective stadiums or on TV, making this rivalry one of the greatest sporting spectacles of all time. But there's more than just football to Manchester as it also offers an array of cultural attractions too; from art galleries such as The Whitworth Art Gallery to museums like The Museum Of Science And Industry, not forgetting historical monuments including Chetham's Library.

With so much going for it, it's no surprise that people keep coming back to this great British city year after year!
What There is to Do in Manchester?
Manchester is an exciting city full of life and culture. There is something for everyone to do, whether you're looking for a night out with friends, or something more low-key like visiting the galleries and museums. From shopping in the world famous Arndale Centre to taking part in one of Manchester's many festivals, there's always something new happening here.

For those looking for a bit of thrills, why not visit some of Manchester's top attractions such as The Wheel Of Manchester or SEA LIFE centre? Or if you want to get away from it all, head out on one of the many walking trails available around the city and explore its tranquil parks and gardens. And don't forget to check out some live music while you're at it – Manchester boasts a vibrant music scene that includes everything from indie rock bands to folk ensembles!

Whatever your interests are, there really is something for everyone in this wonderful city.
What Attracts People to Manchester?
Manchester is a city that offers something for everyone. It has an excellent choice of attractions, ranging from world-class museums and galleries to parks and music venues. Its vibrant nightlife scene attracts people who are looking for live entertainment, great food and drink, as well as plenty of opportunities to socialise with like-minded individuals.

The city also boasts a wide range of cultural activities such as theatre, opera and classical music performances in some of the UK's most prestigious concert halls. Shopping is another major draw; Manchester's bustling markets are renowned for their unique style while its high street stores offer shoppers all the latest trends at competitive prices. Finally, Manchester is known for its diverse population; it's home to over a million international residents making it one of the most multicultural cities in Europe – there really is something here for everyone!
Conclusion
Manchester is a vibrant and exciting city with plenty to explore. From the stunning architecture of its cathedrals, to its buzzing nightlife and incredible pubs, there's something for everyone in this amazing northern city. Whether you're visiting Manchester for the first time or have lived here all your life, these ten attractions are some of the best things to do in town.

With so much culture and history on offer, it's no wonder why so many people love Manchester!