1. Visit the iconic Buckingham Palace and take a tour of this magnificent royal residence. 2. Explore the bustling streets of London's West End, home to some of the best shopping, dining and theatres in Europe. 3. Take a leisurely stroll through Hyde Park, one of London's most famous parks with plenty to see and do.

4. Get lost in Trafalgar Square and admire its grand architecture, monuments and fountains; perfect for people watching! 5. Admire breathtaking views from atop The Shard skyscraper or get up close at St Paul's Cathedral dome walkway – both must-sees! 6. Go sightseeing around Westminster Abbey – an architectural masterpiece with history spanning 1000 years!

7 . Experience the vibrant atmosphere at Camden Market – one of London's most eclectic places full of unique finds . 8 .

Check out all things art related at The National Gallery or Tate Modern contemporary gallery – both worth visiting ! 9 . Enjoy river boat cruises along River Thames – taking in many top sights like Tower Bridge & Tate Britain museum !

10 . Catch a show at Globe Theatre , built on original site as Shakespeare's theatre over 400 years ago !
London is one of the most exciting cities in the world and there are plenty of things to do for all ages. From iconic landmarks like Big Ben and Buckingham Palace to vibrant markets, lush parks, and some of the best museums in Europe, London has something for everyone. Whether you're looking for a day out with family or friends, or seeking an adventure filled with history and culture – these are ten must-see attractions that will make your trip to London unforgettable!
TOP 10 Things to do in LONDON – [2023 Travel Guide]
Unique Things to Do in London
London is an incredible city full of culture, history and fascinating attractions. From centuries-old monuments to modern day markets, there's no shortage of things to see and do in London. Whether you're looking for a unique way to explore the city or something fun to experience with friends, here are some truly unique activities that you won't find anywhere else: Ride The Emirates Air Line Cable Car – Enjoy breathtaking views of the city from the highest point in London as you glide above the River Thames; take a tour on an amphibious vehicle – travel by road on land then switch into water mode for a journey along the river; visit Hampstead Heath – one of London's oldest parks with rolling hills, woodlands and ancient ponds; and get lost in Borough Market – sample local food delicacies from around Britain.
Places to Visit in London for Free
London is a great city to explore, and luckily there are plenty of attractions that you can enjoy for free. From art galleries like Tate Modern and the National Gallery to historic landmarks such as Westminster Abbey and Tower Bridge, London has something for everyone. Other popular free attractions include Hyde Park, the British Museum, St Paul's Cathedral, Leicester Square Gardens and numerous outdoor markets throughout the city.

With so many things to do in London at no cost, it's easy to have an unforgettable time without breaking the bank!
Places to Visit in Central London
Central London is home to a plethora of exciting places to explore. From the iconic Tower of London and Big Ben, to the bustling food markets at Borough and Camden Lock, there's something for everyone in this vibrant city. Take a stroll through Hyde Park or peruse the art galleries in Mayfair – whatever your interests are, you'll find plenty of attractions to keep you entertained!
Places to Go in London With Friends
London is one of the world's great cities, and it offers plenty of exciting activities for friends to explore together. Whether you are looking for a night out at the theatre or an afternoon in a museum, there is something for everyone in London. From sightseeing attractions like Buckingham Palace and Westminster Abbey to trendy bars and clubs, there are plenty of places to go with friends when visiting London.

Whatever your group's interests, you'll find something fun to do in this vibrant city!
What to Do in London for a Day
If you're looking to make the most of a single day in London, there are plenty of fun activities to choose from. You could take a tour of iconic landmarks such as Buckingham Palace and the Tower Bridge, explore one or more of the city's many museums, stroll through local markets and parks like Covent Garden and Hyde Park, or go shopping at some of London's popular stores. There's also no shortage of delicious restaurants if you want to sample some traditional British cuisine!

Whatever you decide to do during your day in London, it's sure to be an unforgettable experience!
Famous Places in London With Name
One of the most famous places in London is Buckingham Palace, home to the British monarchy since 1837. This iconic building is a must-see for anyone visiting London and stands as an important symbol of royal power and influence. Other popular attractions include The Tower of London, Big Ben, Trafalgar Square and Westminster Abbey – all essential stops on any visit to the city!
Things to Do in London for Couples
London is one of the most romantic cities in the world and there are plenty of things to do for couples. From popular attractions like The London Eye, Madame Tussauds, and Buckingham Palace to lesser-known activities such as punting on the Thames or visiting Borough Market for a delicious foodie experience; there's no shortage of fun experiences to be had. Whether you're looking for something active or more relaxed, London has it all!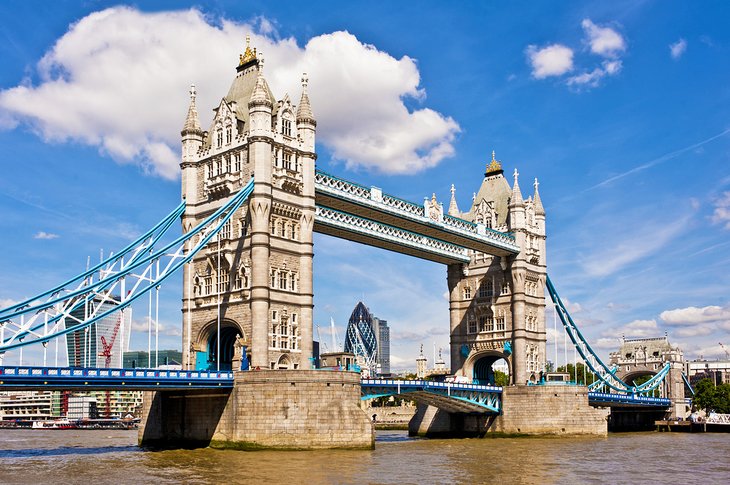 Credit: www.planetware.com
What is the Number 1 Tourist Attraction in London?
The number one tourist attraction in London is the iconic Big Ben! This world-famous clock tower is located at the north end of the Houses of Parliament and has been a defining symbol of London for centuries. People flock to this spot every day, eager to have their picture taken with the famous landmark.

The clock itself was built in 1859 and stands 96 metres tall – making it one of the tallest structures in all of London. On any given day, you can see tourists from around the globe taking pictures and marveling at its beauty. Big Ben also serves as a reminder that London has a long history filled with culture, art, architecture and more – something that attracts tourists from all over who are looking for an immersive experience into British life.
What is One Thing Not to Miss in London?
If you are planning a visit to London, there is no shortage of attractions and activities to enjoy. However, if there's one thing that should not be missed while in the city – it would have to be the Tower of London. The historic fortress has been standing since 1078 and serves as a reminder of England's rich history.

It was once used as a prison and royal residence, but today visitors can take guided tours through its grounds or simply admire its architecture from outside. Not only will you learn about some interesting British history but also get incredible views over the Thames River and surrounding area!
What are 5 Famous Things of London?
London is one of the most iconic cities in the world, with a long and rich history that dates back to Roman times. From its picturesque skyline to its vibrant culture and bustling streets, London is home to many famous attractions. Here are five of the most iconic things associated with London:

First, Big Ben – an iconic clock tower located at the north end of The Palace of Westminster – has become synonymous with London since it was completed in 1859. It's one of the city's best-known landmarks and can be heard chiming throughout much of central London on every hour. Second, Buckingham Palace is perhaps Britain's most recognizable building and residence for members from the British royal family since 1837 – including Queen Elizabeth II who still resides there today.

Visitors may take tours inside during certain periods in summer months or just admire from outside year round. Thirdly, The Tower Bridge crosses over River Thames providing stunning views as you walk across it towards either side – especially during night when it's lit up! This Grade I listed bridge opened in 1894 and remains one of England's most recognisable symbols today; visitors may also explore inside if they purchase tickets beforehand online or at nearby ticket booths found near each entrance point into this Victorian Gothic monument.

Fourthly, no list would be complete without mentioning a traditional red telephone booth! With their distinctive shape these kiosks have been around since 1920 but due to modern technology they are now rarely used anymore yet remain as historical monuments dotting around various parts within Greater London area – perfect for taking selfies or photos while exploring city centre streets! Last but not least Trafalgar Square which celebrates Admiral Horatio Nelson who defeated French fleet off coast Spain 1805 battle known 'Battle Trafalgar'.

This popular square located heart West End filled events such national celebration days plus plenty food stalls surrounding area making great place people watch leisure time after busy day sightseeing!
What are 6 Famous Places in London?
London is a city rich with history and culture. From the iconic Big Ben to Buckingham Palace, there are many famous places that draw tourists from all over the world. Here are six of London's most popular attractions: Big Ben – Standing tall in Westminster, this tower clock has become an icon for London and keeps time for millions around the world each day; Tower Bridge – This bridge crosses the River Thames and is one of London's most recognizable landmarks; Buckingham Palace – The official residence of Queen Elizabeth II since 1952, it serves as both a home and workplace; Trafalgar Square – Located at the heart of London, this square commemorates Admiral Horatio Nelson who died during battle; Westminister Abbey – A gothic abbey located next to Big Ben where royal coronations have taken place since 1066 AD; The British Museum – One of the oldest museums in Europe with more than 8 million items on display.

These six famous places offer visitors a glimpse into England's past while also providing contemporary entertainment options.
Conclusion
Overall, London is a city with an abundance of activities and attractions for those who wish to explore the best of what Britain has to offer. From culture-filled museums and galleries to modern shopping centers and bustling nightlife spots, there are plenty of things to do in London that will keep you entertained throughout your stay. Whether you're looking for something traditional or contemporary, there is something for everyone in this vibrant city!

With its vast range of options, it's no wonder why it's one of the world's most popular tourist destinations.