1. Waikiki Beach: Relax and enjoy the sun, sand, and surf at this iconic beach located in Honolulu. 2. Diamond Head State Monument: Hike up to the summit of Oahu's most popular volcano for stunning views of Honolulu and Waikiki Beach. 3. Pearl Harbor National Memorial: Pay your respects to those who lost their lives during World War II at this somber memorial site.

4. USS Arizona Memorial: Visit the final resting place for a large number of sailors that were killed during the attack on Pearl Harbor in 1941. 5. Iolani Palace: Tour Hawaii's only royal palace and one of the few remaining palaces built by royalty anywhere in America today! 6 Kailua Beach Park: Take a dip or go paddling with Stand Up Paddle Boarding (SUP) while enjoying some breathtaking scenery here on Oahu's windward coast!

7 Ala Moana Center/Ala Moana Beach Park – Shop till you drop at one of world's largest open-air malls before heading over to nearby Ala Moana Beach Park for an afternoon picnic lunch or swim session! 8 Manoa Falls Trailhead – Enjoy a leisurely hike through lush rainforest along Manoa Stream until you reach its dramatic 150 foot waterfall destination! 9 Bishop Museum – Learn about Hawaiian culture, science and natural history from ancient times through present day exhibits housed within this impressive museum complex!
Honolulu is a beautiful city located in the Hawaiian Islands and offers visitors plenty of exciting activities and attractions to explore. From its lush beaches to its vibrant culture, there's no shortage of things to do in Honolulu. We've rounded up some of the best things to do in Honolulu, including popular tourist attractions like Diamond Head State Monument and Waikiki Beach, plus unique experiences such as sampling local favorite dishes at farmer's markets or catching a show at one of Honolulu's many live music venues.

Whether you're visiting for just a few days or planning an extended stay, these top 10 attractions will make your trip unforgettable.
15 Best Things To Do in Honolulu (Oahu) – Hawaii Travel Guide
Unique Things to Do in Honolulu
Honolulu offers a variety of activities and attractions for visitors to enjoy. From its stunning beaches, vibrant nightlife, cultural landmarks, and outdoor adventure spots, there's something for everyone in Honolulu. From taking surfing lessons on Waikiki Beach or snorkeling at Hanauma Bay to exploring the National Memorial Cemetery of the Pacific or learning about Hawaiian culture at Iolani Palace—there are plenty of unique things to do in Honolulu.
Things to Do in Honolulu for Free
Honolulu is filled with plenty of free activities for visitors and locals alike. From its beautiful beaches to its many parks and museums, there are endless opportunities to explore the city without breaking the bank. From taking a stroll along Waikiki Beach to visiting historic Iolani Palace or hiking Diamond Head State Monument, Honolulu offers a wide variety of unique experiences that can be enjoyed at no cost.
Things to Do in Honolulu With Kids
Visiting Honolulu with kids can be a great way to have fun and explore the beautiful city. There are plenty of activities for children, from visiting the Honolulu Zoo or Sea Life Park to exploring Waikiki Beach and Diamond Head State Monument. Families can also take part in cultural experiences such as learning about Hawaiian culture at the Bishop Museum or participating in hula lessons.

For more adventurous visitors, there's kayaking, snorkeling, parasailing or whale watching nearby. No matter what you choose to do, your family will have an amazing time discovering all that this vibrant city has to offer!
Things to Do in Honolulu for Couples
Honolulu is a great destination for couples looking to have an unforgettable experience. From romantic strolls on Waikiki Beach, to dinner cruises around the harbor and helicopter tours of the city's incredible skyline, there are plenty of activities for couples in Honolulu. For those who prefer more active pursuits, take a hike through Diamond Head Crater or explore Koko Head Stairs with stunning views from the top.

With its vibrant nightlife, world-class shopping and plethora of art galleries and museums, Honolulu has something special for every couple looking to make lasting memories together.
Non Touristy Things to Do in Oahu
One of the best non-touristy things to do in Oahu is exploring its lush rainforests. With plenty of hiking trails, waterfalls, and even zip line tours, you can explore the diverse natural beauty that Oahu has to offer without running into a crowd. For an exciting adventure, you can also check out Waimea Valley for a unique experience filled with Hawaiian culture and history.

From visiting sacred sites to taking part in ancient rituals such as poi pounding and lauhala weaving lessons, there's something special waiting for everyone!
Things to Do in Hawaii Right Now
Hawaii is a paradise for vacationers, and there are plenty of things to do right now. Whether you're looking for outdoor activities such as surfing, kayaking, or snorkeling in its crystal blue waters; exploring some of the state's incredible natural wonders like Haleakala National Park and Hawaii Volcanoes National Park; experiencing local culture through traditional luaus and hula performances; or simply relaxing on one of its many stunning beaches – Hawaii has something for everyone!
Things to Do in Honolulu Today
If you're looking for things to do in Honolulu today, there are plenty of activities available. From visiting the iconic Waikiki Beach and exploring Diamond Head State Monument to taking a trolley tour around the city or enjoying some local cuisine at the buzzing Kaka'ako Farmers Market, Honolulu offers something for everyone. There's also no shortage of cultural attractions such as Iolani Palace and Bishop Museum, which provide an insight into Hawaii's past.

Whether you're in town for a day or a week, there's sure to be something that will make your stay in Honolulu memorable!
Things to Do in Honolulu This Weekend
Honolulu is full of fun activities for the whole family to enjoy this weekend. From exploring Waikiki Beach and shopping at Ala Moana Center, to taking a guided tour of Pearl Harbor or attending one of the many cultural events happening around town, there's something for everyone in Honolulu! If you're looking for an outdoor adventure, head over to Diamond Head State Monument for some stunning views and a challenging hike.

No matter what your interests are, you can find plenty of things to do in Honolulu this weekend!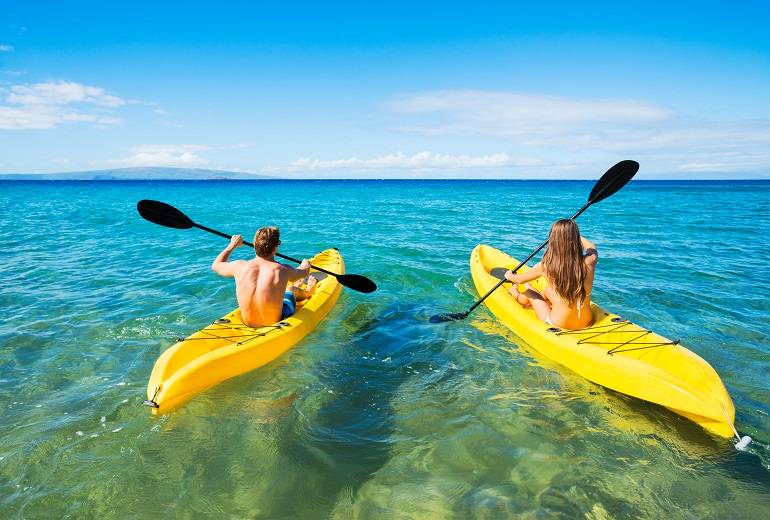 Credit: www.best-of-oahu.com
What Should Not Miss in Honolulu?
Honolulu is the capital of Hawaii and offers beautiful beaches, amazing food, and plenty of activities for visitors. Here are some highlights that should not be missed: – Waikiki Beach: Iconic beach with world-class waves perfect for surfing or relaxing on the shore.

– Diamond Head State Monument: Iconic volcanic crater with stunning views from its summit. – USS Arizona Memorial at Pearl Harbor: Historic landmark honoring those who lost their lives in 1941 attack. – Hanauma Bay Nature Preserve: Marine life sanctuary with crystal clear water ideal for snorkeling and diving.

No visit to Honolulu would be complete without experiencing these unique attractions!
What is the Number 3 Attraction in Hawaii?
The number three attraction in Hawaii is the Polynesian Cultural Center. It is located on the north shore of Oahu and offers an exciting day-long adventure into Hawaiian and other Pacific Island cultures. Highlights of this attraction include:

• A chance to interact with locals from multiple cultures through hands-on activities and demonstrations. • Enjoy authentic music, dance performances, games and food sampling. • Visit six villages representing different island cultures including Samoa, Fiji, Marquesas Islands, Tahiti and Hawaii itself.

At the end of your visit you will have experienced a unique cultural journey that's both educational and entertaining!
What Famous Things are in Honolulu?
Honolulu, the capital of Hawaii, is home to many famous attractions. Some of these include: * Waikiki Beach – world-renowned beach with crystal clear waters and beautiful sunsets.

* Diamond Head State Monument – iconic volcanic tuff cone that towers over Honolulu's skyline. * Pearl Harbor National Memorial – a poignant reminder of World War II. * Iolani Palace – the only royal palace in the United States, built for King Kalakaua in 1882.

In addition to these landmarks, Honolulu offers amazing dining experiences and stunning natural beauty all around its vibrant cityscape.
What is the Number One Tourist Destination in Hawaii?
The number one tourist destination in Hawaii is Waikiki Beach. Some of its attractions include: • Gorgeous white sand beaches

• World-class shopping and dining options • A diverse range of activities and nightlife It's no wonder why it has been a popular vacation spot for generations.
Conclusion
In conclusion, Honolulu is a beautiful city to explore and has many amazing things to do. From snorkeling with sea turtles at Hanauma Bay to taking a walk through the lush rainforest of Manoa Falls, there are plenty of activities for everyone who visits this vibrant city. Whether you're looking for an outdoor adventure or just want to relax on the beach, Honolulu provides something for all kinds of travelers.

With so many great attractions and places to explore, it's no wonder that Honolulu is one of the best destinations in Hawaii!