1. Visit the Exeter Cathedral – this stunning Gothic cathedral is one of the most impressive sights in Exeter and it's definitely worth a visit. 2. Take a stroll around Northernhay Gardens – these beautiful public gardens date back to 1612 and are perfect for an afternoon walk or picnic with friends and family. 3. Explore Underground Passages – take a tour of Exeter's historic underground passages which were built in the 13th century to bring fresh water into city homes.

4. Check out Rougemont Castle – this medieval castle offers fantastic views over Exeter, and you can also explore its grounds as well as learn about its history at the museum inside it. 5 .Visit St Nicholas Priory- This 12th century priory ruin is now home to an interesting museum that explores life in Medieval England through interactive exhibits, audio tours and displays on local history .

6 .Go Shopping at Princesshay Shopping Centre- Whether you're looking for designer labels or unique independent stores, Princesshay has something for everyone! It's many restaurants make it ideal for lunchtime pit stops too!

7 .Take Part In Outdoor Activities – From kayaking on River Exe to rock climbing at Haldon Forest Park there are plenty of outdoor activities available near Exeter that will have you feeling adventurous! 8 .

Experience Quayside Sunday Market – Spend your day browsing stalls selling antiques, vintage items, crafts, food products etc while enjoying live music performances from local artists every Sunday along the quayside area of Town Quay Park in central Exeter.. 9 Visit The Royal Albert Memorial Museum & Art Gallery– Located close to Rougemont Castle this world class museum houses more than one million objects across art galleries , natural history collections , archaeological finds etc all exploring Devon's rich culture heritage !

10 Enjoy A Night Out At The Phoenix Arts Centre– With shows ranging from theatre performances , film screenings , live music gigs etc there is always something happening here throughout year making it one of best places experience some great entertainment during your stay in exter !
Exeter, England is a beautiful city with plenty of attractions and places to explore. From historic landmarks to cultural sites and outdoor activities, there's something for everyone in this charming British town. Here are the 10 best things to do in Exeter: visit the cathedral, take a stroll along the quay, explore the underground passages, discover unique shops and cafes on Gandy Street, marvel at works of art at RAMM Museum & Gallery, wander around Royal Albert Memorial Museum & Art Gallery (RAMM), hike up Haldon Hill for stunning views over Devon countryside, enjoy live music performances at The Phoenix Arts Centre or Exeter Cavern Club , catch a show at Northcott Theatre , and top it off with afternoon tea in one of its quaint tea rooms.

No matter what your interests may be – there's sure to be something that will make your trip memorable!
Top 10 Places to Visit in Exeter | United Kingdom – English
Things to Do Exeter, Pa
Exeter, Pennsylvania is a great place to explore and experience the beauty of nature. There are plenty of outdoor activities to do such as hiking, biking, kayaking, canoeing, fishing or hunting. You can also visit one of Exeter's many parks like Eckley Miners' Village or Frances Slocum State Park where you can take in the stunning view overlooking Wilkes-Barre Valley.

For those looking for something indoors there is Mohegan Sun Arena which hosts various events ranging from concerts to entertainment shows. Additionally, The Luzerne County Historical Society offers an array of educational tours and exhibits that highlight the city's rich history.
Exeter Cathedral
Exeter Cathedral is a beautiful and historic cathedral located in the city of Exeter, England. Built in 1112, it is one of the oldest cathedrals in the UK, as well as one of the largest churches in England. The architecture of this impressive building has been described as having elements from both Norman and Gothic styles.

Visitors to Exeter Cathedral can explore its many fascinating features including its soaring spire, stunning stained glass windows, intricately carved stonework and ornately decorated ceiling bosses.
Things to Do in Exeter, Nh
Exeter, New Hampshire is a charming small town filled with activities for visitors and locals alike. From outdoor adventures to cultural attractions, there's something here to please everyone! Popular activities include exploring the historic downtown area with its quaint shops and delicious restaurants, taking a hike in one of the nearby parks or forests, canoeing down the Exeter River, visiting Water Street Bookstore (the oldest independent bookstore in America!), touring the American Independence Museum and Phillips Exeter Academy campus grounds, or attending one of many seasonal events like the annual Strawberry Festival.

Whether you're looking for a peaceful weekend retreat or an exciting adventure-filled getaway, Exeter has something for you!
Things to Do in Exeter, Ca
Exeter, California is a great place to visit for an array of activities. From exploring the local wineries and breweries, to enjoying outdoor recreation such as fishing and hiking at nearby Lake Kaweah or Sequoia National Forest, you won't be bored in Exeter! If you're feeling more adventurous, check out Cow Mountain Recreation Area for ATV trails and camping.

Don't forget to take the time to explore downtown Exeter too- there are several shops and restaurants that offer unique dining experiences. No matter what type of adventure you're looking for, a trip to Exeter has something special just waiting for you.
Things to Do in Devon
Devon is a beautiful county in the South West of England that offers plenty for visitors to explore and enjoy. From stunning beaches, historic castles and quaint villages, to bustling markets and exciting festivals. With so many things to do in Devon you'll never be short of activities; such as walking the South West Coast Path, exploring the wild moorlands or taking a boat trip around Exeter Quay.

There are also plenty of outdoor activities on offer such as horse riding, cycling and kayaking. Whatever your interests may be there will definitely be something for everyone when visiting this charming part of England!
Exeter, Uk
Exeter is a city in Devon, England, situated on the River Exe. It is known for its impressive architecture and lively culture. The city has a rich history that dates back to Roman times, with many important cultural landmarks such as the 11th century Exeter Cathedral and St Nicholas Priory Church still standing today.

With plenty of places to explore and things to do, it's easy to see why Exeter is one of the most visited cities in South West England.
Tourist Exeter
Exeter is a city in Devon, England that offers plenty of attractions and activities for tourists. Home to the University of Exeter, this vibrant and historic city boasts an array of historical sites such as its 12th-century Gothic cathedral, medieval walls and Roman ruins. There are also numerous museums worth visiting including the Royal Albert Memorial Museum and Art Gallery, which houses collections from around the world including ceramics and textiles.

Visitors can enjoy a variety of shops ranging from independent boutiques to high street favourites or wander along one of Exeter's many cobbled streets filled with cafes, bars and restaurants offering delicious local delicacies.
Exeter University
Exeter University is a leading public research university in the United Kingdom. Founded in 1955, it offers undergraduate and postgraduate courses across a wide range of disciplines, including medicine, law, engineering and business. With more than 24,000 students from over 130 countries around the world studying at Exeter's two campuses – Streatham and St Luke's – it is one of the largest universities in England.

Its academic excellence has been recognised through numerous awards for teaching quality and research impact; its medical school was recently rated as number one in the UK by The Times Good University Guide 2020.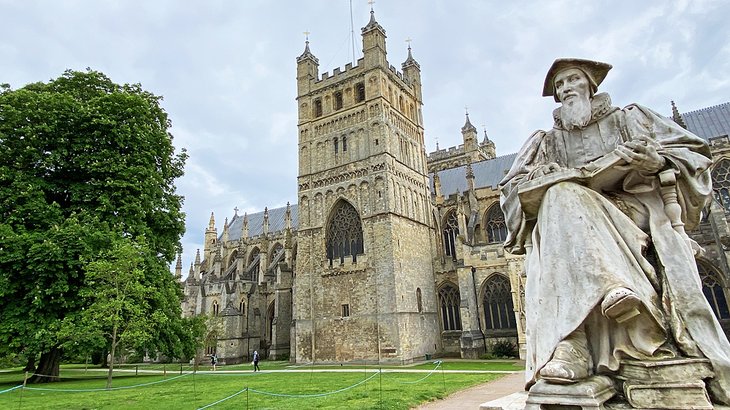 Credit: www.planetware.com
What is Exeter Famous For?
Exeter is a city located in the South West of England, and it is home to one of the oldest universities in Britain. It has been an important center of learning since medieval times and its university continues to be a major draw for students from around the world. In addition, Exeter's unique medieval architecture makes it a popular tourist destination – visitors can explore ancient churches, distinctive cobbled streets and impressive castle ruins as they wander through this historic city.

The Royal Albert Memorial Museum houses an array of historical artifacts which give insight into Exeter's rich past while literary fans may recognize some familiar sights used in filming adaptations of Jane Austen's novels such as "Sense & Sensibility" or "Persuasion". Not only does the city have something for everyone but it also has plenty to offer those who enjoy outdoor pursuits with lots of parks, riverside trails and beaches nearby for you to explore too!
What is the Nicest Part of Exeter?
Exeter is a vibrant city located in the beautiful county of Devon. It offers its residents and visitors an abundance of attractions, from historic monuments to modern entertainment options. The nicest part of Exeter lies within its charm as a small but lively city with plenty to do for all ages.

From visiting the magnificent Gothic cathedral that stands tall over the old town to strolling along the winding streets lined with independent shops, restaurants, and pubs – there's something for everyone here! Wander off into nature by exploring one of Exeter's many parks such as Northernhay Gardens or take a trip down memory lane at the Royal Albert Memorial Museum & Art Gallery. Whether you are looking for fun activities or just want some peace and quiet while soaking up some stunning scenery – Exeter has it all!
Is It Worth Going to Exeter?
Exeter is a vibrant city in the South West of England with an amazing mix of ancient and modern attractions. The city has plenty to offer, from its stunning natural landscapes to its rich history and culture. There are many things to do in Exeter for visitors of all ages; ranging from shopping, sightseeing, theatre shows and festivals to sports activities and leisure pursuits.

Not only is there something for everyone, but it's also worth visiting Exeter due to the quality of life that it offers. It consistently ranks as one of the most liveable cities in Europe – thanks largely to its pleasant climate, friendly locals, low unemployment rate and great transport links. You can enjoy a wealth of outdoor activities such as surfing at Sandy Bay beach or taking a walk along Exmouth seafront while discovering some unique shops on your way around town.

Theatre-goers will be spoilt for choice too: there are three theatres within walking distance offering everything from opera productions right through to comedy nights! All this makes Exeter an ideal destination if you're looking for somewhere lively yet peaceful enough where you can relax away from busy urban life while still having plenty of options when it comes entertainment – so definitely yes -it's worth going!
Why Should I Visit Exeter?
Exeter is an amazing destination that has something to offer everyone. Located in Devon, Exeter is a beautiful city surrounded by stunning countryside with plenty of interesting places to explore. From its history and culture, through to its vibrant nightlife and fantastic shopping opportunities, there's so much to see and do here.

Whether you're looking for a day out or want a weekend away from it all, Exeter has it covered! The city centre offers great restaurants serving delicious local food alongside lots of exciting attractions such as the Cathedral Close and Guildhall Shopping Centre – perfect for those who love retail therapy! There are also some wonderful outdoor activities such as walking along the River Exe or exploring the nearby Haldon Forest Park where you can discover hidden gems like ancient castles, lakeside trails and even prehistoric sites.

If you're looking for something more unique then why not take part in one of Exeter's many festivals which include everything from music events to theatre productions? Whatever your reason for visiting Exeter you won't be disappointed; this charming city will make sure you have an unforgettable experience!
Conclusion
Exeter is a great place to visit with plenty of attractions, activities and things to do. From its historic sites, vibrant nightlife and delicious food to the many shopping destinations, outdoor adventures and stunning natural beauty there's something for everyone in Exeter. With so much on offer it's easy to see why this city is becoming increasingly popular for visitors from all over the world.

Whether you're looking for restful relaxation or exciting adventure, Exeter has it all – making it one of the best places to visit in England!