1. Visit Edinburgh Castle: Located atop an extinct volcano, this historic castle is a must-see for its magnificent architecture and stunning views of the city. 2. Explore Royal Mile: Stretching from the castle to Holyrood Palace, Royal Mile is lined with cobbled streets and quaint shops selling souvenirs and traditional Scottish items. 3. Climb Arthur's Seat: This ancient hill offers breathtaking views of Edinburgh along with plenty of trails to explore around it.

4. Tour St Giles' Cathedral: Built in 1124, this cathedral has been at the centre of religious life in Scotland for centuries and features beautiful stained glass windows and a majestic Gothic interior design that will leave you in awe! 5. Take a bus tour around the city: Get an overview of the city by taking one of many hop on-hop off tours available which stop at all major attractions – perfect for those short on time! 6. Taste Scotch whisky at The Scotch Whisky Experience: Learn about Scotland's national drink while sampling some premium whiskies from different distilleries across Scotland!

7 .Visit National Museum Of Scotland : Situated near Chambers Street, this museum boasts collections that range from artworks to scientific instruments – there's something here for everyone! 8 .

Marvel at Camera Obscura : This interactive attraction allows visitors to learn more about optics as they explore five levels showcasing optical illusions, holograms & live magic shows too! 9 .Take part in Ghost Tours : For those who prefer their history spooky – join one these late night walking tours where you'll hear tales about Edinburgh's hidden secrets & haunted past!

10 .Shop till you drop on Princes Street : Shopaholics rejoice – Princes Street has everything from high street fashion stores, designer labels & antique markets – make sure you grab yourself some bargains before heading home!.
Edinburgh, Scotland is one of the most beautiful cities in Europe and there are plenty of amazing things to do. From exploring its cobblestoned streets, taking a tour of Edinburgh Castle, or experiencing the city's vibrant nightlife, there is something for everyone to enjoy. Here are 10 of the best things to do in Edinburgh – from top attractions and places to visit that will make your trip unforgettable!
10 BEST Things To Do In Edinburgh | What To Do In Edinburgh
Things to Do in Edinburgh for Young Adults
Edinburgh is a great city for young adults looking for something to do. Whether you're interested in exploring Edinburgh's vibrant nightlife, visiting its historical landmarks and museums, or taking part in one of the many festivals held throughout the year, there is sure to be something that appeals to everyone. Stroll through the streets of Old Town and explore its winding alleys full of pubs and clubs; take a tour of Edinburgh Castle or visit some of the city's other historic attractions; attend any number of live music events at venues such as The Liquid Room or Hogmanay celebrations during New Year's Eve – whatever you choose to do in Edinburgh, it will make for an unforgettable experience!
Crazy Things to Do in Edinburgh
Edinburgh is a vibrant city filled with fascinating attractions and exciting things to do. From exploring the world-famous Edinburgh Castle, to discovering underground vaults and getting lost in mysterious alleyways, Edinburgh offers plenty of fun activities for everyone. If you're looking for something truly unique, why not try your hand at ghost hunting?

Or take part in one of the many festivals held throughout the year? With so much to see and do, you'll never be bored during your stay in Edinburgh!
Places to Visit in Edinburgh for Free
Edinburgh is a beautiful and historic city with plenty of free things to do and see. From exploring the many museums, galleries and gardens, to taking in the stunning architecture on display throughout the city, visitors can explore Edinburgh's diverse culture without spending a penny. The Royal Mile is one of Edinburgh's most iconic streets and offers various free attractions such as St Giles' Cathedral, The Scottish Parliament building or even just taking in the incredible views from Calton Hill.

There are also plenty of parks where you can take a leisurely stroll like Princes Street Gardens or Holyrood Park which offer spectacular views over Arthur's Seat for those who want to explore further out of town.
Things to Do in Edinburgh Today
Edinburgh is full of attractions for visitors to enjoy today! Whether you're looking for an outdoor adventure or a cultural experience, the Scottish capital has something for everyone. Popular activities include exploring Edinburgh Castle and its grounds, taking a boat cruise on the Firth of Forth, visiting Mary King's Close underground tour, going shopping in Princes Street Gardens, and sampling local delicacies such as haggis and whisky.

With so much to do in this stunning city, you're sure to have an unforgettable day out!
Things to Do in Edinburgh for Couples
Edinburgh offers a variety of romantic activities for couples to enjoy. Whether you're looking for an outdoor adventure or a relaxing evening at a cozy restaurant, the Scottish capital has something for everyone. Some popular attractions include exploring the beautiful streets and architecture in Old Town, taking a ghost tour through Edinburgh Castle, visiting nearby picturesque castles such as Craigmillar Castle and Linlithgow Palace, and sampling some delicious local food.

For even more romance, take in a show at one of the city's many theaters or spend an evening strolling along Princes Street Gardens with its stunning views of Edinburgh Castle.
Edinburgh Castle
One of Scotland's most iconic landmarks, Edinburgh Castle sits atop an extinct volcano in the city centre. First built in the 12th century, it has been an important royal residence and military stronghold for centuries. Today, visitors can explore its many attractions including St Margaret's Chapel, The Great Hall, Mons Meg and the National War Museum of Scotland.

Its spectacular views across Edinburgh make it a must-see destination for anyone visiting this beautiful city.
Beautiful Places to Visit in Edinburgh
Edinburgh is known for its beautiful and unique sights, making it a great destination to visit. From the iconic Edinburgh Castle that sits atop an extinct volcano, to the Royal Mile's winding cobblestone streets and historic buildings, there are plenty of picturesque places in Edinburgh to explore. Other popular spots include Arthur's Seat – one of Scotland's highest peaks – and Calton Hill which offers stunning views over the city skyline.

There are also many intriguing museums and galleries such as the National Museum of Scotland where you can learn about Scotland's history and culture. Whatever your interests may be, you're sure to find something amazing when visiting beautiful Edinburgh!
Things to Do in Edinburgh City Centre
Edinburgh City Centre is a great place to explore and discover. From iconic landmarks like Edinburgh Castle, The Royal Mile and St Giles Cathedral to vibrant shopping streets, galleries, museums and parks – there's something for everyone in the city centre. With plenty of pubs, restaurants and cafes you can take a break from sightseeing or stay out late into the night.

There are also many festivals throughout the year such as the Fringe Festival in August which adds an exciting buzz to this already lively city centre.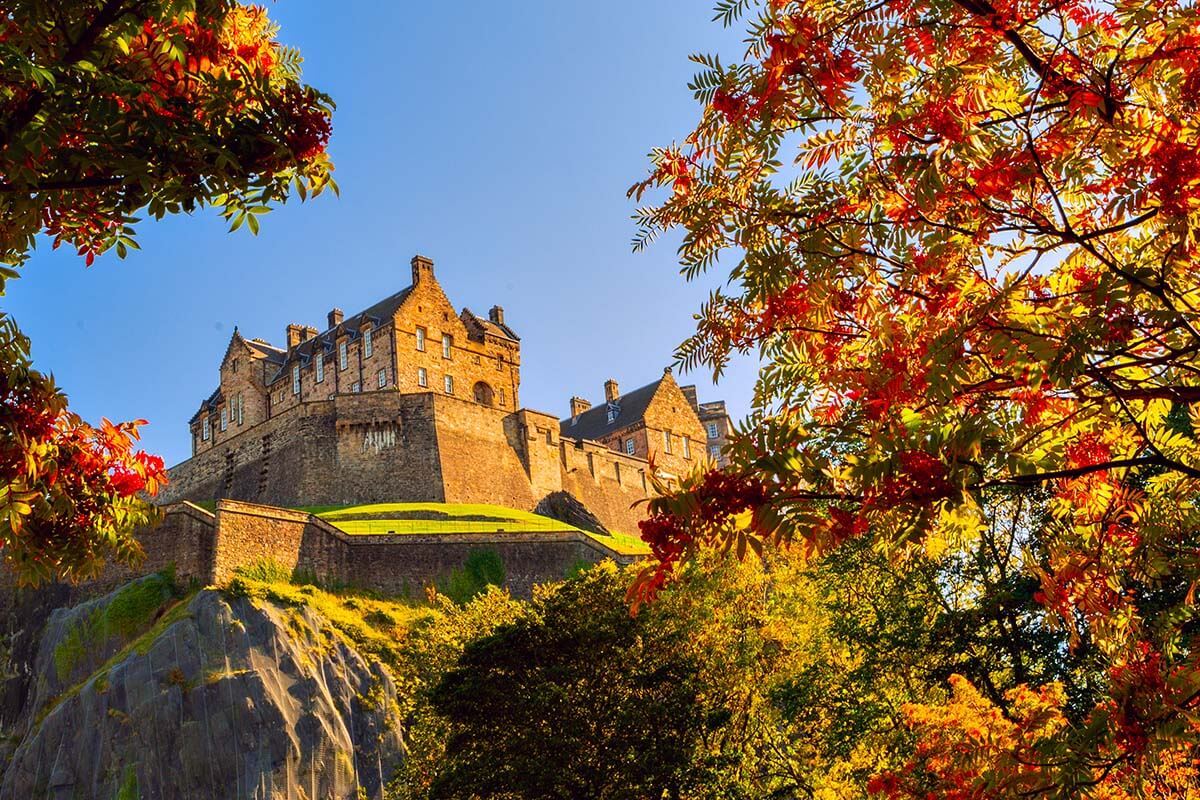 Credit: fullsuitcase.com
What Should You Not Miss in Edinburgh?
Edinburgh is an amazing city, full of culture and history. From the stunning architecture to the lively nightlife, there are plenty of things for visitors to enjoy. However, there are a few things that you absolutely should not miss when visiting Edinburgh.

First up is Arthur's Seat – a dormant volcano set within Holyrood Park which offers breathtaking views over the city and beyond. Make sure you take some time to explore one of Europe's most iconic castles – Edinburgh Castle – perched on top of an extinct volcano at the heart of Scotland's capital. Take in The Royal Mile; it's a cobbled street connecting two royal sites: Edinburgh Castle and Holyrood Palace so make sure you walk along it while admiring its delightful buildings and monuments!

There is also Calton Hill where incredible views can be enjoyed as well as many monuments including Nelson Monument, Dugald Stewart Monument and National Monument among others. Finally don't forget about The Fringe Festival – definitely one of edinburgers main attractions this event hosts some incredible performers from around the world making it not only enjoyable but educational too!
What is the Most Popular Sight in Edinburgh?
Edinburgh is one of the most popular tourist destinations in Scotland, and it's not hard to see why. The city boasts a wealth of stunning architecture and historical sites that draw visitors from all over the world. One of Edinburgh's most iconic landmarks is its castle, which stands tall atop an extinct volcano overlooking the city centre.

Visitors can explore centuries-old tunnels beneath the castle or take in breathtaking views from its battlements – perfect for those looking for a taste of history with their sightseeing. Other must-see attractions include The Royal Mile, Calton Hill, Holyrood Palace and Arthur's Seat – all offering unique experiences that will delight any visitor to this beautiful city. Whatever your interests are, you'll find something special to enjoy on your visit to Edinburgh!
How Many Days in Edinburgh is Enough?
Edinburgh is a beautiful city with something to offer for everyone. With its stunning architecture, rich history, and plethora of fun activities, it can be hard to decide how many days in Edinburgh is enough. Depending on the individual traveler's interests and goals, two or three days in the city should be sufficient to explore some of the main attractions such as Edinburgh Castle and Holyrood Palace.

If you're looking for more time to experience all that Edinburgh has to offer then four or five days would be ideal. During your stay, make sure you also take advantage of some of the great sites outside of the city centre like Arthur's Seat and Calton Hill which provide amazing views over this remarkable Scottish capital.
How to Spend 4 Days in Edinburgh?
Edinburgh is a beautiful city in Scotland and if you're looking for the perfect place to spend four days, it should be your top choice. On day one of your trip, make sure to visit Edinburgh Castle, one of the most iconic landmarks in Scotland. This fortification has been around since the 12th century and stands tall atop its volcanic hill overlooking the city below.

You can take a guided tour through some of its best-known parts, such as St Margaret's Chapel or The Great Hall – both full of fascinating history and stories waiting to be discovered. After exploring the castle grounds you can continue on with a stroll down Princes Street Gardens which offers stunning views over Edinburgh's skyline. Don't forget to take pictures!

Spend day two getting acquainted with some local history at Holyrood Palace where Mary Queen Of Scots once lived before visiting nearby Arthur's Seat – an extinct volcano that provides panoramic views across Edinburgh Old Town up above. Once back down on street level head out for dinner at one of many traditional Scottish pubs offering delicious pub grub like haggis or fish & chips – yum! For your third day, hop on board The Royal Yacht Britannia for an educational experience about Britain's royal family during their time spent aboard this luxurious vessel from 1954-1997 including afternoon tea service onboard!

Finally, explore The Real Mary King Close – an underground network of closed streets preserved under modern buildings – giving visitors insight into what life was like 200 years ago in Edinburgh when plague had taken hold over much of Europe. With so much history and culture packed into just four days there is no doubt that you will leave feeling enriched after spending some quality time in this lovely city!
Conclusion
Edinburgh is an amazing city with a variety of attractions, activities and sites to explore. From its vibrant nightlife to the beautiful architecture and stunning natural landscape, there's something for everyone in Edinburgh. Whether you're looking for a fun family day out or an adventurous exploration of Scotland's culture, Edinburgh has plenty to offer.

With these top 10 things to do in Edinburgh, you can be sure that your visit will be unforgettable!