1. Visit the Mindil Beach Markets: Enjoy the vibrant atmosphere of this beachside market, where local and international food stalls, handicrafts and artworks are sold. 2. Explore Darwin Waterfront Precinct: Take a leisurely stroll along the picturesque waterfront area with its great restaurants, cafes and shops. 3. Admire Crocosaurus Cove: See some of Australia's most amazing reptiles up close at this crocodile sanctuary in downtown Darwin.

4. Tour Parliament House: Learn about Darwin's rich history by touring around this iconic building which is home to many government offices and chambers where important decisions are made on behalf of Northern Territory citizens. 5. Check out Museum & Art Gallery of The Northern Territory (MAGNT): This museum showcases Aboriginal heritage as well as diverse collections from all over the world including an impressive natural history collection from Asia and Africa regions respectively . 6 .

Go for a swim in Fannie Bay or East Point Reserve : Escape the city buzz by taking a dip in one of these two remarkable beaches nearby or simply relax under shady trees while enjoying breathtaking views across Darwin Harbour . 7 .Experience Kakadu National Park : Embark on an adventurous journey through wetlands, woodlands , savanna grasslands that make up Kakadu National Park renowned for its wildlife diversity , ancient rock paintings , waterfalls cascading into plunge pools below them as well as extraordinary landscapes dotted with billabongs lush with lily pads floating atop it surrounded by towering sandstone cliffs overlooking everything else around it.

. 8 .Climb Litchfield National Park : Get your adrenaline pumping while scaling high above ground level to reach incredible vantage points over vast expanse within Litchfield park such as Florence Falls , Wangi Falls , Buley Rockhole .

.etc each offering their own unique attractions like swimming holes filled with crystal clear waters beneath them allowing guests to take a refreshing break away from their adventures.. 9 .

Visit Berry Springs Nature Park : Spend quality time outdoors discovering Berry Springs Nature Park known for its spectacular scenery featuring native flora & fauna among other things like boardwalks meandering through scenic trails lined thickly by plants leading visitors towards hidden wonders waiting patiently just beyond sight .. 10 .
Darwin is a beautiful city with plenty of things to see and do. From the bustling markets, stunning sunsets, and world-class attractions to the unique wildlife encounters and spectacular national parks, there's something for everyone in Darwin. Here are 10 of the best things to do in Darwin: take a sunset cruise on Darwin Harbour; explore Kakadu National Park; visit Crocosaurus Cove; stroll through Mindil Beach Sunset Markets; learn at Museum & Art Gallery of Northern Territory; spot crocodiles at Fogg Dam Conservation Reserve; relax at Casuarina Beach & Swimming Lagoon; discover history at East Point Reserve & Fort Hill Wharf Precincts; trek through Litchfield National Park and go fishing off Cullen Bay Marina.
Top Things to Do in DARWIN, Northern Territory, Australia | Travel Guide & To-Do List
Unusual Things to Do in Darwin
Darwin is a vibrant city with plenty of unique and unusual things to do. From exploring the lush flora and fauna in Crocosaurus Cove to going on an exciting night tour of Darwin's downtown streets, there are plenty of activities for adventurers looking for something different. Other offbeat experiences include touring the Bombing of Darwin Harbour Memorial, learning about Aboriginal culture at Museum & Art Gallery Northern Territory, or even joining a walking food tour which takes you around some of the city's best eateries.
Things to Do in Darwin This Weekend
If you're looking for something to do this weekend in Darwin, you won't be disappointed. Head down to the Mindil Beach Sunset Markets and explore over 120 stalls selling a variety of goods from local stores, as well as live music, entertainment and delicious food options. Alternatively, take a stroll along East Point Reserve's boardwalk which offers amazing views overlooking the Timor Sea.

For those wanting to learn more about Australia's history, visit the Museum and Art Gallery of Northern Territory where you can find interactive exhibitions that tell stories of Indigenous culture through artworks and artifacts. There's plenty to see and do in Darwin this weekend!
Things to See in Darwin
Darwin is a beautiful city full of sights and activities to explore. From the stunning sunsets over Darwin Harbour to the unique flora and fauna on display at Crocosaurus Cove, there's something for everyone in this vibrant destination. Take a stroll through Mindil Beach Markets or visit nearby Litchfield National Park with its cascading waterfalls and lush green forests.

You can also join one of many guided tours to learn more about the history and culture of Australia's Northern Territory. With so much to see, you won't want to miss out on all that Darwin has to offer!
Things to Do in Darwin at Night
Darwin is the capital of Australia's Northern Territory and offers plenty to do for night owls. From music festivals, pubs and bars to theatre shows, art galleries and local markets, there's something for everyone when the sun goes down in this vibrant city. Head over to Mindil Beach Sunset Market – a popular gathering place for locals and tourists alike where you can find unique souvenirs or sample delicious street food dishes from all around the world.

If you're looking for some live entertainment then check out Darwin Entertainment Centre which hosts a variety of performances including musicals, plays, comedy shows and more.
Things to Do in Darwin on a Budget
Darwin, Australia is packed with exciting activities for those traveling on a budget. From exploring the beautiful Litchfield National Park to taking in the sunset at Mindil Beach Markets, there are plenty of fun and affordable things to do in Darwin! Whether you're looking for outdoor adventures or cultural experiences, Darwin has something for everyone.
Things to Do in Darwin Cbd
Darwin Cbd has something for everyone! Whether you're looking to explore the city's unique wildlife, take in some art and culture or simply relax on one of its beautiful beaches, there is plenty to see and do. From Darwin Harbour cruises, markets and galleries to shops, restaurants and bars – it's all here in the heart of Australia's Northern Territory.
Things to Do in Darwin for Couples
Darwin, in the Northern Territory of Australia, is a stunning destination for couples looking to experience an unforgettable getaway. From sophisticated eateries overlooking the harbor to wildlife watching safaris and romantic sunset cruises, there are plenty of activities available for couples to enjoy. Popular attractions include the Museum & Art Gallery of the Northern Territory, exploring the Mindil Beach Sunset Markets or strolling along Darwin's picturesque waterfront promenade.

Whatever your interests may be, you will find something special to do together during your stay in Darwin!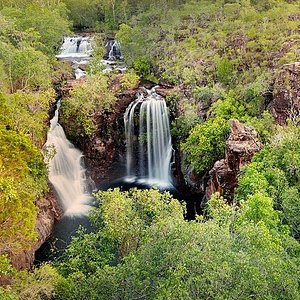 Credit: www.tripadvisor.com
What is Darwin City Famous For?
Darwin City is the capital of the Northern Territory in Australia and it's renowned for its unique cultural heritage. It's a vibrant city with plenty of attractions to explore, from museums that showcase Indigenous culture to iconic landmarks like Mindil Beach Sunset Market, one of the largest markets in Australia. Darwin City is also known for its stunning natural beauty – there are many national parks and nature reserves nearby, where visitors can enjoy outdoor activities such as bushwalking and bird-watching.

The tropical climate makes Darwin an ideal destination all year round, so whether you're looking for a relaxing holiday or an adventure-filled break away from home, this beautiful city has something to offer everyone!
How Many Days in Darwin is Enough?
When it comes to deciding how many days in Darwin is enough, it really depends on the individual and what they want to do while there. For the casual traveler who wants to soak up some of the culture and scenery, three or four days should be sufficient. In this time you can explore most of the city's attractions such as Crocosaurus Cove, Mindil Beach Sunset Markets and Aquascene Fish Feeding at Doctors Gully.

You could also take a daytrip out of town for a spot of bird-watching around East Point Reserve or visit Litchfield National Park for a swim in Florence Falls. If you have more time then you could head further north by taking a road trip up to Kakadu National Park with its famous rock art galleries or spend an entire week exploring all that the Top End has to offer; from Katherine Gorge to Arnhem Land's Yolngu culture and stunning tropical coastline. No matter how long your stay is though, Darwin will certainly leave an impression!
What Landmarks Or Special Places are There in Darwin?
Darwin is a city rich in culture, with an abundance of landmarks and special places to explore. From the iconic Mindil Beach Markets to the historic Darwin Wharf Precinct and Cullen Bay Marina, each area provides its own unique atmosphere for visitors. The Parap Village Markets – one of Australia's oldest markets – are held every Saturday and Sunday morning at Parap Shopping Centre, providing a lively atmosphere where you can enjoy fresh local produce as well as handmade crafts from all over the world.

Other popular attractions include East Point Reserve which offers spectacular views out over Darwin Harbour; George Brown Darwin Botanic Gardens which features native tropical plants; Fannie Bay Gaol – originally built in 1883 as a prison but now open to tourists; and Crocodylus Park – home to some of Australia's largest saltwater crocodiles! There's no shortage of incredible things to do when visiting Darwin, so come visit these amazing landmarks today!
Is There a Lot to Do in Darwin?
Darwin is an exciting and vibrant city with plenty of activities to keep you busy. From outdoor adventures such as swimming, fishing and hiking in the nearby national parks, to exploring the unique Aboriginal culture at local galleries, there's something for everyone in this sunny tropical destination. There are also some great places to eat and drink in Darwin; whether it's having a beer on Mitchell Street or sampling fresh seafood from one of the many markets located around town.

If you're looking for nightlife then Darwin has that too – live music venues, rooftop bars, pubs and clubs will provide plenty of entertainment into the small hours. Shopping is plentiful with everything from luxury boutiques to weekend markets selling locally produced goods – perfect for picking up a souvenir or two! With its stunning natural beauty and incredible wildlife encounters just a short drive away, along with fantastic cultural experiences throughout town there really is lots to do when visiting Darwin!
Conclusion
Overall, Darwin is a great place to visit for anyone looking for an adventure. With plenty of attractions, activities and places to explore, there's something to do for everyone. From its unique wildlife and nature reserves to the vibrant culture that makes it stand out from other cities in Australia, Darwin has much to offer visitors.

Whether you're interested in history or simply want a relaxing getaway, this tropical city will provide you with unforgettable memories and experiences.