1. Visit the Royal Pavilion: The spectacular Royal Pavilion is one of Brighton & Hove's most iconic landmarks, and a must-see attraction for visitors to the city. It was built as a pleasure palace for George IV in the early 19th century and features stunning Indian-style architecture and lavish interiors. 2. Explore Brighton Pier: Take a stroll along this iconic Victorian pier – home to countless amusements, attractions, bars and shops – or just enjoy some classic fish & chips at one of its many seafront restaurants.

3. Relax on the Beach: Enjoy relaxing days on Brighton's famous pebble beach – with plenty of deckchairs, cafés and activities to keep everyone entertained – or take part in watersports such as paddleboarding, kayaking or kite surfing too! 4. See Sea Life Centre: Get close up with sharks, stingrays and turtles at this interactive aquarium in central Brighton which also houses penguins, seahorses plus an impressive jellyfish display too! 5. Shop till you Drop: From designer boutiques to vintage stores – there are endless shopping opportunities in Brighton & Hove offering something for every budget; including quirky independent shops selling local products too!

6. Visit British Airways i360 Tower: This glass viewing tower stands 162m tall over West Sussex's coast offering breathtaking views across miles of coastline from its futuristic pod that slowly rises up towards the sky! 7 .Visit Devil's Dyke : This beautiful nature reserve sits atop rolling hills overlooking the English Channel stretching out below; it offers fantastic walks around this ancient valley landscape rich with wildlife habitats perfect for spotting species like red kites too!

8 .Explore North Laine : Wander through North Laine's bustling streets packed full of independent cafes , shops galleries , pubs , theatres plus much more ; making it ideal place explore all kinds local culture found here ! 9 .

Catch Show at Theatre Royal : Catch show world class performances variety genres theatre royal brighton oldest leading venues country hosting internationally acclaimed shows regular basis well worth visit ! 10 .Experience Nightlife : Finally don't forget experience vibrant nightlife scene offer range bars clubs pubs events cater tastes young old alike guaranteed make lasting memories time spent here !
Brighton & Hove is a beautiful seaside town with plenty to do for everyone. From the iconic pier and beach to its many cultural attractions, there's something for everyone in this vibrant city. Here are 10 of the best things to do when visiting Brighton & Hove: explore the Royal Pavilion; take a stroll along the seafront promenade; enjoy some retail therapy at The Lanes; visit the British Airways i360 observation tower; soak up some culture at Brighton Museum and Art Gallery; check out the shops and eateries on North Street or Churchill Square Shopping Centre; admire street art in The Circle Gallery district; learn about local history at Preston Manor House Museum and Parkland; have fun on one of several amusement rides, including Volks Railway, Sea Life Centre Brighton and Palace Pier's Fun Fair Rides – all ideal family days out!
Top 10 Places to Visit in Brighton | United Kingdom – English
Things to Do in Brighton This Weekend
Brighton is a vibrant seaside city on the south coast of England that offers plenty of fun things to do this weekend. From its iconic pier and pebble beach, to its diverse range of eateries, bars, pubs and shops, visitors can experience all that Brighton has to offer. There are also plenty of cultural activities available such as visiting the stunning Royal Pavilion or taking part in one of the many festivals held throughout the year.

Whether you want to spend your time relaxing by the sea or exploring Brighton's lively nightlife scene, there's something for everyone this weekend!
What to Do in Brighton for a Day
Brighton is a popular destination for those looking to enjoy a day away from the hustle and bustle of everyday life. There are plenty of activities to keep you entertained, such as visiting the iconic Brighton Pavilion or taking a walk along its historic pier. Spend some time shopping in The Lanes and explore one of the many vintage stores around town before sampling some traditional seafood dishes at one of Brighton's buzzing seafood restaurants.

For something out-of-the-ordinary, take a stroll along the Undercliff Walkway which offers stunning views over Brighton's seafront. With so much on offer, it's easy to see why Brighton makes for an ideal day trip!
Things to Do in Brighton With Kids
Brighton is the perfect destination for families looking to explore and have fun. There are plenty of activities to keep kids entertained in this vibrant seaside city. Visit SEA LIFE Brighton, an interactive aquarium with over 5,000 creatures from sea turtles to sharks.

Take a stroll along the pier for some classic British seaside fun – play arcade games, grab an ice cream or ride one of the many thrilling roller coasters! Stop by Drusillas Park for an exciting day out at their zoo, filled with exotic animals and fun rides. For more outdoor recreation, take a walk through Stanmer Park which offers acres of lush green spaces complete with playgrounds and tree-top adventures.
Things to Do in Brighton Beach
Brighton Beach in Brooklyn is a great destination for anyone looking to explore the unique culture and attractions of New York City. From its iconic boardwalk lined with shops and eateries, to its historic amusement park, Brighton Beach offers plenty of things to do for all ages. Walk along the beachfront promenade or take a seat on one of the benches that offer stunning views of Manhattan skyline.

Try out some traditional Russian cuisine at one of many restaurants in Brighton Beach or shop for souvenirs at the souvenir stores located near by. With plenty of activities suitable for all ages, Brighton Beach is sure to be an unforgettable experience!
Places to Visit near Brighton
Brighton is a popular beach town located on the south coast of England. It offers visitors plenty of activities, restaurants and attractions to explore. For those looking for a fun day trip away from Brighton, there are many exciting places to visit nearby.

The South Downs National Park is just 15 miles away and provides stunning hiking trails and views. Arundel Castle is also close by and offers an interesting blend of history and culture with its medieval architecture. Nearby towns such as Chichester, Worthing, Eastbourne and Hastings offer great shopping opportunities as well as quirky cafes and restaurants.

There's something for everyone near Brighton!
The Best of Brighton
Brighton is a beautiful seaside town located in the United Kingdom. It has been known for centuries as one of Britain's best beach resorts, providing stunning views and plenty of activities to keep visitors entertained. From its pebble beaches and lively nightlife, to its vibrant shopping scene and array of cultural attractions, Brighton really does have something for everyone!

Whether you're looking for a relaxing weekend away or an action-packed adventure, there's no better place to experience the best that this amazing city has to offer.
Royal Pavilion, Brighton
The Royal Pavilion in Brighton is a former royal residence built in the late 18th century. It was designed by architect Henry Holland and is well known for its exotic oriental-style architecture, with striking domes, minarets and cupolas. The building has been extensively restored over recent years to bring it back to its former glory and now serves as a museum that houses collections of fine art, furniture and artefacts from around the world.

Visitors can also take guided tours of the palace grounds which provide an insight into the history of this impressive structure.
Brighton I360
Brighton I360 is an observation tower located in the coastal city of Brighton, England. Standing at 162 metres tall and boasting 360-degree views of the city's coastline, it is one of Britain's tallest moving observation towers. The attraction offers visitors a unique experience as they ascend to the top in its glass viewing pod, which can hold up to 200 people.

Along with breathtaking views from above, visitors also have access to a bar and restaurant on site where they can enjoy light refreshments while admiring the view.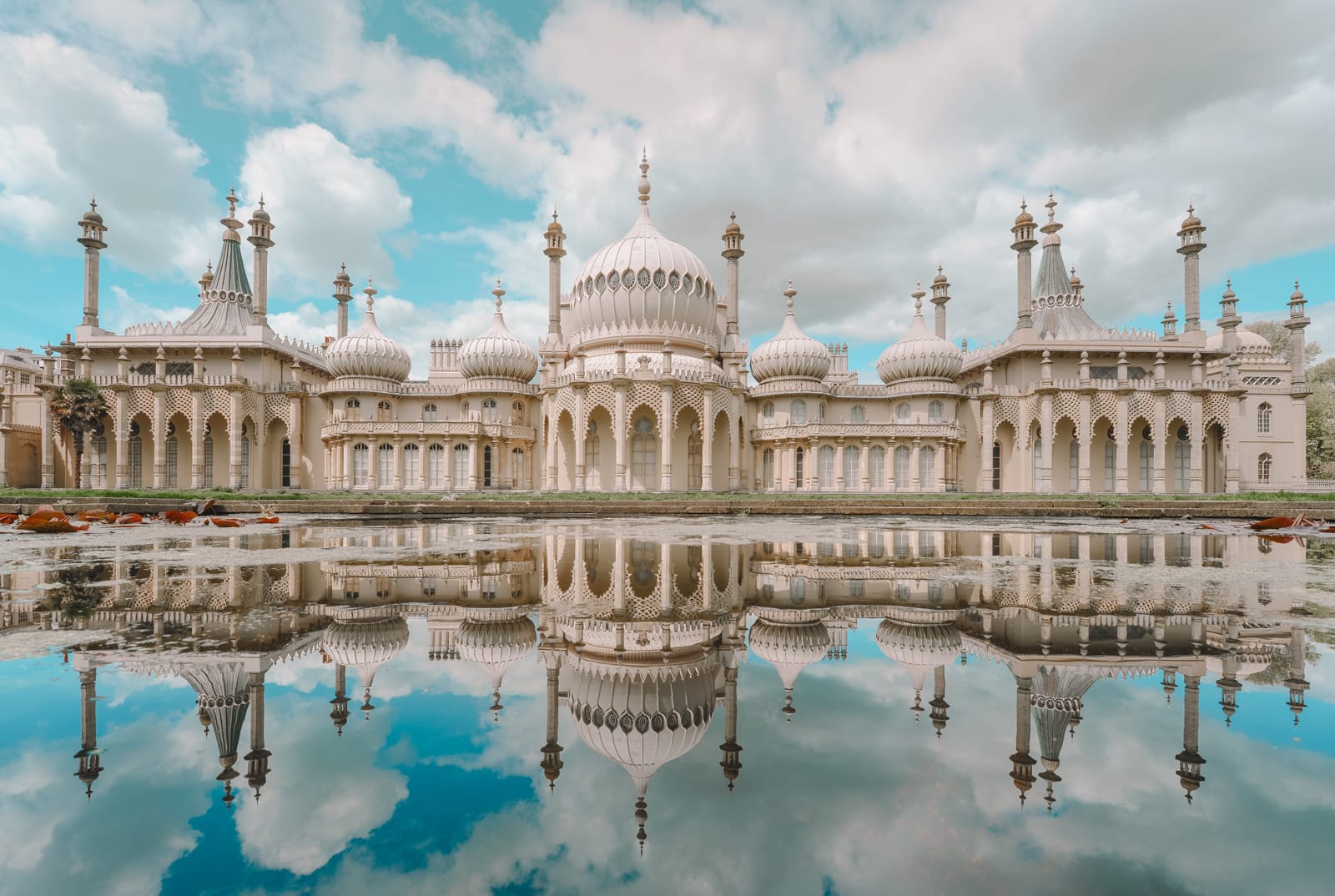 Credit: handluggageonly.co.uk
What is the Most Visited Place in Brighton?
Brighton is a beautiful seaside city located on the south coast of England. It's known for its vibrant atmosphere, stunning views and great nightlife, making it one of the most popular destinations in the UK. One of Brighton's biggest attractions is its iconic pier, which attracts thousands of visitors every year.

The pier houses an array of amusements and rides, as well as numerous restaurants and bars that offer a fantastic view over the seafront. Alongside this, there are also plenty of other places to visit in Brighton such as the Royal Pavilion; a former royal residence built by King George IV in 1813. This grand building features intricate interiors with exotic furniture, artworks and sculptures throughout – definitely worth checking out!

Another must-see attraction is Brighton Beach which offers miles long beach walks along with breathtaking views across Sussex's coastline – perfect for those looking to explore or just relax!
What is Brighton & Hove Famous For?
Brighton & Hove is a vibrant and exciting city located on the South Coast of England. It has been a popular tourist destination for many years, thanks to its extensive range of attractions, nightlife and stunning coastal views. The city is particularly famous for its long history as an exclusive seaside resort town, first becoming fashionable in the 18th century.

Brighton Pier is one of the most iconic landmarks here; it dates back to 1899 and offers plenty of entertainment including amusement arcades, cafés and bars. For those looking for more cultural activities there are several theatres in Brighton & Hove such as the Theatre Royal or Komedia which host regular performances throughout the year. There are also plenty of museums to discover including The Royal Pavilion which was built as a pleasure palace for King George IV.

Shopping enthusiasts will love North Laine – an area full of independent shops selling everything from vintage clothing to handmade jewellery – while foodies can sample some amazing seafood dishes at one of many beachfront restaurants along the coastline. With so much going on all year round, it's no wonder why Brighton & Hove is internationally renowned as one of England's top tourist destinations.
What is the Famous Thing in Brighton?
Brighton is a historic seaside city located in the South East of England and it has become famous for its lively beachfront, cultural attractions and vibrant nightlife. From Victorian-era architecture to modern art galleries, there's something for everyone to enjoy in Brighton. One of the most iconic landmarks is the Palace Pier, which was built in 1899 as an entertainment centre.

Overlooking the English Channel, it offers views of passing ships and boats from its observation deck. Another popular tourist attraction is The Royal Pavilion – a former royal residence built by Prince Regent George IV between 1786 and 1823 with Indo-Saracenic style architecture that features minarets and domes inspired by Indian design elements. Other top things to do include visiting one of Brighton's seven theatres or catching some live music at Concorde 2 or Komedia, two great venues for live performances.

For retail therapy head down North Laine where you can browse through vintage clothes shops, independent boutiques selling handmade items, trendy cafes, plus plenty more!
What Food is Brighton Famous For?
Brighton is a popular seaside destination in the UK and, as such, it has developed an array of local delicacies which it is famous for. Fish and chips are one of Brighton's most iconic dishes; you can find them all over the city from casual takeaway shops to more upscale restaurants. The traditional fish comes either battered or grilled with hand-cut chips doused in vinegar and salt – a guaranteed delicious combination!

Other seafood specialties include Brighton rock (a type of sweet candy), cockles, winkles, mussels and crab sandwiches – perfect options to enjoy on Brighton's beautiful beachfront! For something sweeter why not try some Sussex pond pudding? This dish consists of apples cooked in suet pastry with plenty of sugar added for sweetness; another must-try when visiting this charming city by the sea.
Conclusion
In conclusion, Brighton & Hove is a wonderful destination to explore with plenty of attractions and activities to enjoy. Whether you're looking for culture, history, nature or entertainment there is something for everyone in this charming seaside city. From the iconic Royal Pavilion and the beautiful beachfront promenade to lively bars, restaurants and shopping districts – Brighton & Hove has it all!

Be sure to check out some of these top things to do during your visit here – you won't be disappointed!