1.Visit the National Science and Media Museum: Explore interactive exhibits, watch films in IMAX theatre and browse a wide range of photography collections at this museum. 2.Explore the City Park: This 120-acre park contains a lake, woodland walks, wildlife areas and formal gardens as well as plenty of activities for children. 3.Walk along Saltaire Village: Designated as a World Heritage site by UNESCO, this Victorian model village is full of interesting architecture to explore with cafes and restaurants too for refreshments!

4.Check out Cartwright Hall Art Gallery: One of Bradford's premier attractions, this museum houses permanent collections from both local artists and international names such as Picasso and Bacon plus temporary exhibitions all year round! 5. Enjoy some shopping at The Broadway Shopping Centre: Shop till you drop here with over 80 stores ranging from clothing to cosmetics plus grab something to eat or drink in one of many eateries they have on offer! 6. Visit Cliffe Castle Museum & Parkland: A great day out especially for kids thanks to its hands-on exhibits about natural history housed within an eclectic 19th century mansion setting complete with lovely grounds too!

7. Take a stroll around Lister Park Gardens : Enjoy some fresh air while admiring exotic plants like banana trees alongside other British flora there are plenty of activities like boating on the lake available too! 8 .Tour St Georges Hall : Built back in 1853 ,this grandiose building will transport you back into time with its classical style columns inside it also hosts music concerts throughout the year !

9 .Catch a show at Alhambra Theatre : Catch world class performances by big stars here every week including plays ,musicals ,dance shows etc accompanied by great food drinks options ! 10 .

Discover Bolling Hall Museum : Learn more about Bradford's past through artifacts located within these walls make sure to check out their special events that take place regularly too !
Bradford is a vibrant city in Yorkshire that offers visitors plenty of things to do. From exploring the historic sites and museums to visiting its parks and shopping, there is something for everyone when it comes to Bradford. Here are 10 of the best things to do in Bradford – from top attractions like The Alhambra Theatre, Salts Mill Shopping Centre, National Science and Media Museum, Cartwright Hall Art Gallery & Museums, Bradford Cathedral, City Park and more – so you can plan your perfect visit!
Top 10 Places to Visit in Bradford, West Yorkshire | England – English
Bradford Famous Places
One of the most famous places in Bradford is Queensbury Tunnel, a disused railway tunnel that was built over 170 years ago and stretches for two miles underneath the city. The tunnel has been closed to rail traffic since 1954, but it's still popular with walkers, cyclists and explorers who take tours along its length. It's also home to an amazing array of wildlife such as bats and badgers, making it a great place for nature lovers too.
Places to Go in Bradford
Bradford is a vibrant and exciting city with plenty of places to explore. Whether you're looking for great food, entertainment or culture, Bradford has something for everyone. From the beautiful City Park and its outdoor sculptures to the fascinating National Science Museum, there's loads to discover in this Yorkshire city.

Foodies will love sampling the local cuisine at one of Bradford's many multi-cultural eateries, while art lovers can take in some stunning exhibitions at Cartwright Hall Art Gallery. With so much on offer it's no surprise that visitors flock here all year round!
Places in Bradford to Eat
Bradford is home to a wide variety of delicious restaurants, from traditional British pubs to international cuisine. Whether you are looking for a casual meal or something more formal, there is something for everyone in Bradford. For those who enjoy Indian food, the Mango Lounge serves up some of the best curries and baltis around, while The Angel at Thornton offers classic English pub grub with an extensive menu that includes vegan options as well.

There's also Piazza Italian restaurant for some authentic Italian fare including wood-fired pizzas and pasta dishes made with fresh ingredients sourced straight from Italy. No matter what your tastes may be, you're sure to find somewhere great to eat in Bradford!
What is Bradford Famous for
Bradford, a city in West Yorkshire, England is most famous for being the birthplace of the Bronte sisters who wrote some of the world's most beloved novels. The Bronte Parsonage Museum celebrates their lives and works and draws visitors from all over the world to Bradford each year. In addition to its literary history, Bradford is also well known for its incredible industrial heritage which made it one of Britain's major wool-producing cities during the 19th century.

Today, Bradford remains an important industrial centre as well as being home to a vibrant cultural scene with galleries, theatres and lively nightlife venues.
Things to Do in Leeds Bradford
Leeds Bradford is a great destination for travellers looking to have an entertaining and diverse experience. From the vibrant city centre of Leeds, to the stunning Yorkshire Dales National Park just outside of town, there's something for everyone! Popular activities in Leeds Bradford include visiting museums such as the Royal Armouries Museum and taking part in outdoor activities like walking or cycling around Roundhay Park.

For those after a bit more adventure, you can take a ride on The Flying Saucer at Temple Newsam Adventure Playground or enjoy some retail therapy at the extensive shopping centres throughout both cities.
Places in Bradford to Live
Bradford is an ideal place to live with a variety of places to pick from. From the city centre, where you can enjoy a vibrant nightlife and great shopping opportunities, to the outer suburbs that provide peaceful green spaces and quieter living options. Bradford also has a wide range of housing available in both traditional terraced streets as well as modern developments.

Whether you're looking for an urban lifestyle or something more rural, there's sure to be something that suits your needs in this diverse area.
Things to Do in Bradford, Pa
Bradford, Pennsylvania is a great destination for outdoor enthusiasts and those looking to explore. With its rolling hills and forests, there are plenty of activities to enjoy such as hiking, fishing, biking, kayaking, camping and more. Additionally, the city has many museums and historical sites that make for an interesting outing.

For a fun night out on the town visitors can also check out local restaurants or visit one of the breweries in downtown Bradford. No matter what type of adventure you're looking for, Bradford has something to offer!
Things to Do near Me
If you're looking for things to do near you, there are plenty of great options. Whether it's checking out a local museum or taking a hike in the woods, there is something for everyone nearby. Take advantage of your area and explore all that it has to offer!

From trying new restaurants to visiting nature preserves, there are countless activities and attractions just waiting to be explored.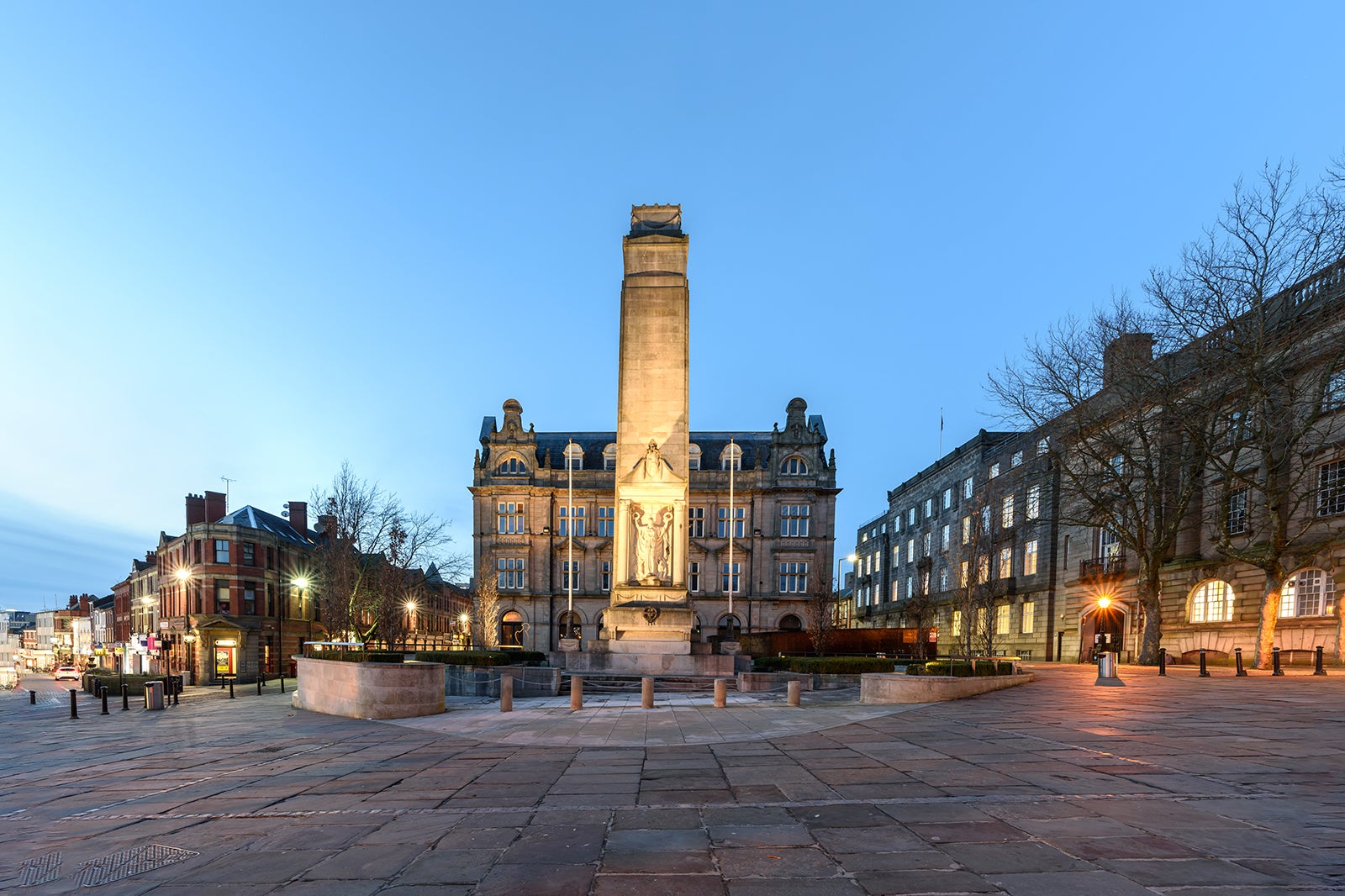 Credit: www.hotels.com
What is Bradford Most Famous For?
Bradford is known for many things but perhaps its most iconic feature is its status as the world's first UNESCO City of Film. It has been recognised globally for making an immense contribution to film culture, particularly through the National Science and Media Museum which holds the largest collection of photography and cinematography in Europe. Bradford also boasts a range of other attractions that make it renowned worldwide; from outdoor pursuits such as hiking or skiing at Ilkley Moor, to experiencing one-of-a-kind interactive exhibitions at Cliffe Castle Museum.

The city is home to some incredible architecture too, including St George's Hall – built in 1853 – which offers visitors insight into Victorian life, while Saltaire Village was designated a World Heritage Site by UNESCO in 2001 due to its industrial heritage. Bradford also has an impressive musical history with bands like The Who and Culture Club having roots here – not forgetting that the Bronte sisters were born nearby too! All these unique features contribute towards why Bradford continues to be celebrated around the globe today!
Is Bradford Worth a Visit?
If you're looking for a city to visit in the UK, Bradford is definitely worth your time and effort. Not only does it have an impressive array of cultural attractions and activities, but also boasts some stunning scenery that will make your visit even more enjoyable. From its majestic Victorian architecture to its vibrant music scene, there's something for everyone in this diverse city.

There are plenty of places to explore with unique shopping experiences, fascinating museums, galleries and theatres as well as award-winning restaurants serving up delicious dishes from around the world. The Yorkshire Dales National Park is just a short drive away offering breathtaking views of rolling hillsides which are perfect for walking or cycling trips with family or friends. And if you fancy getting closer to nature then why not take a boat trip along the Leeds-Liverpool Canal?

With so much on offer, it's easy to see why Bradford is becoming increasingly popular amongst travellers from all over the world – be sure to check it out when planning your next holiday!
What are the Nicest Parts of Bradford?
Bradford is a city with plenty to offer. It's blessed with stunning countryside, from the moors of Ilkley and Haworth in the north-west, to rolling hills in the south leading down towards Saltaire and Shipley. There are also some fantastic parks and green spaces throughout the city, like Lister Park which overlooks Bradford's iconic City Hall building.

The National Media Museum boasts seven floors of interactive galleries for visitors to explore, as well as three cinemas showing classic films on their big screens every month. For those who enjoy shopping, there are lots of independent boutiques around South Street and North Parade – perfect for picking up unique gifts or souvenirs.
What is Interesting About Bradford?
Bradford is a city located in West Yorkshire, United Kingdom and it has so much to offer. Its rich history dates back centuries and still has many historical sites that remain today including Bolling Hall, Bradford Cathedral, and Little Germany. It was once known as the wool capital of the world and remains an important textile manufacturing centre even today which makes it a great place for shopping with plenty of stores to explore.

The nearby countryside provides some stunning landscapes and lots of outdoor activities such as hiking or cycling. There are also fantastic museums such as the National Science & Media Museum where you can learn about Bradford's past or indulge in its vibrant art scene at venues like Impressions Gallery. And if that wasn't enough, there are plenty of pubs, bars, restaurants and cafes throughout the city offering delicious food from all over the globe!

All this means that whatever your interests may be, Bradford is sure to have something interesting for everyone – making it one of Britain's best cities!
Conclusion
In conclusion, Bradford is a great place to visit and explore. With its rich history and culture, there are many things to do in the city ranging from historic sites, museums, shopping and more. Whether you're looking for an adventure or just need some time away from it all, Bradford has something for everyone!

From exploring the outdoors at Saltaire Village to taking in a show at the Alhambra Theatre, there's no shortage of fun activities to keep you entertained. So don't hesitate – hop on a train or take your car up north and come discover this beautiful city today!