1. Visit the Bendigo Art Gallery: With one of the best collections of 19th and 20th century art in Australia, Bendigo Art Gallery is a must-visit for any art enthusiast. 2. Explore central Victoria by bike: Enjoy scenic views and fresh air as you explore Central Victoria's picturesque countryside by bicycle with local tour companies offering various cycling routes. 3. Take a ride on the tram: Experience history first hand when you take a ride on Bendigo's historic vintage trams that offer an enjoyable way to see some of the city's most beautiful sights.

4. Check out Sacred Heart Cathedral: The impressive Gothic Revival architecture of Sacred Heart Cathedral makes it one of the city's most eye-catching attractions, so don't miss this majestic building during your visit to Bendigo! 5. Enjoy nature at Rosalind Park: A great place to relax and enjoy nature, Rosalind Park features lush gardens with plenty of spots for picnics or just lounging around under its shady trees..

6 .Visit Golden Dragon Museum : Learn more about Chinese culture when you pay a visit to Golden Dragon Museum which showcases fascinating artifacts from China's past eras as well as replicas of traditional buildings used in Xiao Long Village in China..

7 .Explore Ulumbarra Theatre : This modern venue offers exciting theatrical performances throughout the year, making it an ideal spot for those wanting to experience live entertainment while visiting Bendigo!.

8 Go mining at Central Deborah Gold Mine : Take part in some gold panning activities or take a guided tour into underground tunnels at Central Deborah Gold Mine – perfect chance for families looking for educational fun!. 9 Spend time outdoors at Lake Weeroona : Escape into nature and explore what Lake Weeroona has to offer – picnic areas, walking tracks, boat hire services and playground facilities are all available here!

. 10 Get lost in Joss House Temple Gardens : Discover delightful Chinese gardens filled with ponds, pavilions and statues located inside Joss House Temple – definitely worth exploring if you love Asian culture!
Bendigo is a great city located in Victoria, Australia. With its rich culture and vibrant lifestyle, there are plenty of things to do for all ages. From outdoor activities like hiking and biking to historical sites like the Bendigo Art Gallery and Central Deborah Gold Mine, there's something for everyone.

Here's our list of 10 best things to do when you visit Bendigo – from iconic attractions to hidden gems, these are surefire ways to keep busy during your stay!
Top 10 Best Tourist Places to Visit in Bendigo, Victoria | Australia – English
Things to Do in Bendigo for Couples
Bendigo is a great destination for couples looking to get away and explore together. There are plenty of romantic experiences to be had, such as taking a hot air balloon ride over the city or visiting historic gold mining sites like Bendigo Creek Trail. You can also go wine tasting at some of the region's top wineries, take a leisurely cruise along the Murray River or spend an afternoon exploring Bendigo Art Gallery's impressive collection.

For more active couples, there are walking tracks, mountain bike trails and even rock climbing spots in Bendigo that offer spectacular views of the surrounding area.
Unique Things to Do in Bendigo
Bendigo is home to a wealth of unique activities, from exploring its vibrant cultural and historical attractions to enjoying the great outdoors. Take a trip back in time at the Central Deborah Gold Mine, explore Bendigo's iconic heritage buildings on the Bendigo Art Gallery tour or enjoy some natural beauty with an outdoor adventure along The Great Stupa of Universal Compassion path. Discovering new tastes and flavours can also be done in Bendigo, with its fantastic foodie scene – from traditional pub grub to modern fusion dishes.

There's something for everyone in this beautiful Victorian city!
Free Things to Do in Bendigo
Bendigo is a great destination for budget travellers, as there are plenty of free activities to keep you entertained. From exploring the city's art galleries and museums to cycling along the Bendigo Creek Trail or swimming at Lake Weeroona, there is no shortage of things to do without spending a cent! The stunning Botanic Gardens provide an idyllic spot for picnics, while nature lovers can explore many of the local parks and reserves, such as Rosalind Park or Kennington Reservoir.
Bendigo Attractions Map
Bendigo is a great place to explore and experience the best of what Victoria has to offer. To make sure you don't miss out on any of the city's attractions, be sure to check out the Bendigo Attractions Map. This interactive map provides detailed information about each attraction, including opening times, contact details and other useful information.

Whether you're looking for historical landmarks or outdoor activities, this map will help you find exactly what you need in Bendigo!
Fun Things to Do in Bendigo
Bendigo is a beautiful city in Victoria, Australia offering plenty of fun activities for visitors and locals alike. Whether you're looking for outdoor adventure, cultural attractions or just a great night out with friends and family, Bendigo has something to offer everyone. From its renowned art galleries and museums to its bustling food scene, there's plenty to do in this vibrant destination.

For the adventurous types, there's hiking trails that wind through stunning natural landscapes, kayaking on the lake and mountain biking down rugged trails – all within easy reach of the city centre.
Things to Do in Bendigo at Night
Bendigo is a city full of life, especially after dark. There are plenty of things to do in Bendigo at night, from enjoying a delicious meal at one of the local restaurants or pubs to catching a live show or exploring the vibrant art galleries and cultural sites. For those looking for an exciting nightlife scene, Bendigo has several nightclubs, bars and karaoke venues that offer music and entertainment until late into the evening.

Whether you're in search of a relaxing evening out with friends or an adventure-filled night on the town, there's something for everyone to enjoy in Bendigo during the darkness hours!
Things to Do in Bendigo Today
Bendigo is a vibrant city located in the heart of Victoria, Australia. Today, visitors can explore Bendigo's rich history at one of its many museums and galleries such as the Golden Dragon Museum or Bendigo Art Gallery. Adventure seekers can head outdoors to enjoy the many walking trails and cycle paths that weave through picturesque parks and gardens.

For those looking for something more exciting, experience an adrenaline rush with a round of golf at one of several local courses or take part in other activities like rock climbing, fishing or canoeing on Lake Weeroona. With so much to do in Bendigo today, there's sure to be something for everyone!
Bendigo Attractions Pass
The Bendigo Attractions Pass is the perfect way to explore all that the city of Bendigo has to offer. With one pass, you can gain access to some of the most popular attractions in Bendigo such as Central Deborah Gold Mine, Golden Dragon Museum, and Ulumbarra Theatre. This affordable pass also includes discounts on food and shopping throughout the city, making it an ideal way for tourists or locals alike to experience what Bendigo has to offer.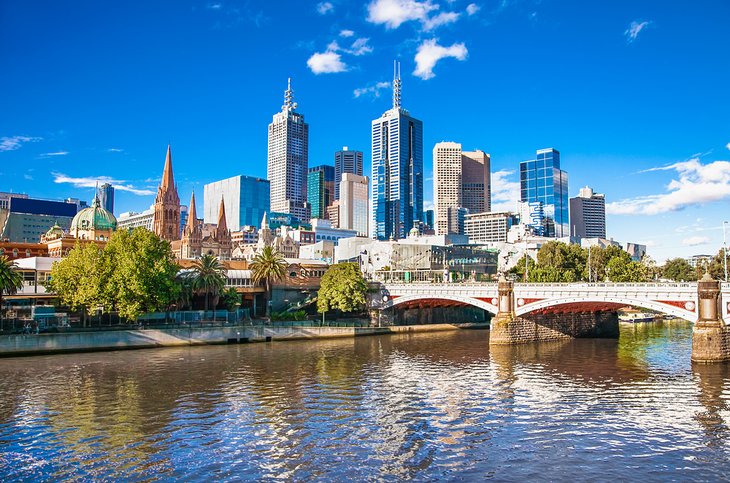 Credit: www.planetware.com
What is Bendigo Best Known For?
Bendigo is a vibrant city located in central Victoria, Australia. It is best known for its rich and colourful history, stunning landscape and thriving arts culture. The city was originally settled by gold miners during the Victorian Gold Rush of the 1850s, which left an indelible mark on Bendigo's architecture and heritage today.

With a diverse range of attractions from historic buildings to modern galleries and public parks, there's something for everyone in Bendigo. The city's most famous landmark – "The Golden Dragon Museum" – pays homage to the thousands of Chinese immigrants who came to work on local gold fields during the 19th century. Another popular attraction is Central Deborah Gold Mine where visitors can explore underground tunnels used by early miners or take a trip up one of Australia's oldest lifts – now listed as an historical engineering feat!

For those looking for more cultural pursuits, Bendigo has plenty to offer including art galleries like "Ulumbarra Theatre" that host performances spanning from theatre shows to concerts; as well as various music festivals throughout summer months such as Groovin' The Moo (GTM) festival at Tom Flood Sports Centre which attracts thousands each year! Moreover, don't forget about some spectacular shopping experiences with numerous boutiques dotted around town offering fashion-forward pieces not found elsewhere in Australia. Whatever you decide to do while visiting Bendigo you will be sure find something special – it truly is one of Victoria's most unique cities with something new waiting around every corner!
What are Some of the Things That Attract Tourists to Bendigo?
Bendigo is a city located in the state of Victoria, Australia, and it has become increasingly popular as a tourist destination. From its stunning Victorian architecture to its vibrant cultural scene, Bendigo attracts tourists from all over the world each year. One of the main draws for visitors are its array of attractions; including historical landmarks such as The Great Stupa at Bendigo's Buddhist centre and The Golden Dragon Museum which houses Chinese artefacts from more than 150 years ago.

For those looking for outdoor activities, there is plenty to do too: enjoy hot air ballooning or visit one of the nearby wineries that offer wine-tasting experiences. Of course, art lovers will also be spoilt with numerous galleries showcasing local artwork in addition to street murals throughout the city centre. For foodies, Bendigo offers an abundance of culinary delights ranging from gourmet restaurants to artisan cafes and pubs where you can sample locally produced craft beer and cider.

Lastly, let us not forget about shopping! Whether you're after vintage clothing stores or quirky boutiques selling handmade items – Bendigo has something for everyone!
How Do I Spend a Day in Bendigo?
Spending a day in Bendigo is a great way to explore the city, its culture and its attractions. Start your morning with breakfast at one of Bendigo's many cafes or restaurants. Take a walk through Rosalind Park, located in the heart of the city, and admire the 19th-century architecture of St Paul's Cathedral nearby.

Then take some time to visit The Golden Dragon Museum for an insight into Chinese history and culture that has shaped Bendigo over centuries. After lunch, why not check out Bendigo Pottery for some beautiful handmade ceramics? In the afternoon you could also stroll along View Street Arts Precinct admiring local artwork while stopping by shops selling unique gifts and souvenirs.

As evening approaches wander around Lake Weeroona or take a leisurely ride on one of Australia's longest operating cable trams before heading off for dinner at one of Bendigo's renowned eateries such as Fiasco Ristorante Italiano or The Dispensary Enoteca Bar & Bistro. Spend your final hour stargazing from Ironbark Gully Lookout before calling it night – you'll have experienced all that this incredible Victorian city has to offer!
Is It Worth Going to Bendigo?
Bendigo is a city located in the Australian state of Victoria, and it has been gaining popularity as a tourist destination in recent years. With its rich history, unique attractions and vibrant culture, Bendigo is definitely worth visiting for anyone looking to explore Australia's amazing scenery. The city offers something for everyone – from stunning architecture to outdoor activities and shopping.

You can find many interesting museums like the Golden Dragon Museum or take part in cultural events such as Bendigo Art Gallery exhibitions or Vintage Weekends. There are also plenty of great places to eat and drink, with some excellent local wineries nearby that offer delicious wines you won't find anywhere else. If you're after an active holiday, then Bendigo has some fantastic cycling trails which wind through forests and along rivers for visitors to explore at their own pace.

Alternatively, if you'd prefer something more relaxed then there are plenty of tranquil parks where you can enjoy picnics in nature watching wildlife going about their day-to-day life up close. Overall, whether it's your first time visiting or returning again – Bendigois truly worth going!
Conclusion
Overall, Bendigo is a great destination for visitors looking to explore some of Australia's most beautiful attractions. From its stunning architecture and historical sites, to its outdoor activities and vibrant art scene, there's something for everyone in Bendigo. Whether you're here for only a few days or planning an extended stay, the 10 best things to do in Bendigo will ensure you have an incredible time while exploring this charming city.