1. Visit the Acropolis and Parthenon – This ancient citadel is one of the most iconic landmarks in Athens, with its ruins representing some of the best examples of classical architecture anywhere in the world. 2. See Ancient Agora – One of the oldest parts of Athens, this marketplace was a center for civic life during antiquity. Today it's home to several impressive monuments like the Temple of Hephaestus and Thission Stoa.

3. Take a Walk Through Plaka– A picturesque neighborhood located at the foot of Acropolis Hill, Plaka is full of winding streets lined with shops selling souvenirs and traditional Greek food items. 4 .Explore Monastiraki Square– This vibrant square is filled with cafes, restaurants, boutiques and street vendors offering everything from jewelry to handmade crafts to vintage clothes.

5 .Visit Syntagma Square– This central square has been an important political hub for centuries now; it houses Greece's Parliament building as well as many other government buildings dating back to Ottoman times..

6 .See Lycabettus Hill– Atop this hill lies an observation deck perfect for taking in breath-taking views over all Athens below you—it's especially beautiful just before sunrise or sunset when shadows play across cityscape below you! 7 .

Stroll Through National Garden – Located right next door to Parliament Building on Syntagma Square, this garden provides respite from bustling downtown area with trees providing plenty shade and tranquil atmosphere ideal for escaping hustle & bustle outside its walls! 8 .Discover Philoppapos Hill & Theatre – A short walk up this hill takes visitors past Roman ruins including Odeon Theatre which still hosts concerts today (as well as spectacular views over entire city).

9 .Go Shopping at Ermou Street & Kolonaki District – Both these areas are great spots for shopping experience: while former offers mainly chain stores along pedestrianized avenue filled boutiques,- latter boasts more upscale shops tucked into quaint side streets around corner! 10 Enjoy Nightlife Around Gazi Area – Just few blocks away from Acropolis lies Gazi district where night owls will find plenty bars clubs playing all sorts music styles until wee hours morning make sure check out rooftop terraces here too get best view ever !
Athens is a city steeped in history and culture, with attractions ranging from ancient ruins to modern art galleries. It's no surprise that Athens is one of the most popular places to visit in Europe. From the world-famous Acropolis to vibrant nightlife, there's something for everyone in this bustling Greek capital.

Here are 10 of the best things to do in Athens; explore ancient sites like the Parthenon and Temple of Zeus, take an evening stroll around Plaka old town, sample delicious local cuisine at traditional tavernas, shop for souvenirs on Ermou Street market or enjoy a relaxing day at one of Athens' many serene parks. With so much to see and do – you'll never be bored during your stay!
Top 10 Best Things To Do In Athens, Greece | The Best Attractions And Activities
Unique Things to Do in Athens
Athens is a vibrant city with plenty of unique things to do. From visiting ancient monuments like the Acropolis and Parthenon, to exploring street art in the Exarcheia neighborhood, there are countless activities for visitors to experience. With its excellent bars and restaurants, lively nightlife scenes, and wide range of cultural activities, Athens has something for everyone – making it an ideal destination for any traveler looking for an unforgettable adventure!
Things to Do in Athens, Greece
Athens, Greece is an amazing city full of culture and history. From the iconic Acropolis to the modern art museums, there's something for everyone in Athens! Take a tour around the ancient ruins or visit one of many theatres to experience Greek drama firsthand.

Sample delicious Greek cuisine at local restaurants or relax on a beach day trip outside of Athens. With its vibrant nightlife, numerous cultural sites to explore, and stunning views of the Mediterranean Sea – Athens has it all!
Non-Touristy Things to Do in Athens
Athens is a city full of culture and history, so while it's known for its tourist attractions there are also plenty of non-touristy things to do. Visit the National Garden or take a stroll through Filopappou Hill, both offering stunning views of the Acropolis and panoramic views of the city. Another great way to experience Athens is to visit some local markets such as Varvakios Agora or Kifissia market which offer an array of fresh produce and handmade goods.

For those looking for something more leisurely, why not spend an afternoon at one of the many cafes that line Syntagma Square? Enjoy an iced frappe on a hot summer day or try traditional Greek dishes in any number of cozy restaurants located throughout the city.
Cheap Things to Do in Athens, Greece
Athens, Greece is a beautiful city with plenty of activities and attractions to explore. Whether you're looking for an educational experience or just some fun and relaxation, there are many cheap things to do in Athens that won't break the bank. From visiting historical sites like the Acropolis and Ancient Agora, to exploring outdoor markets full of local food and artisan goods, Athens has something for everyone.

In addition to free public parks where you can enjoy nature or take part in activities such as biking or hiking trails, budget-friendly museums offer interesting exhibits at discounted prices. With so much culture and history around every corner, it's easy to find affordable entertainment in Athens!
Beautiful Places in Athens
Athens is a beautiful city full of amazing sights and attractions. From the Acropolis, to the Ancient Agora, there are many places in Athens that will have you marveling at their beauty. There's also Syntagma Square, where you can find some of the most impressive architecture in all of Greece.

You'll want to take pictures of the Temple of Zeus and then visit one or two museums afterwards – such as The National Archaeological Museum which houses an incredible collection of artifacts from various ancient civilizations. And if you're looking for some spectacular views, Mount Lycabettus offers breathtaking panoramic vistas over this stunning city!
Things to Do in Athens at Night
Athens is known for its vibrant nightlife, with plenty of options to choose from. Whether it's dancing the night away at one of the city's many nightclubs, enjoying a classic Greek dinner in a traditional taverna or taking in some live music and theatrical performances at theatres around town, there is something for everyone to enjoy during an evening out in Athens.
Acropolis of Athens
The Acropolis of Athens is an ancient citadel located in the heart of the Greek capital. It is one of the most iconic sites in Greece, and it has been designated a UNESCO World Heritage Site since 1987. The Acropolis was built over thousands of years between 447 BCE and 406 BCE, during which time numerous temples and monuments were erected, including the renowned Parthenon.

Today, visitors can explore this impressive archaeological site to learn more about its history, admire its stunning architecture and take in incredible views across Athens from atop the hill.
Things to Do in Santorini
Santorini is an ideal destination to experience the beauty of Greek culture and nature. From exploring traditional villages, visiting vineyards, hiking up volcanos, or relaxing on some of the world's most beautiful beaches – Santorini offers something for everyone! Whether you're looking for a romantic getaway or an adventure-filled holiday, there's no shortage of things to do in Santorini.

Take a day cruise around the island to visit ancient ruins and stunning cliffside towns. Or take an ATV tour through winding roads with incredible mountain views. Soak up the sun at Red Beach or enjoy a glass of wine at one of Santorini's many wineries.

No matter how you choose to spend your time in this breathtakingly beautiful place, it will be worth every minute!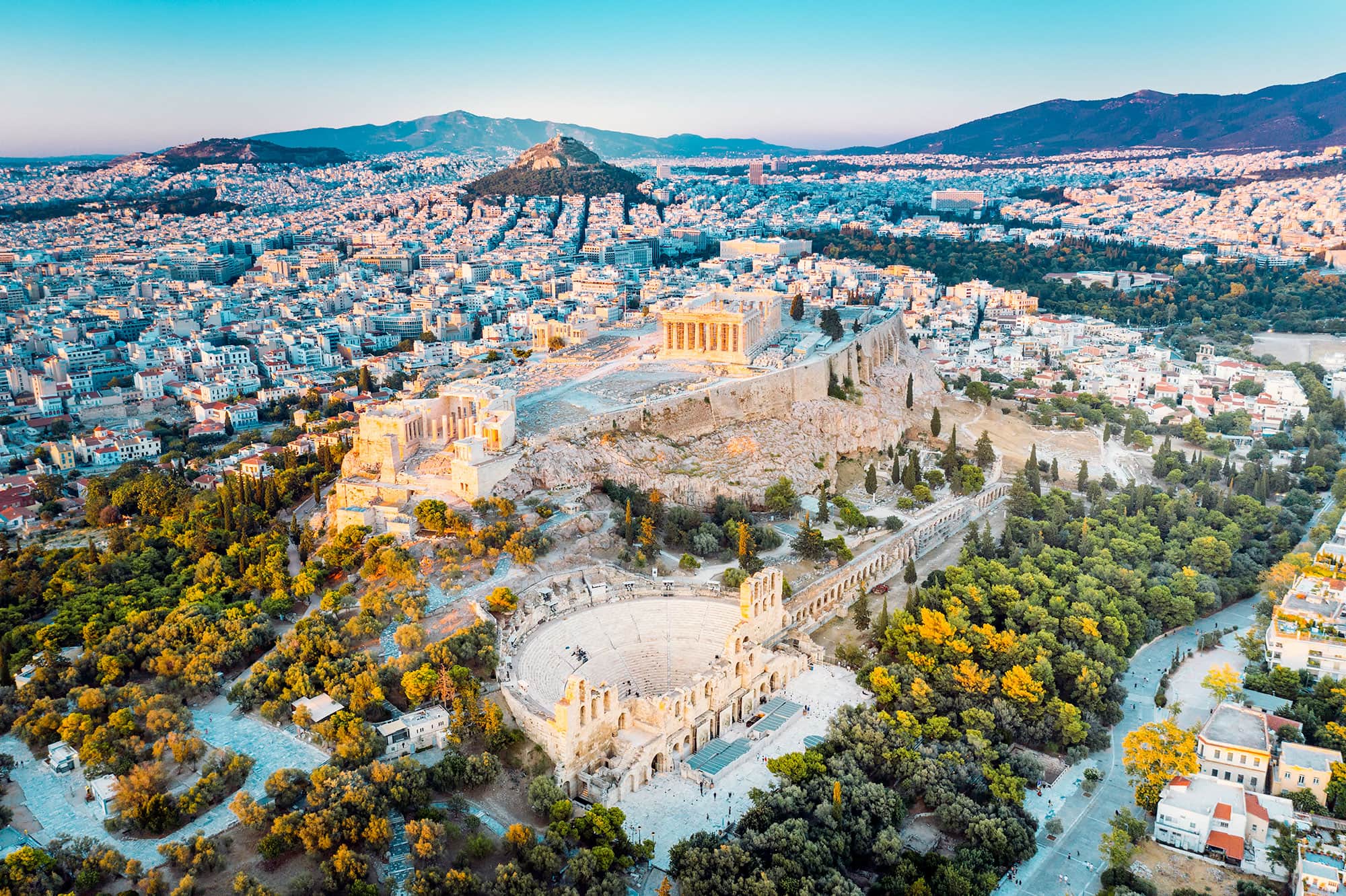 Credit: expertvagabond.com
What is the Most Visited Place in Athens?
The most visited place in Athens is the Acropolis. It is a UNESCO World Heritage Site and offers breathtaking views of the city. Some highlights of the Acropolis include:

– The Parthenon, the ancient temple dedicated to Athena, goddess of wisdom and war – Propylaea, an impressive entrance gateway leading into the sacred area – Erectheum, a sanctuary dedicated to both Athena and Poseidon

Visitors from all over flock to this iconic monument to experience its historic grandeur first hand.
What is the Most Important Thing to Athens?
The most important thing to Athens is its rich history and culture. Athens has a long and illustrious history, making it an iconic place of significance for Greeks: – It was home to the first democracy in the world over 2,500 years ago.

– It is associated with famous Greek philosophers such as Socrates and Plato. – Its ancient buildings like The Acropolis are some of the most visited tourist attractions in Europe. These aspects make up the core identity of Athens and will remain integral to its legacy for generations to come.
What You Should Visit in Athens?
Athens is a marvelous city with an abundance of attractions to explore. Here are some places you should visit when in Athens: * Acropolis – An ancient citadel, that has stood for centuries and showcases magnificent architecture.

* National Archaeological Museum – A huge collection of artifacts from Ancient Greece, showcasing its rich history. * Lycabettus Hill – A popular spot offering stunning views across the city. * Plaka Neighborhood – The oldest district in Athens filled with narrow cobbled streets and colorful shops and cafes.

So don't miss out on these great spots when visiting this beautiful city!
What were Three Famous Places in Athens?
Athens, the capital of Greece, was home to many famous places. • The Acropolis: An ancient citadel containing temples and monuments dedicated to the gods. • The Ancient Agora: A large public square where citizens gathered for political and social gatherings.

• The Parthenon: Constructed on top of the Acropolis as a temple honoring Athena, goddess of wisdom and warfare. These three sites remain today as reminders of Athens's rich history and culture.
Conclusion
Overall, Athens is a city with an abundance of attractions and places to see. From the amazing ruins of the Acropolis to the picturesque Plaka district, there are plenty of options for travelers looking to explore this vibrant destination. Whether you're interested in soaking up some culture or indulging in delicious Greek cuisine, Athens has something for everyone.

With its unique combination of historical sites and modern amenities, it's no wonder that Athens continues to be one of Europe's most beloved cities.