1. Visit the Adelaide Central Market: This is the largest undercover market in Australia, with over 80 stalls offering a variety of fresh produce, gourmet food and artisanal products. 2. Take a walk along North Terrace: This pedestrianised street has many cultural sites, including museums, galleries and libraries. It's also home to some of the city's most iconic architecture.

3. See Kangaroo Island: Located just off the coast of Adelaide, this stunning island offers beautiful beaches and wildlife spotting opportunities. You can take a day trip or stay overnight on one of its secluded campsites. 4. Explore the Adelaide Botanic Garden: This lush park is full of local flora and fauna as well as tranquil ponds where you can go kayaking or have a picnic lunch under shady trees!

5. Wander around Rundle Mall: Adelaide's main shopping precinct features big name brands alongside independent boutiques and eateries – perfect for an afternoon browse or retail therapy session! 6 .Visit Glenelg Beach & Jetty : A popular beachside suburb located only minutes from downtown Adelaide; here visitors can stroll along jetty pier for lovely views out to sea or relax on white sandy beaches with ice-cream in hand!

. 7 .Explore Cleland Wildlife Park : Get up close to native Australian animals such as kangaroos, koalas and wallabies at this gorgeous wildlife reserve that also allows guests to participate in hands-on activities like feeding chicks during their visit !

8 .Discover Hahndorf Village : Just outside of town lies this quaint village filled with German heritage buildings , antique stores , restaurants serving traditional fare (like apple strudels!) And plenty more attractions worth exploring! 9 .

See Art at Jam Factory Contemporary Artspace : Part gallery , part theatre , part design studio – explore works by established artists while enjoying live performances set within modern industrial spaces ! 10 .Hike Mount Lofty Summit Trail : Take in panoramic views over all sides of Greater Adelaide while hiking through native bushlands ; there are numerous trails available ranging from easy walks suitable for all ages !
Adelaide is a vibrant city that has something to offer everyone – from incredible cafés and restaurants, to fun outdoor activities. It's no surprise it's one of Australia's most popular destinations. With so much on offer in the area, it can be difficult to narrow down what you should do first!

To help make your decision a little easier, we've compiled a list of 10 of the best things to do in Adelaide – from top attractions and places for foodies to explore, through to must-see sights and hidden gems. Whether you have just a few days or are looking for an extended staycation in this beautiful city, you'll find plenty of amazing experiences here!
Top 10 Attractions in Adelaide- The Ultimate Guide – Travel Video 2022
Unique Things to Do in Adelaide
Adelaide is a great city with plenty of unique activities to keep you busy. From exploring the vibrant street art scene in the city center to taking an unforgettable bike ride along one of its many bike trails, Adelaide offers something for everyone. With its diverse range of attractions and experiences, it's easy to find a fun activity that caters to your interests.

Whether you're looking for culture or nature, there are plenty of unique things do in Adelaide!
Places to Visit in Adelaide for Free
Adelaide is a great city for budget-conscious travelers, with plenty of places to visit for free. The Adelaide Botanic Gardens are one of the most popular destinations in the city, offering stunning grounds and lake views without any entry fee. There's also North Terrace, home to some of the city's best museums like South Australian Museum and Art Gallery of South Australia.

Here you can explore different exhibitions and galleries at no cost! As if that weren't enough, there are also two beautiful beaches located nearby – Glenelg Beach and Henley Beach – which provide plenty of opportunities for swimming or just taking a leisurely stroll along their picturesque shores.
Fun Things to Do in Adelaide for Couples
Adelaide is a romantic city with plenty of fun activities for couples to enjoy. Take in the stunning views from Mt Lofty, explore Adelaide's vibrant food scene and unique laneway bars, take a river cruise along the Torrens River or stroll hand-in-hand through one of Adelaide's many lush parks and gardens. For an unforgettable experience, why not book a hot air balloon ride over the city?

With so much to choose from, you are sure to find something special that will make your time together truly memorable.
Beautiful Places in Adelaide
Adelaide, the capital of South Australia, is home to some stunning and breathtaking landscapes. From the beaches of Glenelg to the lush Botanic Gardens in Adelaide Parklands you can admire the beauty and natural wonders this city has to offer. The popular Mount Lofty Summit provides a spectacular view of Adelaide's rolling hills and valleys that could simply take your breath away.

With its unique mix of culture, art, history and nature it's no wonder why Adelaide is one of Australia's must-see cities!
Things to Do in Adelaide for Families
Adelaide is the perfect destination for a family vacation, with plenty of activities to keep the whole family entertained. Whether you're looking for fun in the sun or an educational day out, Adelaide has something for everyone. From visiting one of Australia's oldest zoo's at Monarto Zoo, where you can get up close and personal with koalas and kangaroos, to exploring some of South Australia's most beautiful beaches like Cactus Beach or Semaphore Park beach – there are lots of options for families who want to make lasting memories together.
Adelaide Tourist Attractions Map
Adelaide is a vibrant city with a wealth of attractions for visitors. With so much to see and do, it can be difficult to know where to start. Luckily, there's an Adelaide Tourist Attractions Map that makes exploring the city easier than ever before!

This handy resource displays all of the top tourist sites in Adelaide, from museums and galleries to parks and gardens, giving you the information you need to plan your own sightseeing adventure. Whether you're looking for something fun or educational, this map will help make your visit as memorable as possible.
What to Do in Adelaide Today
Adelaide is home to a variety of fun and interesting attractions, so there's plenty to do today. From the picturesque Adelaide Botanic Garden to the cultural institutions like Art Gallery of South Australia, you can explore some of the city's best sights. If you're looking for something more active, take a stroll around Rundle Mall or check out what's on at one of Adelaide's many summer festivals.

With its vibrant nightlife scene full of bars and restaurants, there's no shortage of entertainment in Adelaide whether it be during the day or into the evening!
Places to Visit in Adelaide Hills
The Adelaide Hills are a picturesque region located within an hour's drive of the city of Adelaide in South Australia. With rolling hills, lush vineyards and quaint towns, it's the perfect destination for anyone looking for a relaxing getaway or an adventure-filled holiday. From historical sites such as Stirling to popular wineries including Hahndorf Hill Winery and Bird in Hand, there is something to suit every taste.

Other attractions include Cleland Wildlife Park, Mount Lofty Botanic Garden and Bridgewater Mill – all great spots for taking beautiful photos!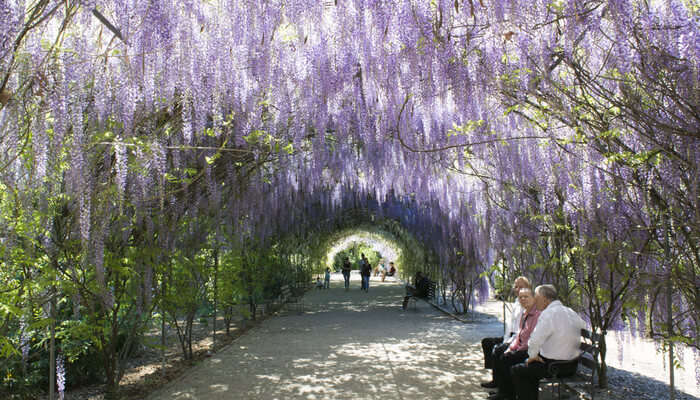 Credit: traveltriangle.com
What is Adelaide Famous For?
Adelaide, the capital of South Australia, is renowned for its vibrant culture and stunning natural attractions. From world-famous festivals to breathtaking beachside views, Adelaide has something for everyone. The city is known as a hub of cultural activity with an iconic art scene that includes the Art Gallery of South Australia and many renowned galleries throughout the city.

It's also home to some of Australia's most beloved restaurants, cafes and bars – including those in fashionable North Adelaide, which are popular hangouts among locals and visitors alike. But there's more than just foodie delights on offer; Adelaide also boasts some spectacular natural scenery nearby too – from Kangaroo Island's rugged coastline to Hahndorf's picturesque mountain ranges – making it a must-visit destination for nature lovers. With so much to explore, it's no wonder why Adelaide remains one of Australia's most popular tourist destinations year after year!
How Many Days are Enough for Adelaide?
Adelaide is a beautiful city that offers plenty of activities and attractions for visitors, so deciding how many days are enough to explore it all can be tricky. Since Adelaide is packed with experiences to enjoy, we recommend spending at least four or five days in the city if you want to get the most out of your trip. That said, depending on what type of traveler you are and what kind of things interest you, two or three days might suffice.

If you're looking for an unforgettable holiday experience then longer stays like seven to ten days will give you more time to explore its vibrant streets and take part in some exciting events as well as visit must-see sights such as Glenelg Beach or Mount Lofty Summit. Of course, no matter how long your stay is it's sure to be filled with wonderful memories!
What is Unique to Adelaide?
Adelaide is a truly unique city located in the heart of Australia. It has a vibrant and diverse culture, with many cultural events taking place throughout the year. Adelaide is known for its world-class food and wine scene, boasting some of the best restaurants in Australia.

There are plenty of outdoor activities to enjoy such as surfing on Glenelg Beach or hiking through Mount Lofty Ranges. You'll also find plenty of entertainment options including live music venues, theatre companies and art galleries for those looking for something more creative. The city also boasts some great shopping experiences from boutique stores to larger retail outlets that can be found within walking distance from each other!

Another unique aspect about Adelaide is its climate; it often enjoys mild temperatures all year round making it an ideal destination to visit at any time during the summer months. So if you're looking for somewhere different with lots going on then look no further than Adelaide – you won't be disappointed!
What Attraction Can People See in Adelaide If You Go to Australia?
Adelaide is a great destination for tourists coming to Australia. Not only does it have some of the most stunning beaches in Australia, but there are also many attractions that can be seen when visiting Adelaide. One popular attraction is the Art Gallery of South Australia which houses a large collection of artworks from both local and international artists.

Another must-see site is the Adelaide Zoo, where you can encounter various animals such as lions, tigers, chimpanzees, giraffes and more. The botanic gardens are also worth exploring with its beautiful displays of plants from around the world. For those who enjoy nature walks there are plenty of parks located throughout Adelaide including Rymill Park and Elder Park along the River Torrens.

If you're looking for something different then take a ride on one of Adelaide's famous heritage trams or visit Hahndorf – an old German village full of historical buildings and quaint shops selling traditional food and souvenirs. From relaxing beach days to cultural experiences – there's something here for everyone in this vibrant city!
Conclusion
Adelaide is a vibrant city with something for everyone. Whether you're looking for outdoor activities, cultural attractions, or simply some relaxation time, Adelaide has it all. From exploring the stunning scenery of Cleland National Park to immersing yourself in the cultural delights of North Terrace – there's plenty to do and explore in this beautiful South Australian city.

With its unique combination of history, culture and natural beauty there's no doubt that Adelaide should be your next holiday destination!