1. Visit the Battery and White Point Gardens: Take a stroll along the waterfront park with beautiful views of Fort Sumter and Charleston Harbor. 2. Explore Rainbow Row: Appreciate the vibrant colors of Rainbow Row, the longest cluster of Georgian row houses in America. 3. Tour Magnolia Plantation and Gardens: Enjoy a leisurely walk through this historic plantation house and gardens overlooking Ashley River.

4. Shop on King Street: Spend an afternoon exploring some of Charleston's best boutiques, antique stores, galleries, restaurants, bars and more! 5. Attend an Event at Marion Square Park: Check out one of many events taking place throughout the year such as Food Truck Fridays or Saturday Market during summer months! 6. Take a Ghost Tour Through Old City Jail: Learn about Charleston's spooky history while visiting its former jail that housed criminals from 1802 – 1939!

7. Climb to Top Of St Michael's Church Steeple : Get amazing panoramic views from atop this active Episcopal church located in downtown Charleston! 8 . Enjoy Waterfront Park : Relax by playing outdoor games such as bocce ball or frisbee golf within this 12-acre public park featuring fountains , meadows & wetlands !

9 . Go for A Cruise On Schooner Pride : Sail away for 3 hours aboard this traditional schooner offering spectacular sunset cruises around historic harbor sites . 10 .

Visit The South Carolina Aquarium : See sea turtles , stingrays , jellyfish & much more at this aquarium showcasing over 500 species native to South Carolina waters!
Charleston is a beautiful and vibrant city with plenty of activities to choose from. From historical walking tours, to local restaurants, there are so many great options for exploring the city. Here's our list of the top 10 things to do in Charleston: Take a tour of historic sites such as Fort Sumter, The Battery, Rainbow Row or City Market; enjoy an evening at one of Charleston's world-famous plantations like Middleton Place or Boone Hall Plantation; explore the art galleries and museums downtown; grab some delicious seafood at one of the iconic local restaurants like Hominy Grill or McCrady's; take a stroll along Waterfront Park on the harbor and gaze across at Mount Pleasant; take part in outdoor activities including kayaking or paddle boarding around Shem Creek; ride horseback through Francis Marion National Forest and see wildlife up close; visit Sullivan's Island Beach for some beach time away from downtown crowds; shop around King Street for antiques, boutiques and clothing stores galore!
CHARLESTON, SOUTH CAROLINA – The TOP 10 Places you NEED to see!!
Things to Do in Charleston, Sc for Couples
Charleston, South Carolina has something for everyone, but it's especially ideal for couples looking to explore. From romantic horse-drawn carriage rides through the cobblestoned streets of historic downtown Charleston to a sunset sail along the harbor, there are endless options for special moments and memories. For those who prefer to stay on land, take a stroll on one of the many beaches or romantic garden walks in town.

There's also plenty of great restaurants with delicious Southern cuisine and cozy bars offering craft cocktails that make perfect date night spots!
Unique Things to Do in Charleston, Sc
Charleston, SC is a great place to visit for its abundance of unique experiences. From historic carriage rides through the cobblestone streets and waterfront parks to dolphin-watching boat tours and kayaking on nearby rivers and tidal creeks, there's something exciting for everyone! For those looking for a more relaxed atmosphere, check out some of Charleston's renowned restaurants featuring local seafood delicacies or take in one of the many art galleries offering diverse collections from both national and international artists.

Whether you're seeking adventure or relaxation – Charleston has it all!
Things to Do in Charleston, Sc for Young Adults
Charleston, South Carolina is a great destination for young adults looking to have fun! From lively nightlife spots such as The Alley and The Commodore to outdoor activities like kayaking at Folly Beach or SUP yoga on Shem Creek, there's something for everyone. If you're feeling adventurous, take a ghost tour of the city's historic sites or go on an airboat tour of the nearby salt marshes.

For those who enjoy art and culture, don't miss out on the Gibbes Museum of Art or the Charleston Music Hall. Whether it's sampling some local cuisine at one of many award-winning restaurants or taking in a show at Theatre 99, Charleston has plenty to offer young adults looking for an exciting getaway!
Things to Do in Charleston, Sc With Kids
Charleston, South Carolina is a fantastic place to bring the family for a fun and exciting vacation. There are plenty of things to do with kids in Charleston that will keep everyone entertained. From exploring Fort Sumter National Monument and touring the USS Yorktown aircraft carrier, to visiting Splash Zone Waterpark or participating in one of the many kid-friendly tours around town, there's something for everyone!
Free Things to Do in Charleston, Sc
If you're looking for free things to do in Charleston, SC, then look no further! From historic sites and scenic parks to outdoor activities and cultural attractions, there are plenty of ways to explore this vibrant city without spending a cent. Stroll around the famous Battery promenade and take in the breathtaking views of Fort Sumter or enjoy a leisurely walk through White Point Gardens where you can admire beautiful landscapes with majestic live oaks draped in Spanish moss.

Watch the ships come into port at the Charleston City Marina or explore one of many museums such as The Charleston Museum or The Avery Research Center. Don't miss out on all that this captivating city has to offer – it won't cost you a dime!
Fun Things to Do in Charleston, Sc for Young Couples
Charleston, SC is the perfect city for young couples looking to explore and enjoy all that it has to offer. From romantic walks along the waterfront on The Battery, to exploring beautiful parks like White Point Gardens and Waterfront Park, there's something fun and exciting for every couple. For an unforgettable evening out in Charleston, check out some of its amazing restaurants or take a horse-drawn carriage ride through downtown.

With so much to do in Charleston, you won't know where your adventure will take you next!
Things to Do in Charleston This Weekend
With plenty of activities to choose from, there is no shortage of things to do in Charleston this weekend! From exploring the Historic District and taking a tour of Fort Sumter, to sampling Lowcountry cuisine and hitting the beach for some sun, sand and surf – Charleston has something for everyone. Don't miss out on catching a show at one of many theaters or checking out an art gallery – you're sure to find yourself having a great time in the Holy City!
Best Restaurants in Charleston Sc
Charleston, SC is home to some of the best restaurants in the world. From fine dining establishments and upscale eateries to casual seafood joints and hole-in-the wall bistros, this city has something for everyone's taste buds. Notable restaurants include Husk, a James Beard Award winning restaurant serving up locally sourced Southern cuisine; Fig, an American Bistro known for its unique flavor combinations; High Cotton, a modern steakhouse with farm-to-table fare; and The Ordinary, an acclaimed seafood hall offering fresh oysters and other local catches.

With so many delicious options available in Charleston there's no reason not to try them all!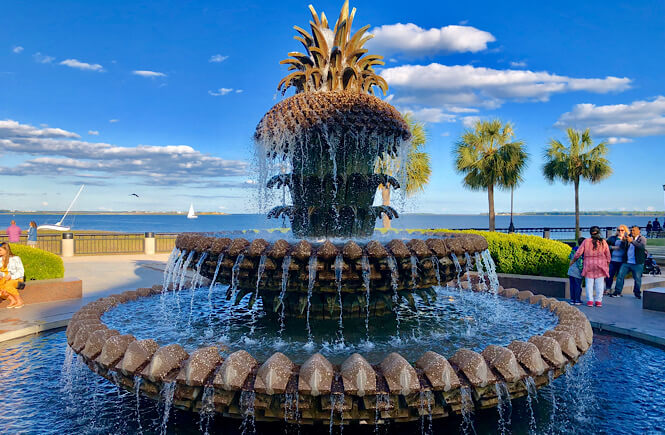 Credit: www.morethanmainstreet.com
What is Charleston Sc Most Known For?
Charleston SC is most known for its history, culture and hospitality. The city has a unique charm that draws in visitors from all over the world. Below are some of Charleston's top attractions:

-Historic District with cobblestone streets and antebellum architecture -Miles of beautiful beaches with amazing sunsets -Wide variety of restaurants offering delicious Southern cuisine

-A thriving art scene featuring galleries and performing arts centers -An array of outdoor activities including fishing, biking, kayaking and more. In addition to its attractions, Charleston is renowned for its friendly people who make it an inviting place to visit or live.
Is Charleston the Number 1 Tourist Destination?
No, Charleston is not the number one tourist destination. Although it is a popular and attractive city for tourists to visit due to its history, culture, beaches and cuisine, there are other cities in the United States that attract more visitors annually. The following cities all have higher levels of tourism than Charleston:

– Orlando – Las Vegas – New York City

– Honolulu These cities boast iconic landmarks such as Central Park in NYC or The Strip in Las Vegas which draw large numbers of tourists from around the world each year.
How Many Days is Enough for Charleston?
Charleston, South Carolina offers so many attractions that it is difficult to determine how many days are enough. But if you plan carefully and prioritize your must-sees, a three-day visit should be sufficient: • Visit the Historic District – Spend one day exploring the beautiful architecture of the city.

You can take a guided tour or wander on your own. • Explore local parks and beaches – Enjoy outdoor activities like kayaking or paddleboarding in picturesque scenery. Or just relax with a picnic by The Battery overlooking Charleston Harbor.

• Take time for shopping and dining – With its unique boutiques, galleries, restaurants, and cafes lining cobblestone streets there's something to please every taste! A three-day trip to Charleston is enough time to get an excellent overview of this spectacular city while enjoying some of its main attractions at leisurely pace.
What Part of Charleston Has the Most to Do?
The historical district of Charleston has the most to do. It offers a variety of activities for visitors and locals alike: • Tour the centuries-old architecture, from cobblestoned streets to grand mansions.

• Visit Fort Sumter National Monument at the entrance of Charleston Harbor for a unique perspective on American history. • Enjoy delicious cuisine in one of many acclaimed restaurants located throughout the area. • Shop along King Street, full of independent boutiques and high-end stores.

• Take part in various festivals and events held year-round in this picturesque city. No matter what your interests may be, there is something fun to do in Charleston's historic district!
Conclusion
Charleston is truly an incredible place to visit and explore. Its rich history, amazing architecture, breathtaking views and wonderful attractions are sure to leave you with some of the best memories that will last a lifetime. From its unique cuisine, laid-back lifestyle and beautiful beaches there's something for everyone in Charleston.

Whether you're looking to relax or take part in all that this city has to offer, Charleston won't disappoint! With so many fun things to do in Charleston be sure not to miss out on any of these top attractions.